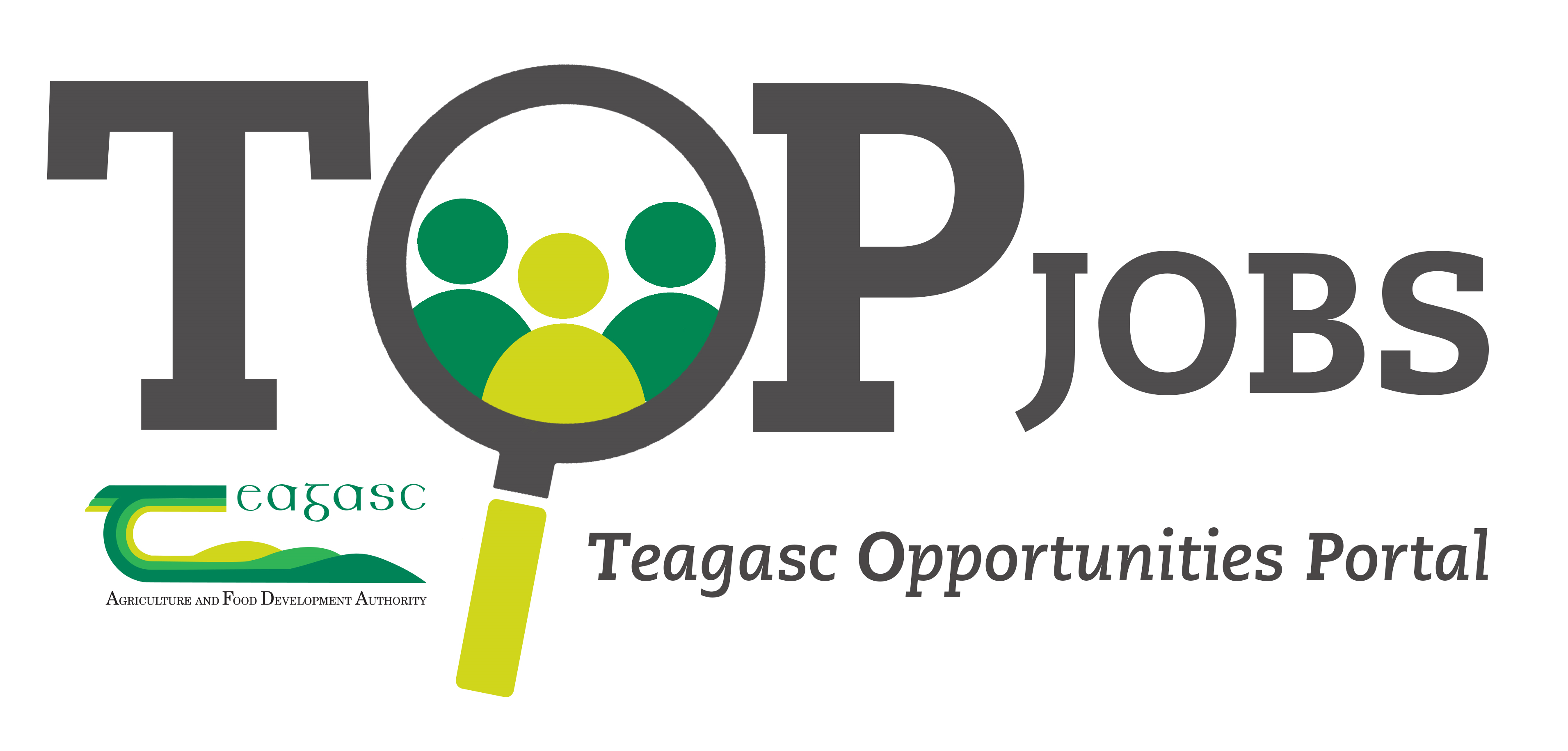 Research Grants Accountant
| | |
| --- | --- |
| Teagasc, Moorepark, Fermoy, Co Cork, P61 C996 | Salary: Admin Grade 4 with a Salary Scale of €44,085 to €61,545 |
| Administration | Permanent Full Time |
| Closing Date: 10/10/2019 | Recruitment start: 20/09/2019 |
Job Summary
Permanent . A panel may be formed from which future similar vacancies may be filled; such a panel will remain active for a maximum period of 12 months.
Basic Function:
The Teagasc Finance Department is comprised of three teams reporting to the Head of Finance; the Financial Accounting team, the Management Accounting team and the Financial Operations team. Within the Management Accounting team there is a Research Grants Finance Team which is lead and managed by the Research Grants Finance Manager. This team is responsible for providing financial management support to approx. 250 grant funded research projects yielding annual income of approx. €16m. Working within a team of Research Grants Accountants, Research Grants Accounts Assistants and an External Service Provider, the Research Grants Accountant's responsibilities for the assigned portfolio of projects will include ensuring all grant claims are prepared and submitted according to funding agency deadlines, maximising the drawdown against funding agency awards, responding to funding agency queries on the submitted grant claims, ensuring claims are ultimately accepted and that queries / audit points / rejected expenses are kept to a minimum. The objective of the post is to support funded research projects from inception to final report. These responsibilities are to be carried out both directly, and through the supervision of Accounts Assistants within the team. More specifically this role will focus on budget preparation, revision and control, financial management and debt (i.e. grant) collection, management reporting, month end accounting and maintaining adequate systems and procedures to manage the assigned portfolio of projects.
Job Objectives
Main Duties and Responsibilities
The Research Grants Accountant will be responsible for the review of claims, reports, files and other work of the Research Grants Finance Team, and the provision of financial support on a portfolio of Funded Research Projects as assigned to the post. The responsibilities will include:
Support Principal Investigators/Project Leaders in preparation of

project proposals according to Teagasc and Funding Agency rules,

Contract Cost Analysis (CCA);

project budget revisions and extensions where applicable

income and expenditure budgets (annual and mid-year review) and forecasts for projects

Allocate appropriate workload to assigned Research Grants Accounts Assistant(s). Recruit, train, manage and coach Research Grants Accounts Assistants to optimize delivery of services by the team. Ensure effective communication with team members. Proactively address any staff performance issues with the assistance of the Research Grants Finance Manager.
Ensure coordination of set-up of funded projects on Integra (Finance System) and master schedules.
Prepare project grant claims and interim reports and submit to funders in accordance with funder schedule and respond promptly to evaluation queries;
Ensure maintenance of current project claim files containing all requisite project records and update files and claims schedules for budget revisions and project extensions;
Ensure appropriate controls are in operation to manage and ensure

accuracy and integrity of project claims and of monthly project income accruals;
receipt of all payments in accordance with contract payment schedules;
prompt and timely collection of project funding by monitoring project receivable balances;
timely distribution of payments to project collaborators;
award budgets on Integra (Finance System) are accurate and up to date;
Principal Investigators/Project Leaders are alerted to avoid overspending of project budgets;
all completed projects or projects where budget has been expended are closed down promptly;
income and expenditure are matched on the Teagasc ledgers and that income recognition is in line with Teagasc policies.

Report regularly on the

performance of the Research Grants Finance Team (KPIs);
financial performance of research projects.

Prepare month end income accruals on the assigned research projects.
Deliver training to research staff on Teagasc systems, reports and processes as they pertain to the financial management of research projects.
Maintain current procedure documentation for all areas of responsibility of the post and ensure compliance with Teagasc policies and procedures, any pertinent governance, regulatory and statutory requirements and the provisions set out in agreements with Research Project Funding Agencies.
Facilitate and support audits by project funders and by internal and external auditors;
Be proactive in terms of driving changes to procedures and systems to continuously improve the efficiency and effectiveness of the Management Accounting unit of the Finance department and improving service delivery to Teagasc.

As a member of the Finance Department take appropriate responsibility for the delivery of the goals in the Department's annual business plan.

Take responsibility for his/her own on-going personal and professional development.

To assist Teagasc in meeting the commitments of the Quality Customer Service charter and action plan.
To actively participate in the annual business planning and Performance Management Development System (PMDS) processes.
Fully co-operate with the provisions made for ensuring the health, safety and welfare of themselves, fellow staff and non-Teagasc staff and co-operate with management in enabling Teagasc to comply with legal obligations. This includes full compliance with the responsibilities outlined in the Safety Statement.

Any other duties as may be assigned from time to time
* This job specification is intended as a guide to the general range of duties and is intended to be neither definitive nor restrictive. It will be reviewed from time to time with the post holder.
Skills Required
Essential

Desirable

Qualifications

Candidates must have an appropriate accounting qualification (ACA, ACCA, CIMA etc)

Membership of a recognised professional accountancy body

A minimum of 2 years of relevant post qualification work experience

Degree in business, finance or a related discipline

Skills & Knowledge

Computer literate/proficient in the use of MS Office, Word, Excel, & Outlook

In depth knowledge of Accounting IT systems

Strong management and financial accounting skills

Excellent organisational & time management skills with strong attention to detail

Excellent administrative & numeracy skills

Strong orientation and commitment to meeting the needs of both internal and external customers

Excellent oral and written communication skills

Flexible with an openness to change

Engaging and consultative leadership and change management skills

Familiarity with Integra, CORE and with Crystal Reports/Business Objects

Knowledge and experience of financial rules and regulations of Government and EU funded Research Grants or other equivalent Grant funding.

An understanding of the public sector and, in particular, Public Sector governance and procurement procedures and regulations.

Behavioural Competencies

A structured approach to work

An ability to work on own initiative and to work collaboratively with others

Organized and methodical with strong attention to detail.

Self-motivated with ability to plan and prioritise work by importance and urgency.

A positive, proactive solutions-focused approach to work.

Flexible with an ability to adapt to changing requirements / priorities.

Ability to work to strict deadlines.

Strong oral and written communication skills

Self-disciplined with an ability to set clear standards and to take a quality customer service approach to work.

Resilient
Note: The 'essential' qualifications, knowledge, skills and behavioural competencies outlined above are 'must-have' which will be used in the selection process.
---
Attachment:


Admin_7efd0a6c-26c6-4463-8aa7-7ddd84965251.pdf

| | |
| --- | --- |
| Already a member of our Talent Pool? Login here to Apply | Join our Talent Pool + submit your application |