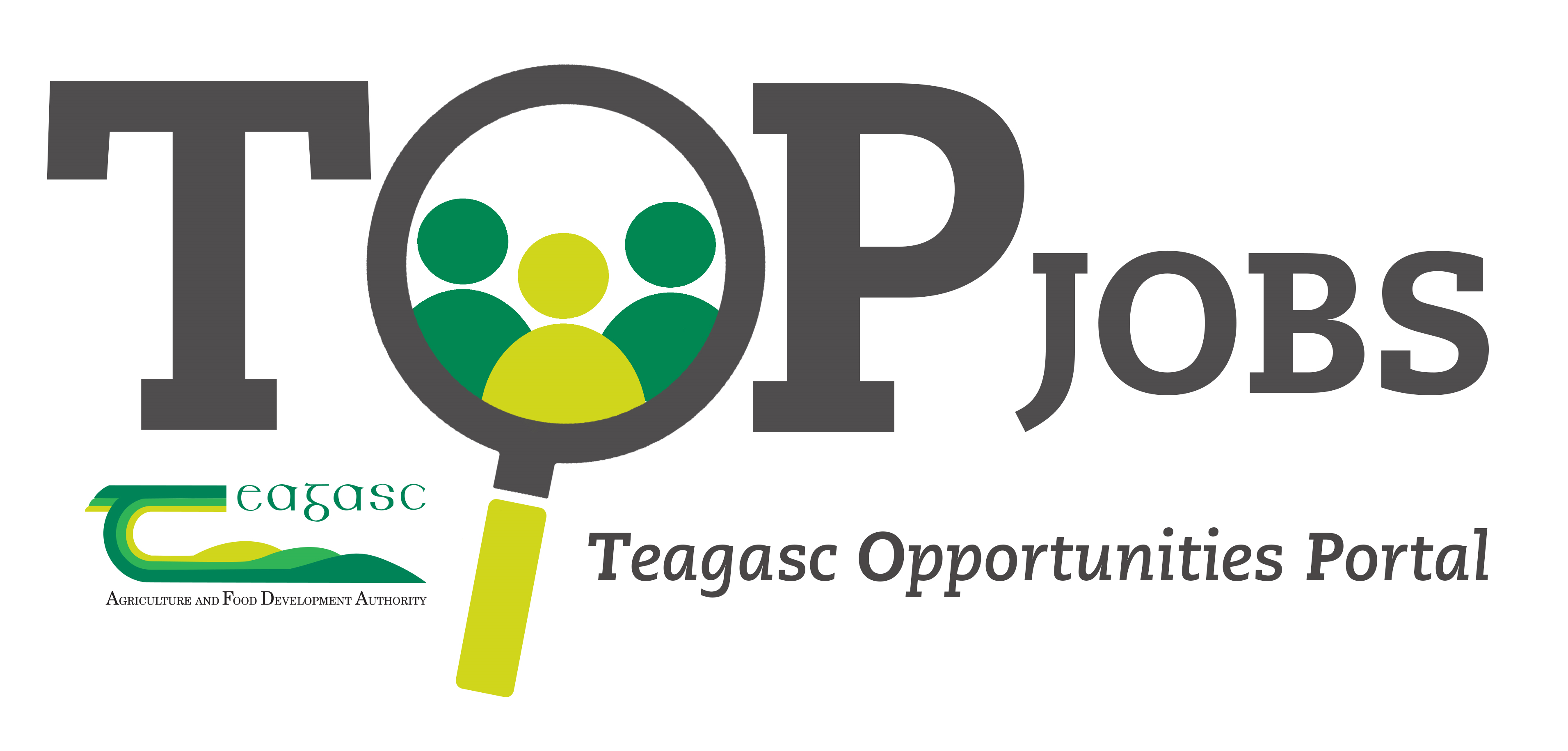 Research Officer - Hydrochemist (Temporary)
Crops, Environment and Land Use Research Centre, Teagasc, Johnstown Castle, Co Wexford, Y35 Y521

Salary: Research Officer with a Salary Scale of €33,971 to €66,118
Research
Temporary Full Time

Closing Date: 26/02/2020

Closing Time: 12:00
Job Summary
Duration:
Temporary Externally Funded Non Grant-in-Aid contract post, the indicative duration of which is 45 months, subject to contract. A panel may be formed from which future similar vacancies may be filled; such a panel will remain active for a maximum period of 12 months.
Basic Function of the Role:
To contribute, as part of a multidisciplinary team, to the evaluation of the effectiveness of the measures contained in Ireland's Nitrates Action Programme with particular emphasis on:
Producing policy-relevant peer-reviewed scientific papers using existing and new data and disseminating the results to a wide audience.
Overseeing the implementation of a programme of high temporal resolution monitoring of hydro-metrics and chemo-metrics, such as of nitrogen, phosphorus and carbon concentrations, water flow and stream ecological monitoring in in six small (ca. 10 km2) study catchments.
Improving understanding on the processes of nutrient loss to water in agricultural landscapes and potential impact on stream ecology.
Quality assuring and analysing the data produced in the programme to assess the effectiveness of measures.
Extend current baseline monitoring of water quality with multiple contaminants.
Background ot the Role:
The Agricultural Catchments Programme is a national project of excellence, established in 2008, and is based on a stakeholder partnership which generates knowledge to underpin profitable farm production in a clean environment.
The objectives of the Agricultural Catchments Programme are:
To generate the knowledge to ascertain the efficacy and cost effectiveness of the Nitrates Action Programme (NAP) measures and the derogation in terms of water quality and farm practices.
To provide a basis for a scientific review of NAP measures with a view to adopting modifications where necessary.
To evaluate the effect of NAP on ammonia and greenhouse gas emissions.
To achieve a greater understanding of the factors that determines farmer's understanding and implementation of the NAP.
To disseminate this knowledge to a wide audience including farmers and other stakeholders.
To achieve these objectives an integrated research, technologist, technician and advisory team works with farmers in six catchments in conjunction with Teagasc's Research and Knowledge Transfer Directorates. This programme is managed by the two Principal Scientists and Catchment Specialist. Close liaison is maintained with farmers and farming organisations at local and national level. The first three four-year phases of the Programme ran from 2008 to the end of 2019 and Phase 4 of the programme runs from the beginning of 2020 to the end of 2023.

The Programme provides:
Planning and technical support for catchment farmers to underpin profitable farming systems.
Baseline and monitoring datasets for farm production, nutrient and farm management practices, nutrient transformations and transfers to water and their impact on its quality. These are used to contribute to the national monitoring requirements of both the Nitrates and Water Framework Directives.
A transparent scientific and economic assessment of the effectiveness of the Good Agricultural Practice measures in S.I. No. 65 of 2018 required by the Nitrates Action Programme. Modification of the measures to meet the water quality targets of the Water framework Directive will be identified, if required.
Evaluation of the measures in the National Climate Action report 2019 and the Code of Good Agricultural Practice for reducing Ammonia Emissions from Agriculture 2019.
An assessment of socio-economic and behavioural factors affecting the implementation of the measures.
A platform for technology transfer, education and promotion which will use the output from the programme in the formulation of advisory and technology transfer initiatives.
Job Objectives
Produce high quality, policy relevant papers for publication in high impact peer reviewed scientific journals using existing and new ACP data.
Oversee the implementation of existing ACP protocols for:

Monitoring of catchments' surface water hydro-metric and chemo-metrics, including data QA/QC.
Monitoring of the physical and chemical processes in streams which mediate the eventual nutrient export from the catchments.
Quantify N and P export to water on derogation and non-derogation farms.
Monitor the ecological status of catchments streams and relating this to their physical and water chemistry parameters.

Contribute effectively to national and international scientific meetings.
Participating in dissemination activities including farmer meetings, open days, stakeholder meetings etc..
Contributing to the preparation of interim and final reports on the effectiveness of the NAP and climate action plan measures.
Collaborating effectively with Teagasc colleagues and other relevant national and international research programmes.
Providing technical support to ACP advisory colleagues in the catchments.
Contribute to the teamwork and team-spirit within both the ACP and the agri-environmental research department at Johnstown Castle and foster and add to further collaboration and integration.
Supervising and management of ACP staff and post-graduate students.
Data provision as appropriate for colleagues and post-graduate students.
To assist Teagasc in meeting the commitments of the Quality Customer Service charter and action plan.
To actively participate in the annual business planning and Performance Management Development System (PMDS) processes.
Fully co-operate with the provisions made for ensuring the health, safety and welfare of themselves, fellow staff and non-Teagasc staff and co-operate with management in enabling Teagasc to comply with legal obligations. This includes full compliance with the responsibilities outlined in the Safety Statement.
Any other duties as may be assigned from time to time.
* This job specification is intended as a guide to the general range of duties and is intended to be neither definitive nor restrictive. It will be reviewed from time to time with the post holder.
Skills Required
Essential

Desirable

Qualifications

Candidates must have a QQI Level 8 degree in hydrology/ environmental science/ agricultural science/ ecology (or equivalent).

A postgraduate degree and/or research experience in hydrochemistry, hydrology, environmental science, agricultural science, environmental chemistry would be a distinct advantage.

Skills

Proficiency in writing peer-reviewed scientific papers in areas cognate with the post.
Experience in the collection, quality assurance and analysis (including statistical analysis) of data relating to environmental processes.
Experience in the implementation of field and/or catchment scale experiments relating to hydrology and hydrochemistry.
Skilled in the operation of a range of laboratory and field analytical chemistry instruments.
Proven ability to present research results to technical groups at international symposia.
Software skills including GIS and statistical packages.

Aptitude for multidisciplinary approaches.
Familiarity with high temporal resolution hydrometric and hydrochemistry equipment.
Familiarity with Laboratory Systems and/or time series database software.
Proficiency in writing technical and popular articles and in formal and informal presenting to non-technical groups.
Modelling skills.

Knowledge

Excellent knowledge of nutrient dynamics in soils in temperate climates and the linkages between nutrient sources and the movement of water via different pathways from field/farm to groundwater/streams/rivers.
Excellent knowledge of the fate and impact of nutrients entering the streams/rivers.
Excellent knowledge of current developments relating to the mitigation of nutrients transfers from land to water.

Good knowledge of the Nitrates Directive and its impact on farm management practices on Irish farms.
Good knowledge on the requirements of the Water Framework Directive and through networking, knowledge of similar issues on an international scale.

Behavioural Competencies

Willingness to work as part of an integrated advisory/research programme team.
Ability to work independently if necessary, and meet self-imposed milestones and deliverables.
Willingness to collaborate positively within the programme team as well as with outside agencies.
Ability to align personal development objectives within the programme objectives.
Ability to contribute to group discussions/workshops with farmers and other stakeholders.
Strives for high quality of work and demonstrates commitment to the programme.
Ability to communicate effectively to enable knowledge and technology transfer.

Other

As this role will involved driving vehicles, candidates must satisfy and continue to satisfy during employment with Teagasc, legal requirements to drive a car unaccompanied on Irish public roads.

Eligibility
This is an open public competition. Should a current serving Teagasc staff member be successful in their application through open public competition for this post, their current contract of employment with Teagasc will come to an end on taking up this post.
Note: The 'essential' qualifications, knowledge, skills and behavioural competencies outlined above are 'must-have' which will be used in the selection process.
---
Attachment:


ResearchOfficer_InformationBooklet.pdf

| | |
| --- | --- |
| Already a member of our Talent Pool? Login here to Apply | Join our Talent Pool + submit your application |