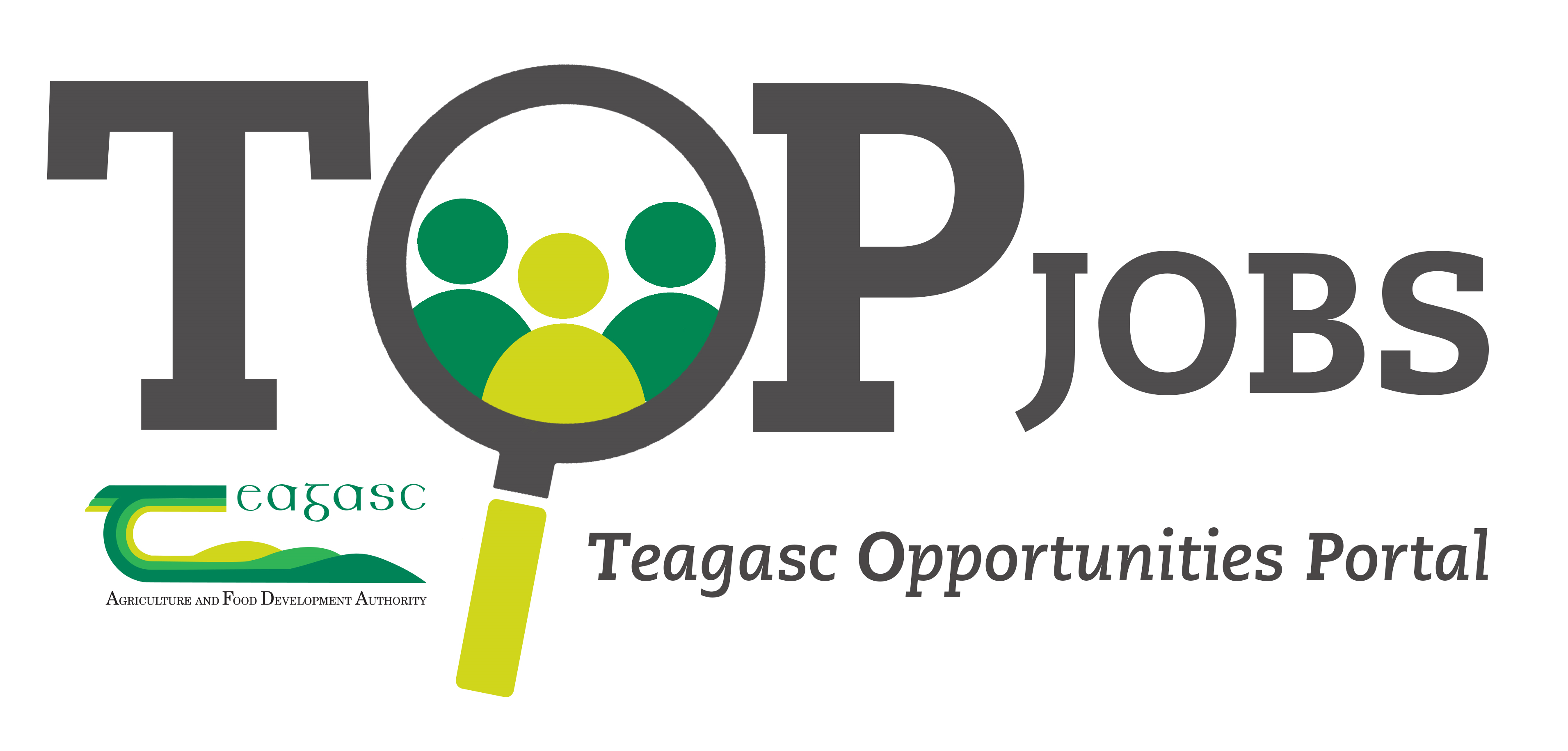 Post Doctoral Research Fellow Level 1 (PD1) - Process Technology Platforms for incorporation of Olive Oil into Export-Focused Healthy Cheeses (Temporary)
Food Research Centre, Teagasc, Moorepark, Fermoy, Co Cork, P61 C996

Salary: Post Doc (Level 1) with a Salary Scale of €36,302 to €40,221
Research
Temporary Full Time

Closing Date: 10/09/2020

Closing Time: 12:00
Job Summary
Duration:
Temporary Externally Funded Non Grant-in-Aid contract post, the indicative duration of which is 24 months, subject to contract. A panel may be formed from which future similar vacancies may be filled; such a panel will remain active for a maximum period of 12 months.
Basic Function and Background to the Role:
The post will require a background in dairy science and technology and involve; application of scientific principles to develop innovative cheese manufacturing processes to maximise olive oil retention within cheese matrices with minimal carry over to whey; validation of the new technologies in a diverse range of cheeses including Cheddar, Continental and soft-types and of their functional properties and ripening quality; design, organisation and undertaking of bench top and pilot scale trials including yield analysis studies; application of advanced analytical methodologies to understand coagulation kinetics, changes to curd porosity and matrix microstructure as well as use of chromatography facilities for fatty acid profiling; and continuous liaison with research and commercial partners including preparation and delivery of progress reports. Additional tasks may include undertaking literature and patent searches, appraisal of the current stat of the art and assisting in protection of intellectual property, preparation of patent applications, and in preparation of manuscripts for submission to peer reviewed journals.
The Teagasc post-doctoral programme provides training and development opportunities for early career scientists that enhances their experience of learning and equips them with the necessary skills for the next stage of their chosen career in research. This position will be central to a team investigating novel technologies for incorporation of Olive oil into cheese matrices, seeking to understand and optimise interactions between the oil and cheese matrix components and in optimising cheese quality and functionality while yet retaining a clear whey stream. While peer reviewed publications are also anticipated, the project will focus primarily on the development of intellectual property, and under licensing agreements, scale up and technology transfer of this IP to commercial scale. Products emanating from this work will offer health properties to consumers and will be focused on export dairy markets.
The project is an Enterprise Ireland Innovation Partnership programme and involves collaboration between the Teagasc Food Research Centre, Moorepark and 2 commercial partner companies. The successful candidate, working under the direction/guidance of the Principal Investigator, will plan, organise and undertake the relevant pilot-scale cheese manufacture trials, undertake cheese analysis, data analysis/interpretation, and report on the findings to the research team, Enterprise Ireland and commercial Partners. The successful candidate will also be expected to network, where necessary, with the wider research team of Teagasc Food Research Centre Moorepark to develop and apply scientific knowledge, principals and methodologies that bring the project to a successful outcome. In addition, the position will be 'hands-on' in that it will require an ability to engage on the ground at laboratory and pilot plant level as well as engage scientific concepts and logic.
Job Objectives
Duties & Responsibilities specific to this project:
To undertake research on optimizing processes for incorporation of olive oil into cheese matrices.
To co-ordinate and execute laboratory and pilot scale trials in response to project demands, undertake broad ranging analytical techniques on samples generated and interpret results for preparation of summary reports.
To work with the wider project team to design and implement experimental plans.
To organise the work plan, including purchase of consumables and ingredients and facilitating pilot plant trials.
To report on research activity in both oral and written formats to the stakeholders and the funding agency.
To undertake literature and patent searches and to assist with the preparation of information for patent applications.


Additional Duties & Responsibilities:
To interpret research findings and prepare scientific and popular press publications.
To disseminate research findings to a variety of audiences as appropriate.
To assist Teagasc in meeting the commitments of the Quality Customer Service Charter and Action Plan.
To comply with all relevant Teagasc policies and procedures.
Fully co-operate with the provisions made for ensuring the health, safety and welfare of themselves, fellow staff and non-Teagasc staff and co-operate with management in enabling Teagasc to comply with legal obligations. This includes full compliance with the responsibilities outlined in the Safety Statement.
To actively participate in the Teagasc Post Doctoral Fellowship programme and review processes, and to undertake all Post Doctoral fellowship training and associated duties as agreed in the Training & Development Plan.
To take up additional duties as they may arise and be assigned by management.
Skills Required
This section outlines the qualifications, skills, knowledge and/or experience that the successful candidate would be required to demonstrate for successful discharge of the responsibilities of the post. Applications will be assessed on how well candidates satisfy these criteria.
Essential
PhD in Dairy or Food Science or a related discipline.
Relevant research experience not to exceed 3 years' post-PhD.
Demonstrated research and technical expertise in dairy or food matrices.
Experience in good laboratory practice.
Evidence of research activity (publications, conference presentations, awards) and future scholarly output (working papers, research proposals etc).
Excellent project management, analytical, report writing and data analysis skills.
An ability to collaborate with team members and PhD students to help build research knowledge and skill and to guide professional development.
Excellent communication skills (oral, written, presentation) with an ability to enable effective knowledge and technology transfer.
Ability to generate new ideas, unique concepts, models and solutions.
Desirable
Experience in cheese research/technology.
An understanding of cheese manufacture and ripening and experience in interpretation of cheese related analytical data.
Experience in pilot scale processing.
Experience in setting own research agenda.
Evidence of teamwork and collaboration with relevant partners.
Attachment:


PD1_I_c8d48904-7d4b-4b95-9a20-3a6dc657f2b6.pdf

| | |
| --- | --- |
| Already Registered? Log in here | Join our Careers Portal + submit your application |