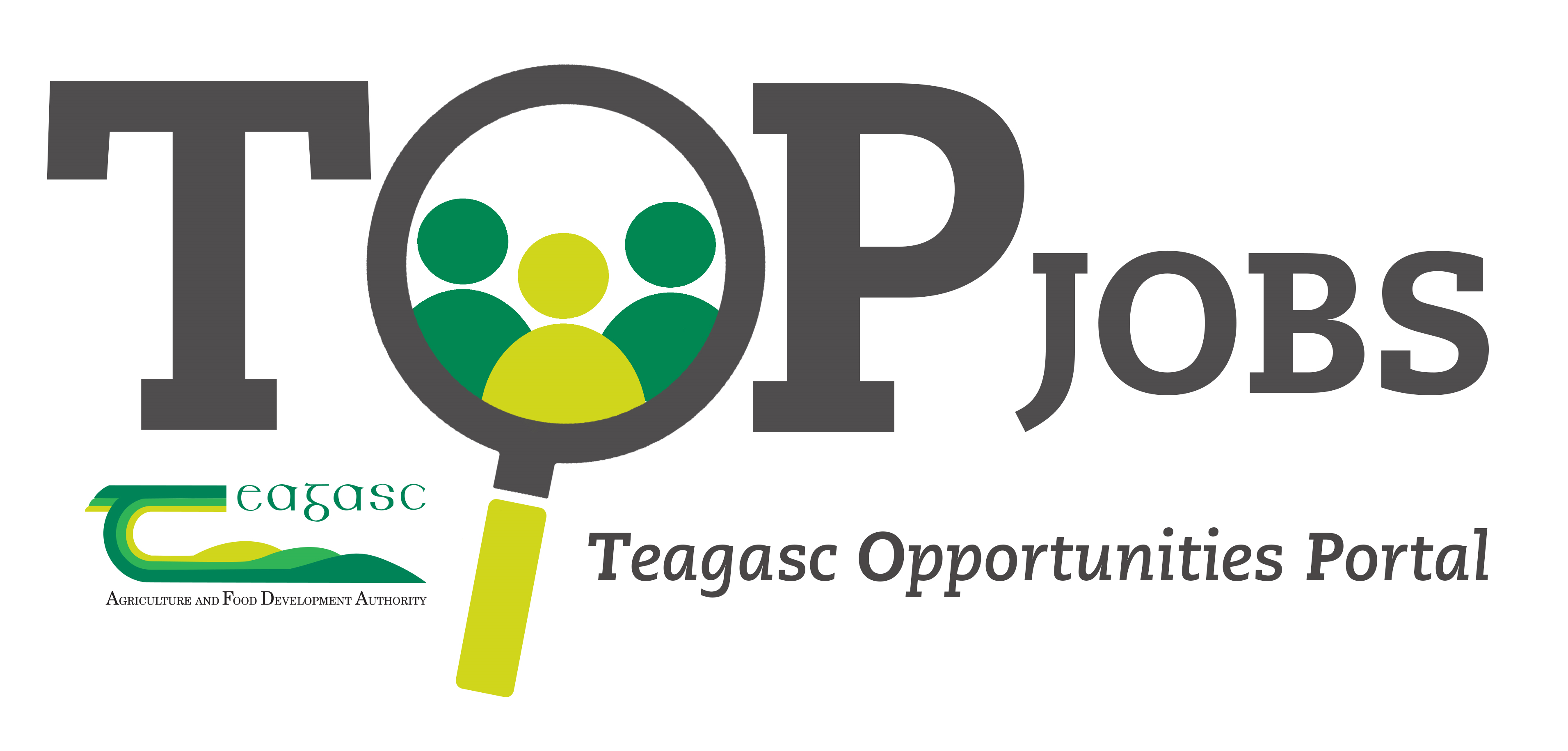 Technologist - Riparian Buffer Zones (Temporary)
Crops, Environment and Land Use Research Centre, Teagasc, Johnstown Castle, Co Wexford, Y35 Y521

Salary: Technologist Grade 1 with a Salary Scale of €33,971 to €66,118
Technologist
Temporary Full Time

Closing Date: 07/08/2020

Closing Time: 12:00
Job Summary
Duration:
Temporary Externally Funded Non Grant-in-Aid contract post, the indicative duration of which is 16 months, subject to contract. A panel may be formed from which future similar vacancies may be filled; such a panel will remain active for a maximum period of 12 months.
Basic Function of the Role:
A research technologist is required to lead the development of decision support tools and engagement with stakeholders on the SMARTER_BufferZ project.
The successful technologist will primarily be responsible for the following key functions:
The iterative development of interactive decision support tools and rapid assessment 'score-cards' for the targeting of environmental measures specifically riparian buffers.
Development of computational screening tools for prioritisation and opportunities mapping for buffer actions at catchment to national scales.
Engagement with stakeholders (in particular landowners, farmers and advisors).
Develop web/cloud based interactive resources for various stakeholders (e.g. farmers, policy).
Background to the Role:
The pollution of surface and ground waters represents one of the main environmental challenges facing agri-ecosystems. There is an urgent need to halt declining water quality in farmed landscapes and the riparian interface between land activities and the water environment is a key location for management.
Specific Management And Robust Targeting of Riparian Buffer Zones (SMARTER_BufferZ), funded by the Irish Environmental Protection Agency, aims to ensure optimal targeting and management of riparian buffers for the effective management of Irish rivers.
This exciting project, led by Teagasc, with the James Hutton Institute as collaborators, will evaluate the effectiveness of targeted riparian management measures to maintain and enhance water quality in Irish rivers. The project will employ a combination of literature review, expert knowledge and development of field-validated models to assess optimum buffer design and management options for a given local set of biophysical and desired outcome factors. The project will develop a series of Decision Support Tools to translate complex scientific knowledge into easy to understand tools for wider stakeholders.
The applicant will be part of the SMARTER_BufferZ project team and will be based at the Environment, Soils and Land Use Department in the Teagasc Johnstown Castle Research Centre in Wexford, Ireland.
Job Objectives
Duties & Responsibilities specific to this project:
Promote good science communication and wider understanding through the development of computational (e.g. web/cloud based) decision support tools/ scorecards that improve targeting, design and management of buffers at catchment to national scales.
To develop the appropriate guidance to accompany the Decision Support Tools.
Work with wider academics and practitioners and contribute to the science for improving buffer strip mitigation measures building on soil, water and agronomic site-assessment procedures to enable wider use by stakeholders.
Develop interactive resources (specifically web/cloud resources) for various stakeholders.
To develop appropriate field-trial and dissemination sites for inclusion in the SMARTER_BufferZ project.
Additional Duties & Responsibilities:
To interpret research findings and prepare scientific and popular press publications.
To disseminate research findings to a variety of audiences as appropriate.
To assist Teagasc in meeting the commitments of the Quality Customer Service charter and action plan.
To actively participate in the annual business planning and Performance Management Development System (PMDS) processes.
Fully co-operate with the provisions made for ensuring the health, safety and welfare of themselves, fellow staff and non-Teagasc staff and co-operate with management in enabling Teagasc to comply with legal obligations. This includes full compliance with the responsibilities outlined in the Safety Statement.
Any other duties as may be assigned from time to time.
* This job specification is intended as a guide to the general range of duties and is intended to be neither definitive nor restrictive. It will be reviewed from time to time with the post holder.
Skills Required
Essential

Desirable

Qualifications

Candidates must have a Level 8 degree either in environmental or computational/visualisation sciences with applied knowledge in agri-environment, water quality, hydrology, soil science, ecological sciences, agriculture, or a related discipline.

A postgraduate degree and/or research experience in environmental or computational/visualisation sciences, water quality, hydrology, soil science, ecological sciences agriculture, or a related discipline - would be a distinct advantage

Skills

Demonstrated research and technical expertise with development of decision-support tools, rapid-assessment tools, scorecards or similar for environmental parameters to different target audiences.

And/or

Demonstrated computational expertise specifically with the development of interactive web/cloud-based resources.
Experience with web development programming languages.

And

Excellent project management, analytical, report writing and data analysis skills.
Excellent communication skills (oral, written, presentation) with an ability to enable effective knowledge and technology transfer, particularly across academic to practitioner groups.

Experience of engagement with stakeholders (in particular landowners, farmers and advisors).
Demonstrated research and technical expertise with agri-environment research.
Proven record of scientific communications.

Knowledge

Knowledge in some of the following; agri-environment, water quality, hydrology, soil science, ecological sciences.
Database use and management.
Statistical analysis.

Experience in setting own research agenda

Behavioural Competencies

An ability to collaborate in an interdisciplinary team to help build research knowledge and skill and to guide professional development.

Ability to consult, collaborate with and build relationships with key stakeholders.

Strives for high quality of work and demonstrates commitment to the project.

Ability to communicate effectively to enable knowledge and technology transfer.

Other

As this role will involved driving vehicles, candidates must satisfy and continue to satisfy during employment with Teagasc, legal requirements to drive a car unaccompanied on Irish public roads.

Eligibility
This is an open public competition. Should a current serving Teagasc staff member be successful in their application through open public competition for this post, their current contract of employment with Teagasc will come to an end on taking up this post.
Note: The 'essential' qualifications, knowledge, skills and behavioural competencies outlined above are 'must-have' which will be used in the selection process.
---
Attachment:


Techn_59f30333-38da-44f9-a1b1-8ca480a6c5b1.pdf

| | |
| --- | --- |
| Already Registered? Log in here | Join our Talent Pool + submit your application |