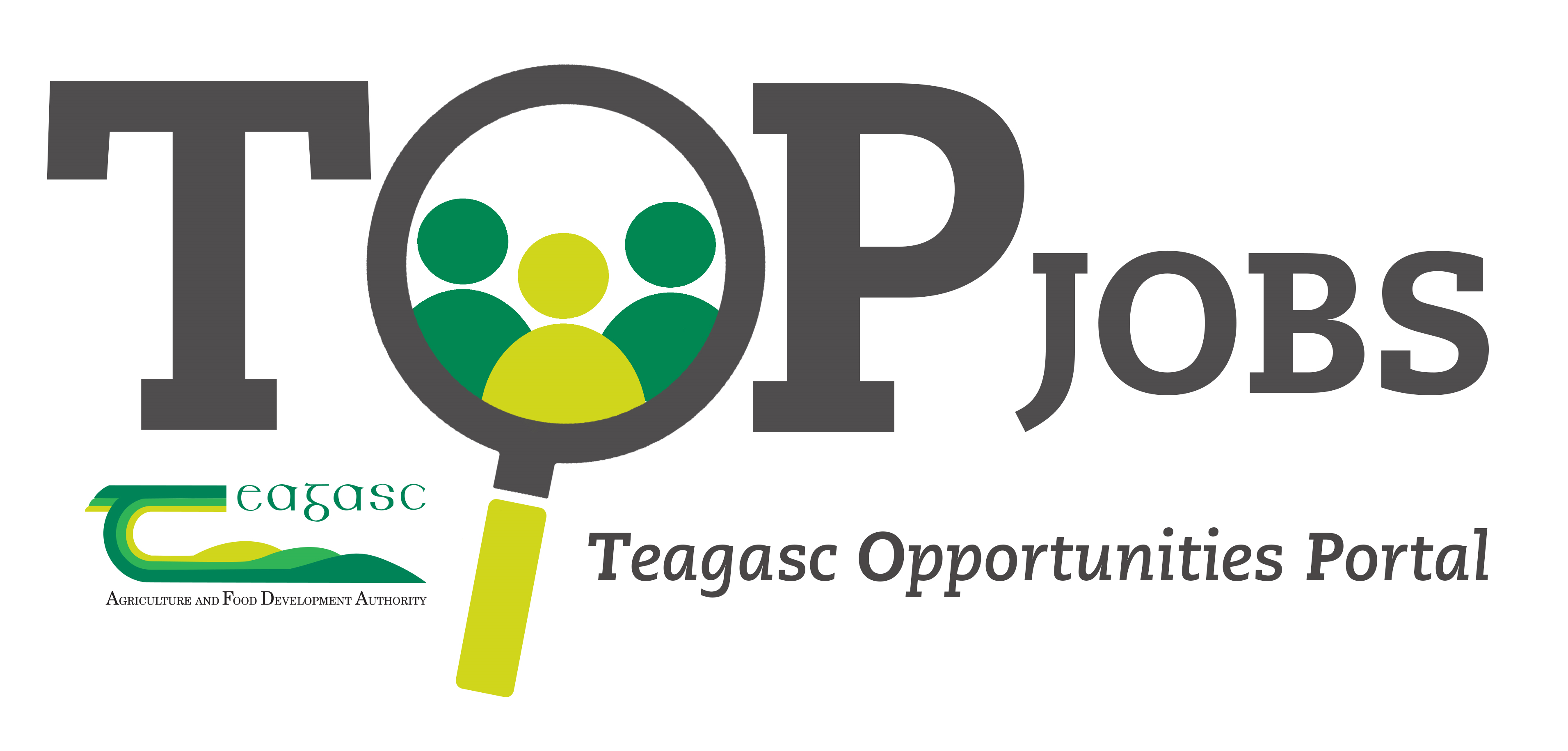 Research Officer - Meat Scientist (Temporary)
Food Research Centre, Teagasc, Ashtown, Dublin 15, D15 KN3K

Salary: Research Officer with a Salary Scale of €34,650 to €67,440
Research
Temporary Full Time

Closing Date: 01/12/2020

Closing Time: 12:00
Job Summary
Duration:
Temporary Externally Funded Non Grant-in-Aid contract post, the indicative duration of which is 12 months, subject to contract. A panel may be formed from which future similar vacancies may be filled; such a panel will remain active for a maximum period of 12 months.
We are seeking to recruit a competent, driven and enthusiastic Contract Research Officer to undertake research as part of the Meat Technology Ireland (MTI) Centre based in Teagasc Ashtown. This project provides an excellent opportunity for a Research Officer with expertise in meat science and statistical data analysis to join our research team and expand their knowledge and skill base through research of strategic importance to the Irish meat sector. Working in Teagasc and within the MTI, they will be part of a research team whose focus is to improve tenderness outcomes for the Irish red meat sector. This research will be firmly underpinned by a sound scientific understanding of meat eating quality, a high quality research approach, a keen eye for detail and accuracy in collecting, analysing, interpreting and reporting data. The research officer will be responsible for laboratory based analysis of meat quality, meat biochemistry and may be required to participate in factory sampling. An important aspect of the role will be in statistically analysing existing large datasets to elucidate pattern and process in influencing meat quality and other meat characteristics. Reporting directly to the lead of the Meat Tenderness Management Research Pillar (RP2), they will play a critical role in ensuring the research objectives are achieved in a timely, professional and high quality manner. They will communicate in a clear, effective way with the research team, industry, management etc.
Background:
Teagasc is seeking to recruit a scientist with a proven track record in meat science and demonstrated expertise in statistical data analysis. The successful candidate will have responsibility for conducting experimental studies investigating meat quality, with a particular focus on tenderness. This post will be carried out in the Food Quality and Sensory Science Department at Teagasc Food Research Centre, Ashtown, Dublin 15.
The successful applicant will be employed by Teagasc to work within MTI which is an industry-led initiative that will build a strategic research and innovation base in beef and sheepmeat processing in Ireland. The Meat Technology Ireland Centre is a dedicated public-private partnership investment in world-class beef and sheep meat processing, research and innovation leading to smart, competitive meat processing. The role will require a meat research scientist, with strong team work, excellent communication and interpersonal skills, to play a key role in a team to carry out a range of research projects working towards optimization of meat eating quality for the red meat sector. They will have excellent laboratory and data handling skills, a keen eye for attention to detail and strong communication skills. Reporting to the hiring manager, they will also work with the MTI Research & Innovation Project Manager and participating company leads, to ensure research outputs from the Centre are seamlessly transferred and embedded in the MTI member companies. The candidate will be required to act within the MTI Memorandum of Understanding governing the management of confidential information. The candidate will be required to contribute to identifying opportunities and formulating solutions to facilitate progress for the participant companies and researchers involved.
Job Objectives
Plan and conduct research trials to optimise red meat eating quality with a particular, but not exclusive, focus on tenderness. The work will involve a balance of desk-based data analysis and laboratory-based analysis of attributes related to eating quality and meat biochemistry.

If required, record data at factory and laboratory level, compiling data, performing statistical analysis and interpreting data.

Assist with project management and sample curation. This includes liaising with industry personnel to ensure full traceability within the factory environment.

Establish and/or apply protocols to evaluate biochemical pathways underpinning meat tenderness.

Review literature and keep up to date with relevant scientific and technical developments.

Ensure timely preparation of technical and research reports and manuscripts.

Contribute to the development of standard operating procedures.

Clearly and effectively communicate with research team, managers, industry personnel, and other experts in accordance with the MTI protocol e.g. in planning research, planning factory visits, etc.

Present findings in oral and written format to the research community and to industry.

Assist Research Programme manager with project management and ensure project objectives are met in timely manner.

Assist the MTI Research & Innovation Project Manager in directing the assigned MTI projects.

Report and discuss progress updates with the Research Leader, with the MTI Director and participate where required, on the Research Project Management Group.

Actively participate in the annual MTI business planning and Performance Management Development System (PMDS) processes.

To assist Teagasc in meeting the commitments of the Quality Customer Service Charter and Action Plan.

To actively participate in the annual business planning and Performance Management Development System (PMDS) processes.

Fully co-operate with the provisions made for ensuring the health, safety and welfare of themselves, fellow staff and non-Teagasc staff and co-operate with management in enabling Teagasc to comply with legal obligations. This includes full compliance with the responsibilities outlined in the Safety Statement.

Any other duties as may be assigned from time to time
Skills Required
Essential

Desirable

Qualifications

Candidates must have an honours QQI Level 8 university degree in Food Science & Technology or a related discipline.

Post-doctoral or industry experience in meat science or a closely related discipline would be a distinct advantage

Skills

Excellent laboratory, experimentation skills.

Proven ability to carry out a range of laboratory methods to measure meat quality attributes (significant technical/laboratory skills required).

Documented experience of statistical data analysis and data management skills.

Comprehensive and documented understanding of factors that affect the quality of meat and meat product.

Demonstrated ability to successfully manage research projects.

Capacity to successfully develop collaborative links with national and international research organizations and stakeholders.

Dissemination skills: verbal presentation/communication skills, scientific (peer-reviewed journals), technical and popular.

Excellent inter-personal skills.

Strategic awareness and innovation skills.

Track record in participating in the application process/attracting external research funding.

Proven record of scientific communications.

Aptitude for multidisciplinary approaches.

Knowledge/experience of protein chemistry and functionality.

Behavioural Competencies

Ability to work as part of a team, including consulting, collaborating and building relationships with key stakeholders.

Dedication to the programme, to quality and to a high degree of integrity in all aspects of work.

Strong interpersonal skills with an ability to communicate effectively to enable knowledge and technology transfer.

Ability to work independently, to meet self-imposed milestones and deliverables.

Flexible with an openness to change and an ability to adapt to changing research programme requirements

Ambition and drive, with a willingness to align personal research and personal development objectives with departmental, center, and organizational objectives

Other

As this role will involved driving vehicles, candidates must satisfy and continue to satisfy during employment with Teagasc, legal requirements to drive a car unaccompanied on Irish public roads

Eligibility

This is an open public competition. Should a current serving Teagasc staff member be successful in their application through open public competition for this post, their current contract of employment with Teagasc will come to an end on taking up this post.
Note: The 'essential' qualifications, knowledge, skills and behavioural competencies outlined above are 'must-have' which will be used in the selection process.
Attachment:


Resea_bfb85d9a-53b3-452b-8b3e-1586d5a62711.pdf

| | |
| --- | --- |
| Already a member of our Talent Pool? Login here to Apply | Join our Talent Pool + submit your application |