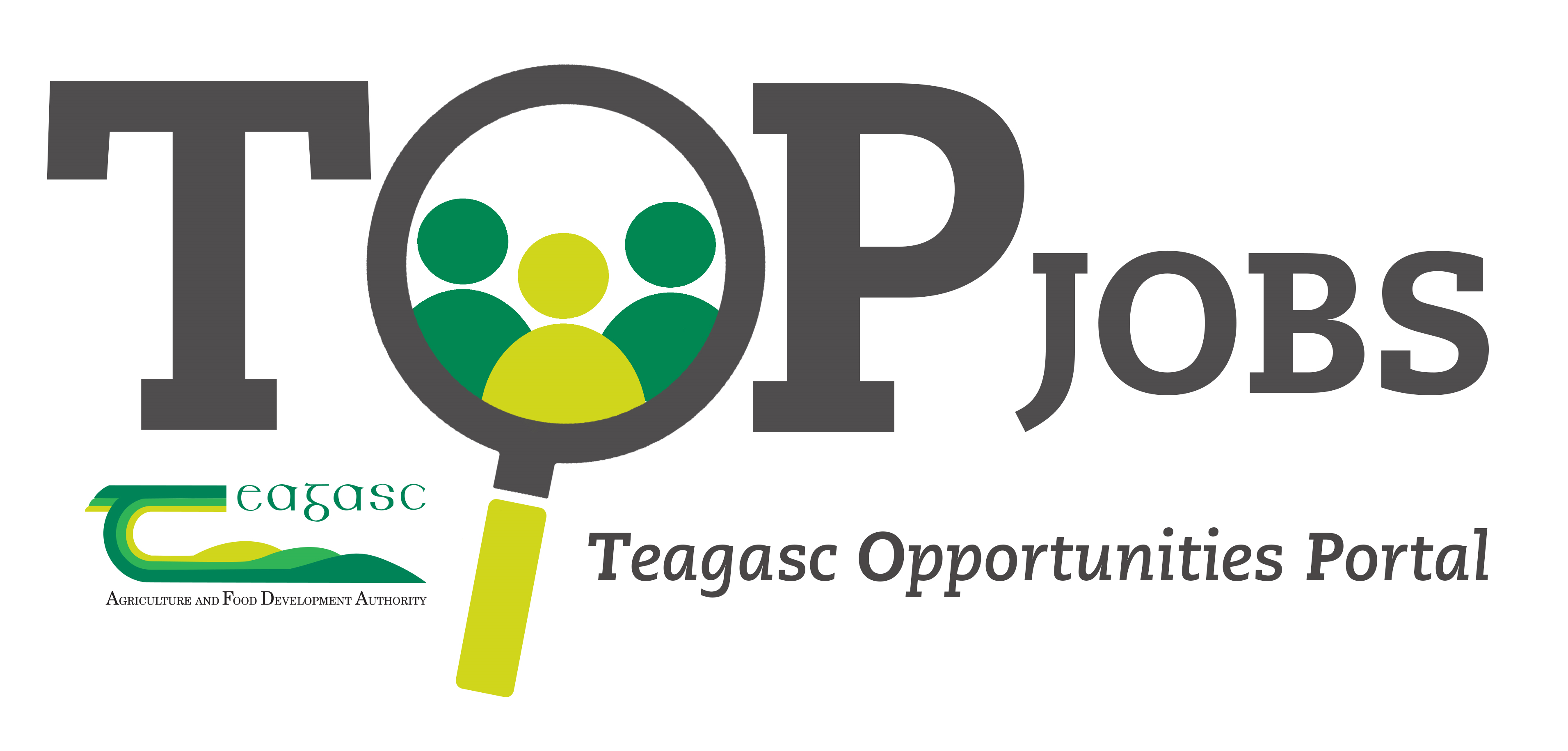 Technician - Dairy4Beef Project (Temporary)
Animal and Grassland Research and Innovation Centre, Teagasc, Grange, Dunsany, Co Meath, C15 PW93

Salary: Technician Grade 1 with a Salary Scale of €30,327 to €40,627
Technician
Temporary Full Time

Closing Date: 27/11/2020

Closing Time: 12:00
Job Summary
Duration: 48 months
Temporary Externally Funded Non Grant-in-Aid contract post, the indicative duration of which is 48 months, subject to contract. A panel may be formed from which future similar vacancies may be filled; such a panel will remain active for a maximum period of 12 months.
The beef industry is of vital national importance, with beef accounting for 18% of Irish Agri-food exports in 2018 generating approximately €2.5 billion. Beef production is a significant enterprise on over 94,000 farms and production is spread throughout Ireland. Teagasc plays a key role in developing competitive, profitable and sustainable systems of beef production.
The expanding Irish dairy herd, coupled with improving reproductive performance, is resulting in a greater proportion of slaughtered cattle originating from dairy herds; these include both purebred dairy animals but also beef sired animals from dairy dams. Increasingly, a large percentage of dairy bred beef animals are failing to meet minimum carcass specifications for weight and conformation across a widening range of slaughter ages, limiting the profitability of calf-to-beef systems. To ensure the environmental and financial sustainability of calf-to-beef systems, genetics and grassland nutrition need to be optimised to support high carcass output, whilst minimising concentrate use.
The objective of this project is to develop a sustainable production blueprint for calf-to-beef systems, exploring; 1) the contribution of animal genotype for age at slaughter to overall farm environmental, financial and physical performance, 2) the effect of strategic concentrate use on the age at slaughter, system profitability and environmental footprint. Achieving these objectives on a system basis will help develop an improved dairy calf-to-beef production blueprint and help further age at slaughter as a breeding objective.
Grange is part of the Animal & Grassland Research and innovation Centre in Teagasc and has extensive facilities for field and laboratory research. The appointee will work closely with a multi-disciplinary team with reasonability for supporting the Dairy4Beef project.
Job Objectives
To assist in the design of animal production and grassland trials, including development of experimental protocols and the supervision of farm staff and students.

To manage livestock systems experiments, ensuring treatments are applied and maintained as per the experimental protocol.

To record all experimental information accurately, carefully and orderly as prescribed in the experimental protocol using either manual or automated recording as appropriate.

To assist in the identification and procurement of appropriate animals of certain genotypes outlined in the experimental protocol.

To oversee the artificial rearing of dairy bred calves, ensuring high levels of health and welfare are maintained, following a strategic herd health plan.

Undertake both herbage and animal measurements in relation to grass production and utilisation and animal performance, grazing behaviour and intake.

To assemble, check and input all experimental data into suitable database such as PatureBase Ireland and Oracle for further data analysis

Prepare a range of biological material for laboratory analysis including drying and milling plus laboratory analysis.

Health & Safety Co-ordinator Duties or such other Health & Safety Duties as may be assigned from time to time.

To assist Teagasc in meeting the commitments of the Quality Customer Service Charter and Action Plan.

To actively participate in the annual business planning and Performance Management Development System (PMDS) processes.

Fully co-operate with the provisions made for ensuring the health, safety and welfare of themselves, fellow staff and non-Teagasc staff and co-operate with management in enabling Teagasc to comply with legal obligations. This includes full compliance with the responsibilities outlined in the Safety Statement.

Any other duties as may be assigned from time to time
Skills Required
Essential

Desirable

Qualifications

Candidates must have a Level 6 qualification in agriculture or a related discipline.

A Level 7 or higher qualification in agriculture or related discipline would be a distinct advantage.

Research experience in animal or grassland science

Skills

Good interpersonal, communication and sissemination skills with a wide range of stakeholders

Cattle handling and husbandry skills

Herd management skills

Good oral and written communication skills

Basic laboratory skills

People and resource management skills

Data handling and computer skills

Grass budgeting and management

Knowledge

In-depth and up to date knowledge of beef production systems

Broad understanding of Irish beef and dairy sectors and the intergration of their needs

Knowledge of cattle breeding (beef and dairy) and herd health

Detailed understanding of grassland management and nutrition

Knowledge of good laboratory pratice

laboratory analysis of animal feeds

Animal handling

Ability to assemble and summaries data

Understanding of animal breeding policy

Pasturebased production systems

Laboratory and farm health and safety

Behavioural Competencies

Ability to work as part of a team, including consulting, collaborating and building relationships with key partners.

Strives for high quality of work and demonstrates commitment to the programme.

Flexible approach to work with an ability to priortise tasks effectively.

A proactive solutions-focused approach to work, with an ability to adjust in a fast pased environment.

Has the ability to problem solve and demonstrates a high level of attention to detail.

Demonstrates positive approach to new challenges and dissemination of new tasks.

Other

As this role will involve driving vehicles, candidates must satisfy and continue to satisfy during employment with Teagasc, legal requirements to drive a car unaccompanied on Irish public roads.

Eligibility

This is an open public competition. Should a current serving Teagasc staff member be successful in their application through open public competition for this post, their current contract of employment with Teagasc will come to an end on taking up this post.
Note: The 'essential' qualifications, knowledge, skills and behavioural competencies outlined above are 'must-have' which will be used in the selection process.
Attachment:


Techn_fd0985d5-bc89-4e45-bfce-8e23131ed46a.pdf

| | |
| --- | --- |
| Already a member of our Talent Pool? Login here to Apply | Join our Talent Pool + submit your application |