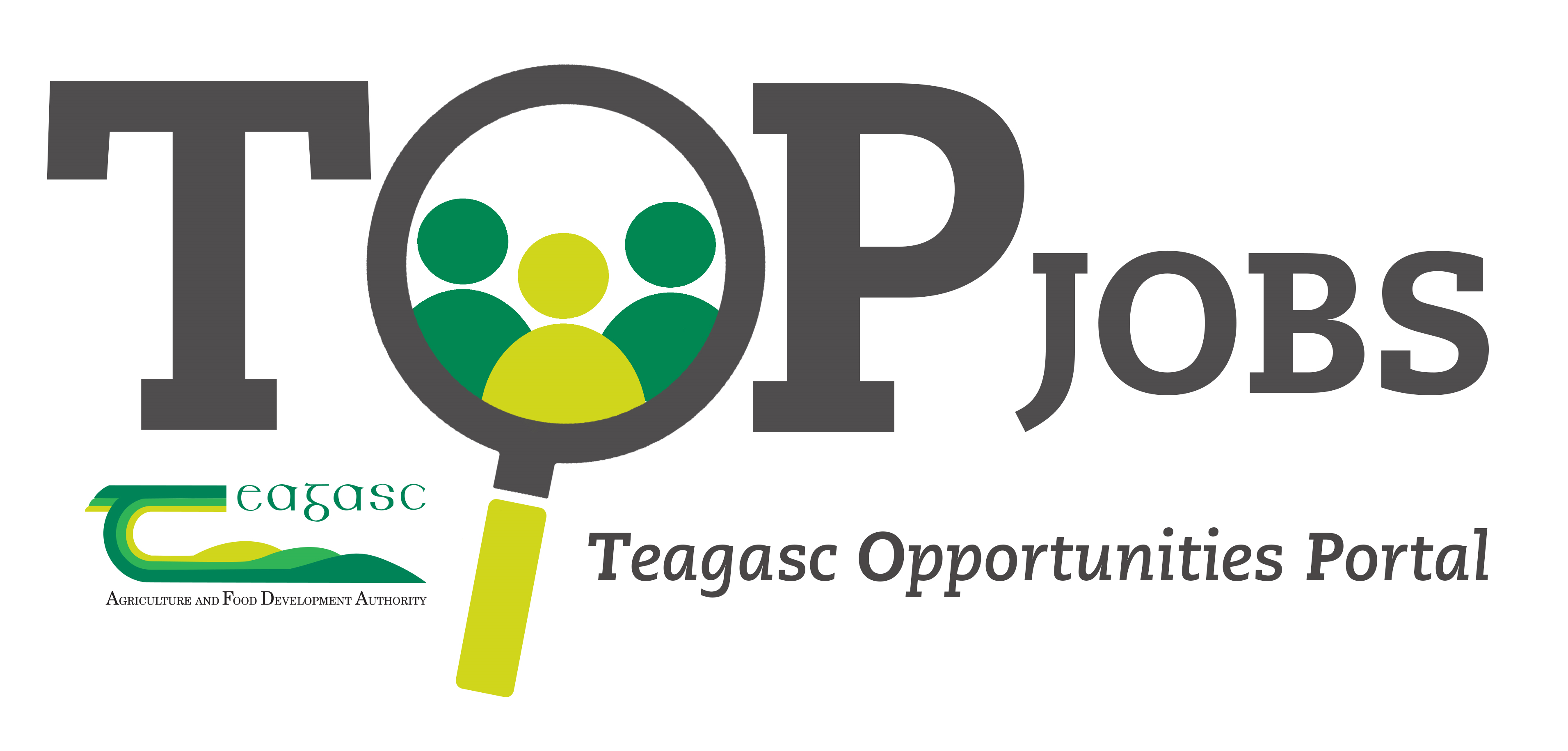 Research Officer – MASTER Project (Temporary)
Food Research Centre, Teagasc, Moorepark, Fermoy, Co Cork, P61 C996

Salary: Research Officer with a Salary Scale of €34,650 to €67,440
Research
Temporary Full Time

Closing Date: 27/11/2020

Closing Time: 12:00
Job Summary
Duration:
Temporary Externally Funded Non Grant-in-Aid contract post, the indicative duration of which is 24 months, subject to contract. A panel may be formed from which future similar vacancies may be filled; such a panel will remain active for a maximum period of 12 months.
The successful candidate will contribute to the bioinformatic and wet-lab based analysis of the microbiomes of fermented foods as well as other microbiomes of relevance to foods and the food chain. This analysis will include phylogenetic and functional (including of health associated genes and virulence factors) analysis. For this reason the candidate should be familiar with food microbiomes and the study thereof.
The successful applicant will (i) support MASTER partner organizations, (ii) contribute to the establishment of standardized tools and procedures for companies operating throughout the food chain, (iii) meta-analyse the produced data and (iv) build user- and company-friendly resources to support all the microbial tasks associated with the food chain.

MASTER is an EU H2020-funded Innovation Action, which commenced in January 2019 and is coordinated by Teagasc. MASTER takes a global approach to the development of microbiome products, foods/feeds, services or processes with high commercial potential, which will benefit society through improving the quantity, quality and safety of food, across multiple food chains, which include marine, plant, soil, rumen, meat, brewery and vegetable waste, and fermented foods. This is achieved through mining microbiome data relating to the food chain, developing big data management tools to identify inter-relations between microbiomes across food chains, and generating applications which promote sustainability, circularity and contribute to waste management and climate change mitigation. The MASTER project is harnessing microbiome knowledge to significantly enhance the health and resilience of fish, plants, animals and humans, improve professional skills and competencies, and support the creation of new jobs in the food sector and bioeconomy.
The Teagasc Food Programme is located at two sites, Moorepark Food Research Centre (Fermoy, Co. Cork) and Ashtown Food Research Centre (Dublin 15). The programme is based on applied research which involves significant industry engagement. In addition to its own programme, Teagasc participates in many large research initiatives (APC Microbiome Ireland, VistaMilk Research Centre, the Dairy Processing Technology Centre, Meat Technology Ireland and Food for Health Ireland) with industry partners and other research providers in the university sector. The current role will be located at the Moorepark research site, where significant food and health related research takes place and which hosts relevant infrastructure such as the Moorepark Technology Ltd. pilot plant, a dedicated food safety laboratory, the Teagasc/APC Microbiome Ireland Sequencing Centre, the National Food Imaging Centre and a planned Food Biotest facility.

Job Objectives
Engage with partners from collaborating organizations for microbiome analysis.

Contribute to the optimization of fermented food microbes and processes, for technological valorisation and gut health-promoting purposes.

Assist in the design of microbiome-based biopreservation processes aimed at extending product shelf-life.

Design innovative functional foods on the basis of the study of available data on food/gut microbiome inter-relationships.

Contribute to the development, optimization, standardization and validation of technologies for microbiome analysis and pathogen detection in samples relevant for the food chain.

Develop long-term tools and resources to support the food-chain into the future

Interpret research findings and prepare scientific and popular press publications.

Disseminate research findings to a variety of audiences as appropriate (Education and Public Engagement activities).

Assist Teagasc in meeting the commitments of the Quality Customer Service charter and action plan.

Actively participate in the annual business planning and Performance Management Development System (PMDS) processes

To assist Teagasc in meeting the commitments of the Quality Customer Service Charter and Action Plan.

To actively participate in the annual business planning and Performance Management Development System (PMDS) processes.

Fully co-operate with the provisions made for ensuring the health, safety and welfare of themselves, fellow staff and non-Teagasc staff and co-operate with management in enabling Teagasc to comply with legal obligations. This includes full compliance with the responsibilities outlined in the Safety Statement.

Any other duties as may be assigned from time to time
* This job specification is intended as a guide to the general range of duties and is intended to be neither definitive nor restrictive. It will be reviewed from time to time with the post holder.
Skills Required
Essential

Desirable

Qualifications

Candidates must have an honours Level 8 degree in microbiology, biochemistry, genetics, molecular biology or a related discipline.

A postgraduate degree and/or research experience in microbiology, biochemistry, genetics, molecular biology, bioinformatics or computational biology would be a distinct advantage

Full driving licence

Skills

Excellent laboratory skills, organization skills, report writing and data analysis.

An ability to collaborate with team members and PhD students to help build research knowledge and skills and to guide professional development.

Excellent communication skills (oral, written, presentation) with a proven record of scientific communication, with an ability to enable effective knowledge and technology transfer.

Evidence of research activity (publications, conference presentations, awards) and future scholarly output (working papers, research proposals, etc.).

Aptitude for multidisciplinary approaches.

Experience in setting own research agenda

Knowledge

Demonstrated research and technical expertise in microbiome analysis (16S rRNA and shotgun sequencing).
Experience in analysing microbiomes of relevance to foods (especially fermented foods) or the food chain.
Experience in culture-based analysis of microbes of relevance to foods or the food chain.

Ability to generate new ideas, unique concepts, models and solutions.

Behavioural Competencies

Ability to work as part of a team, including consulting, collaborating and building relationships with key stakeholders.
Strives for high quality of work and demonstrates commitment to the programme.
Ability to communicate effectively to enable knowledge and technology transfer.

Eligibility

This is an open public competition. Should a current serving Teagasc staff member be successful in their application through open public competition for this post, their current contract of employment with Teagasc will come to an end on taking up this post.
Note: The 'essential' qualifications, knowledge, skills and behavioural competencies outlined above are 'must-have' which will be used in the selection process.
Attachment:


Resea_bfb85d9a-53b3-452b-8b3e-1586d5a62711.pdf

| | |
| --- | --- |
| Already a member of our Talent Pool? Login here to Apply | Join our Talent Pool + submit your application |