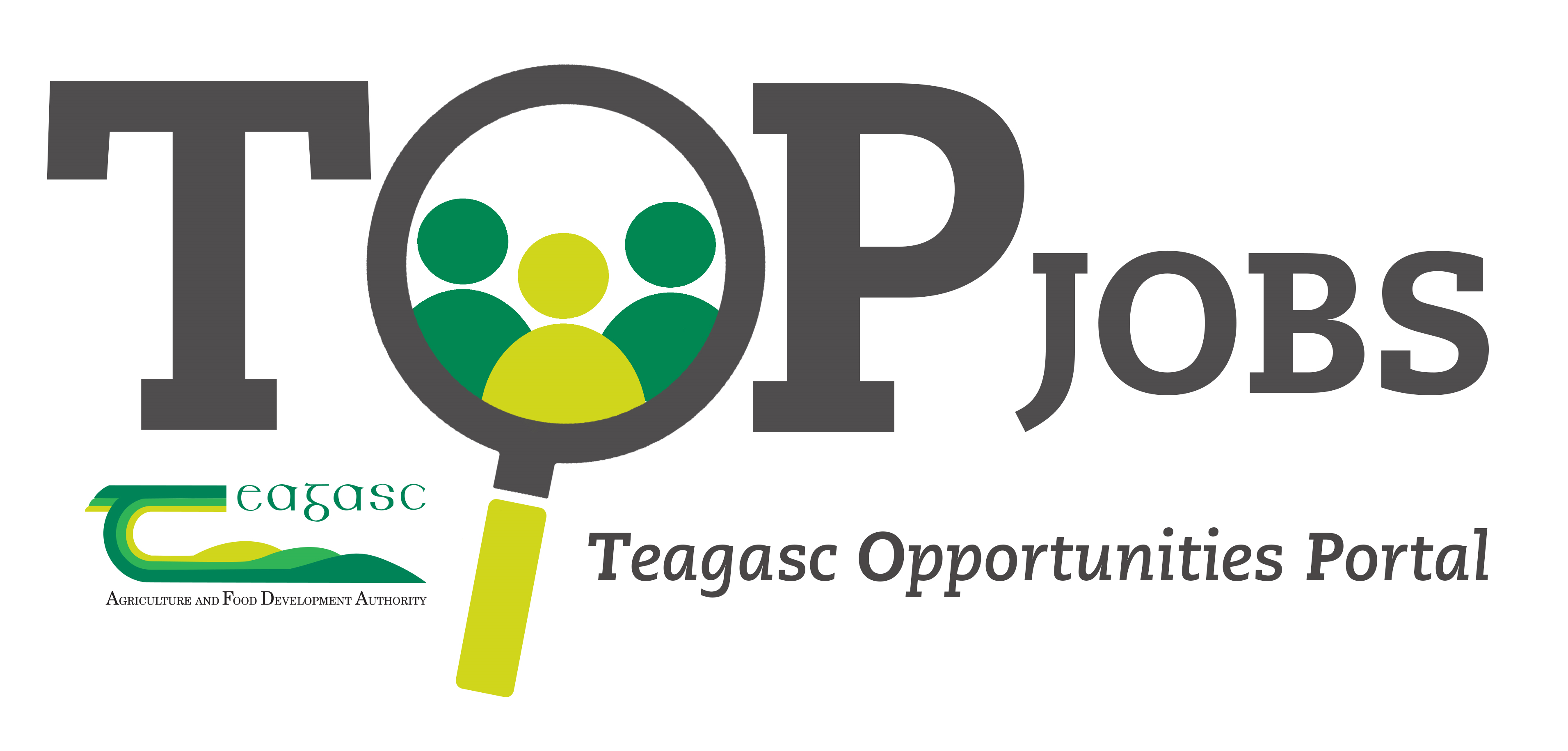 Walsh Scholarships Development Officer (Temporary) – Research Officer
Head Office, Teagasc, Oak Park, Carlow, R93 XE12

Salary: Research Officer with a Salary Scale of €34,650 to €67,440
Research
Temporary Full Time

Closing Date: 27/11/2020

Closing Time: 12:00
Job Summary
Duration:
Temporary Grant-in-Aid contract post, the indicative duration of which is 6 months, (maternity leave cover) subject to contract. A panel may be formed from which future similar vacancies may be filled; such a panel will remain active for a maximum period of 12 months.
The Walsh Scholarships Development Officer will be responsible for developing, co-ordinating and implementing development activities to support and promote the Teagasc Walsh Scholarships Programme.
The Teagasc Walsh Scholarships Programme is a postgraduate programme offering scholarships to graduates to undertake research in agriculture, food, environmental science, agri-food economics, rural development, horticulture and other related disciplines. The programme aims to develop intellectual capital within the agri-food sector and wider economy; increase Teagasc's research and knowledge transfer capacity and support the development of new areas of research in Teagasc. The programme has grown significantly over the years and Teagasc now has 280 Walsh Scholars across its research and knowledge transfer programmes with an annual investment of €6m from Teagasc grant in aid and from competitive funding awards such as the Department of Agriculture, Food and the Marine's FIRM, Stimulus and CoFord programmes.
Job Objectives
Develop, co-ordinate and implement activities to support Walsh Scholars (WS) across Teagasc research centres including the induction programme, Walsh Scholarships

fora, and student support services.

Co-ordinate and implement appropriate training programmes for Walsh Scholars based on needs analysis and, where appropriate, to adopt a blended learning approach to the development of training initiatives.

Develop, build and manage the Walsh Scholarships Alumni Network and conduct graduate surveys of past Walsh Scholars.

Liaise with internal and external stakeholders and build rapport and engagement with current and past Walsh Scholars.

Keep abreast of developments in doctoral education nationally and internationally.

Organise the national Walsh Scholarships seminar and other events as required.

Lead the development of promotional activities and materials to promote the programme across social media platforms, on the Teagasc website, and at career fairs.

Engage in science communication activities to promote the Walsh Scholarships programme and write articles, produce brochures/publications as required.

Contribute to the ongoing development of the Walsh Scholarships database on SmartSimple and the creation of new management reports.

Co-ordinate the activities of the Walsh Scholarships Development Committee.

Contribute to the objectives of the Walsh Scholarships Programme.

Co-ordinate other related training programmes as required.

To assist Teagasc in meeting the commitments of the Quality Customer Service Charter and Action Plan.
To actively participate in the annual business planning and Performance Management Development System (PMDS) processes.
Fully co-operate with the provisions made for ensuring the health, safety and welfare of themselves, fellow staff and non-Teagasc staff and co-operate with management in enabling Teagasc to comply with legal obligations. This includes full compliance with the responsibilities outlined in the Safety Statement.

Any other duties as may be assigned from time to time
* This job specification is intended as a guide to the general range of duties and is intended to be neither definitive nor restrictive. It will be reviewed from time to time with the post holder.
Skills Required
Essential

Desirable

Qualifications

Candidates must have an honours Level 8 degree in agriculture, food science, science or a related discipline.

Full clean Driving Licence.

A postgraduate degree and/or research experience as a Walsh Scholar would be an advantage.

Skills

Excellent organisation skills, report writing and data analysis skills.

Excellent communication and collaboration skills.

Ability to build relationships with internal and external stakeholders.

Conducting training needs analysis.

Organising training programmes.

Science communication and writing skills for popular media and social media platforms.

Ability to communicate research findings to a broad audience

Proven record of scientific communications.

Experience of organising an alumni programme.

Experience of organising training programmes.

Knowledge

Knowledge of developments in doctoral education.

Knowledge of social media platforms.

Behavioural Competencies

Ability to work as part of a team, including consulting, collaborating and building relationships with key stakeholders.

Strives for high quality of work and demonstrates commitment to the programme.

Ability to communicate effectively and to disseminate information in a clear and concise manner.

Flexible approach to work with an ability to adapt to changing requirements and/or priorities.

Ability to work autonomously and to prioritise tasks effectively.

Other

Candidates should ideally have access to a car and must satisfy and continue to satisfy during employment with Teagasc, legal requirements to drive unaccompanied on Irish public roads.
Eligibility

This is an open public competition. Should a current serving Teagasc staff member be successful in their application through open public competition for this post, their current contract of employment with Teagasc will come to an end on taking up this post.
Note: The 'essential' qualifications, knowledge, skills and behavioural competencies outlined above are 'must-have' which will be used in the selection process.
Attachment:


Resea_bfb85d9a-53b3-452b-8b3e-1586d5a62711.pdf

| | |
| --- | --- |
| Already a member of our Talent Pool? Login here to Apply | Join our Talent Pool + submit your application |