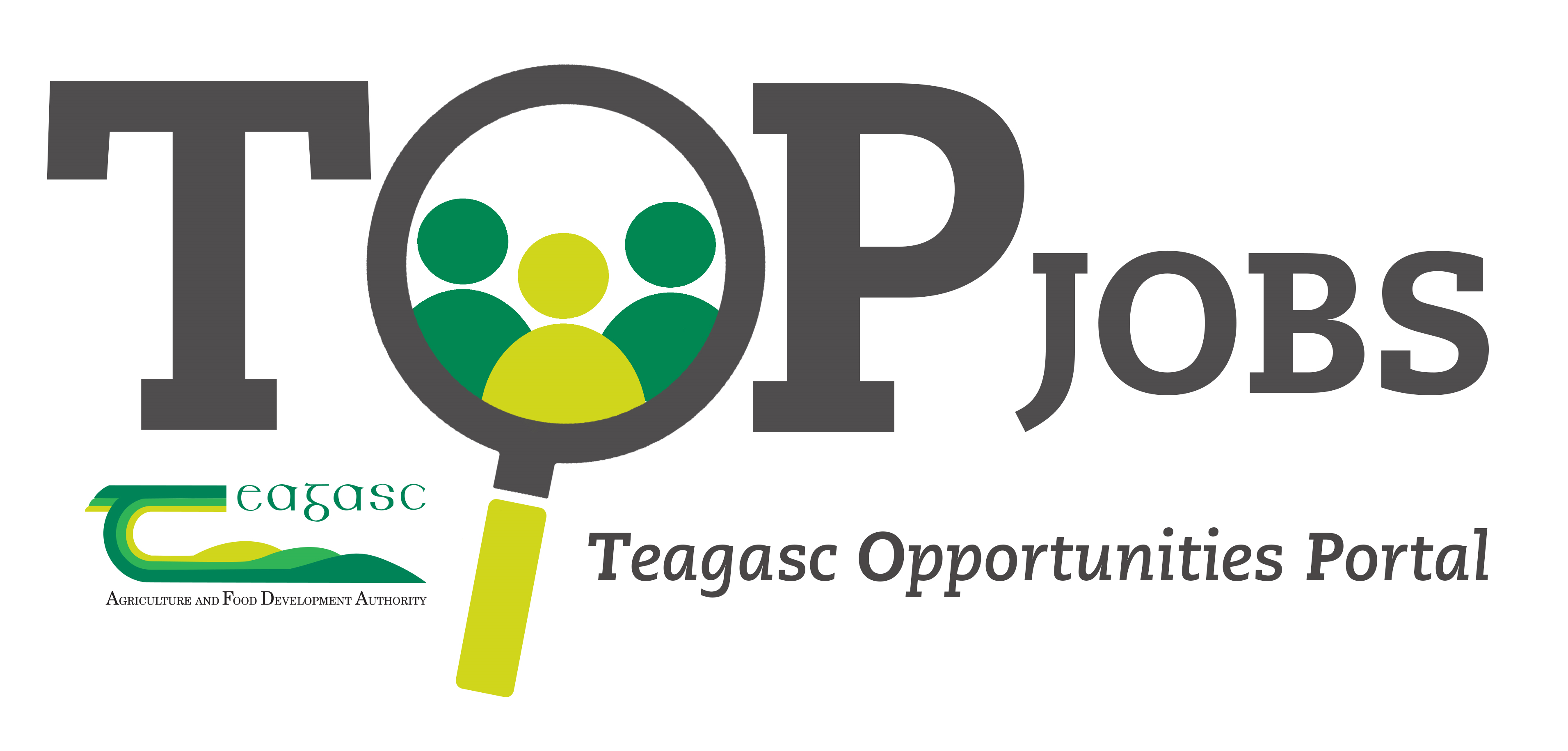 Technologist – SUPERDRY Project (Temporary)
Food Research Centre, Teagasc, Moorepark, Fermoy, Co Cork, P61 C996

Salary: Technologist Grade 1 with a Salary Scale of €34,650 to €67,440
Technologist
Temporary Full Time

Closing Date: 30/11/2020

Closing Time: 12:00
Job Summary
Duration:
Temporary Externally Funded Non Grant-in-Aid contract post, the indicative duration of which is 24 months, subject to contract. A panel may be formed from which future similar vacancies may be filled; such a panel will remain active for a maximum period of 12 months.
Basic Function
Teagasc is seeking to recruit a technologist with a track record in Food/Dairy science and experience of designing/optimising pilot plant production processes. Under the guidance of the Project Leader, the successful candidate will work as part of the SUPERDRY project team (described below). This role within the project will involve taking ownership of a pilot-scale manufacturing trials using a novel drying approach. The candidate will also collaborate with other team members to perform and optimise pilot scale production of a range of co-/by-product streams. The appointee will be involved in experimental / process design and will be required to troubleshoot production in order to manufacture materials of sufficient quality for valorisation by project partners.
Background to role
Sustainable production and efficient recycling of by-product and co-product streams (SUPERDRY) is an Enterprise Ireland (EI) Innovation Partners co-funded by EI and 7 industry partners. The main objectives of the project are to a) provide sustainable alternatives for drying of low-value and difficult to manage co-products and by-products streams; b) examine the feasibility of re-combining co-/by-product streams from various partners into functional, saleable products and c) thereby improve the sustainability of circularity and sustainability of the Irish food processing system. The main approach to drying streams in this project will be that of superconcentration followed by granulation. This represents a novel approach for the dairy industry involving concentrating dairy streams to levels not normally achieved in the dairy industry, followed by granulation using a pre-existing powder. The project team will consist of 5 core members (project lead, 2 x research officers, 1 x technologist, 1 MSc student) who will work together to assess streams from industry, produce functional pilot-scale products and advance the scientific understanding of this novel area.
Job Objectives
To work with project partners to identify the attributes required to meet market/customer requirements

To characterise powder materials arising from novel manufacturing process

To work with the project team to assist development of a large pilot scale drying which manufactures products of the required quality

To participate in project planning, administration and the achievement of project deliverables.

To assist Teagasc in meeting the commitments of the Quality Customer Service Charter and Action Plan.

To actively participate in the annual business planning and Performance Management Development System (PMDS) processes.

Fully co-operate with the provisions made for ensuring the health, safety and welfare of themselves, fellow staff and non-Teagasc staff and co-operate with management in enabling Teagasc to comply with legal obligations. This includes full compliance with the responsibilities outlined in the Safety Statement.

Any other duties as may be assigned from time to time
* This job specification is intended as a guide to the general range of duties and is intended to be neither definitive nor restrictive. It will be reviewed from time to time with the post holder.
Skills Required
Essential

Desirable

Qualifications

Candidates must have a Level 8 degree in food science or engineering or a related discipline.

Experience in food/dairy science or engineering would be a distinct advantage.

Driver's Licence

Skills

Experience in pilot plant or industrial plant operation

Good communicator with excellent writing and organisational skills.

Accuracy, with attention to detail with and an ability to work to tight deadlines.

Excellent interpersonal skills and an ability to work effectively with dynamic and diverse staff and management.

Specific experience in the scale-up of lab protocols to large pilot/industrial scale

Aptitude for multidisciplinary approaches.

Knowledge

Principle of dairy process engineering

Dairy and food science principles

Good knowledge of Dairy and Food ingredient manufacturing processes e.g. processes used, side-streams generated etc.

Interactions between food components occurring during manufacture

Experience working with dairy/food ingredients and ingredient formulations

Behavioural Competencies

Ability to work as part of a team, including consulting, collaborating and building relationships with key stakeholders.

Strives for high quality of work and demonstrates commitment to the programme.

Ability to communicate effectively to enable knowledge and technology transfer.

Other

As this role will involve driving vehicles, candidates must satisfy and continue to satisfy during employment with Teagasc, legal requirements to drive a car unaccompanied on Irish public roads

Eligibility

This is an open public competition. Should a current serving Teagasc staff member be successful in their application through open public competition for this post, their current contract of employment with Teagasc will come to an end on taking up this post.
Note: The 'essential' qualifications, knowledge, skills and behavioural competencies outlined above are 'must-have' which will be used in the selection process.
---
Attachment:


Techn_5990f9d0-a30c-48e0-abb4-e13eae1d821a.pdf

| | |
| --- | --- |
| Already a member of our Talent Pool? Login here to Apply | Join our Talent Pool + submit your application |