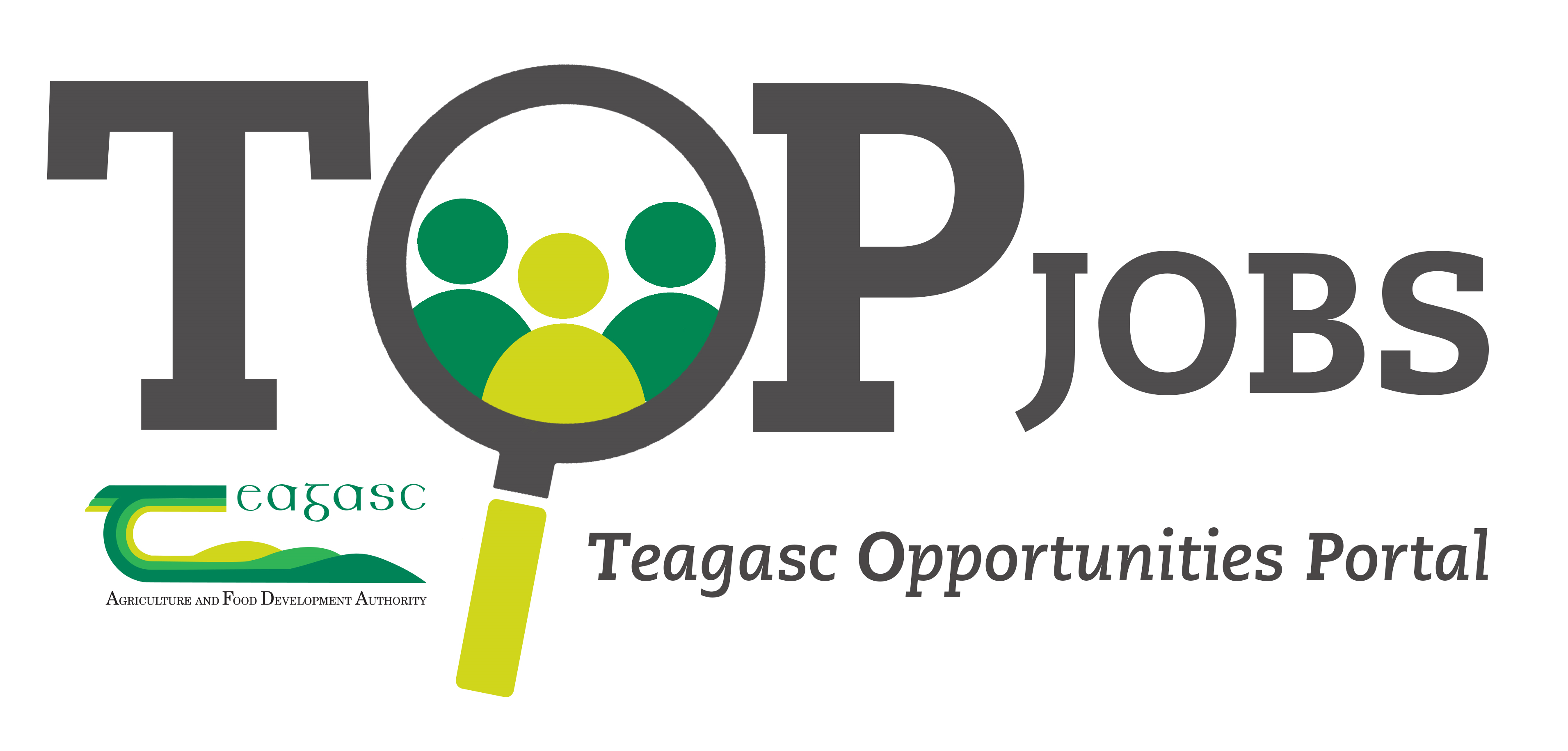 Technician - Triple A Project (Temporary)
Crops, Environment and Land Use Research Centre, Teagasc, Johnstown Castle, Co Wexford, Y35 Y521

Salary: Technician Grade 1 with a Salary Scale of €30,327 to €40,627
Technician
Temporary Full Time

Closing Date: 30/11/2020

Closing Time: 12:00
Job Summary
Duration:
Temporary Externally Funded Non Grant-in-Aid contract post, the indicative duration of which is 24 months, subject to contract. A panel may be formed from which future similar vacancies may be filled; such a panel will remain active for a maximum period of 12 months.
Basic Function of the Role:
The successful candidate will provide technical, laboratory and field support to staff and activities of a project on ' Abating Ammonia in Agriculture' investigating ammonia emissions and abatement technologies appropriate to Irish agricultural production systems, with a focus on 1) generation of field-scale ammonia emission factors from slurry land spreading in varying environmental conditions and on different soil types, 2) assessment of the efficacy of slurry additives during storage and land spreading and 3) evaluation of low emission spreading techniques alone and in conjunction with slurry amendments for ammonia abatement.
The successful candidate will assist with organising the daily operations of the project work at Johnstown Castle, and will contribute to data analysis, collating reports and arranging project meetings and dissemination.
Background to the Role:
Ammonia is an air pollutant impacting natural habitats, animal and human health and leads to indirect greenhouse gas emissions. Ireland has been breaching its ammonia emission reduction targets since 2016. Virtually all of ammonia comes from agriculture and the expanding sector is facing pressure to reduce emissions. Based on previous research, the Teagasc Marginal Abatement Cost Curve recommended a number of ammonia abatement measures, based on current knowledge, that are available for adoption on Irish farms. However, a number of research gaps still exist in relation to ammonia abatement technology and its deployment in Ireland. Therefore, this project will investigate new and novel technologies reducing ammonia emissions to add to a suite of options available to Irish agriculture. It will produce reliable emission factors associated with spreading techniques and amendments of liquid manures to improve national accounting of mitigation and investigate socio-economic barriers to adoption of ammonia abatement measures.
The position will be based in Teagasc Environment, Soils and Land-use Department in Johnstown Castle, Wexford. Teagasc - Johnstown Castle is Ireland's leading research institute on soils and environment related research, and conducts both fundamental and applied research on a wide range of subjects, e.g. soil quality, nutrient efficiency, water quality, gaseous emissions, agro-ecology, and land use. Johnstown Castle has many different laboratory, greenhouse and field facilities to support research as well as 190 hectares of farmland.
Job Objectives
Assist with conducting experiments quantifying ammonia emissions from slurry management (at laboratory, pilot and field scales using appropriate techniques).

Assist with laboratory preparation and analyses of collected field samples with adherence to good laboratory practice and quality assurance.

Contribute to the management of samples, equipment and consumables.

Maintenance, calibration and automation of field gas monitoring equipment and related IT issues.

Assist in data management and statistical analysis of data generated within the project.

Assist the project team in overall delivery of the project, including assisting with preparation of materials for reports and public dissemination events as required.

Health & Safety Co-ordinator Duties or such other Health & Safety Duties as may be assigned from time to time.

To assist Teagasc in meeting the commitments of the Quality Customer Service Charter and Action Plan.

To actively participate in the annual business planning and Performance Management Development System (PMDS) processes.

Fully co-operate with the provisions made for ensuring the health, safety and welfare of themselves, fellow staff and non-Teagasc staff and co-operate with management in enabling Teagasc to comply with legal obligations. This includes full compliance with the responsibilities outlined in the Safety Statement.

Any other duties as may be assigned from time to time
* This job specification is intended as a guide to the general range of duties and is intended to be neither definitive nor restrictive. It will be reviewed from time to time with the post holder.
Skills Required
Essential

Desirable

Qualifications

Candidates must have a Level 6 in science, agricultural science, soil science, environmental science or a related discipline

A Level 7 qualification in a relevant discipline would be a distinct advantage

Skills

People and resource management skills.

Data handling and computer skills.

Good technical and field skills.

Experimental design

Statistical analysis

Knowledge

Gaseous monitoring

Understanding of temperate grassland and ruminant agricultural systems

Laboratory methodologies for sample preparation and analyses.

Field methodologies for soil, gas and herbage sampling.

Behavioural Competencies

Ability to work as part of a team, including consulting, collaborating and building relationships with key partners.

Has the ability to problem solve and demonstrates a high level of attention to detail.

Demonstrates positive approach to new challenges and dissemination of new tasks.

Other

As this role will involve driving vehicles, candidates must satisfy and continue to satisfy during employment with Teagasc, legal requirements to drive a car unaccompanied on Irish public roads.

Eligibility

This is an open public competition. Should a current serving Teagasc staff member be successful in their application through open public competition for this post, their current contract of employment with Teagasc will come to an end on taking up this post.
Note: The 'essential' qualifications, knowledge, skills and behavioural competencies outlined above are 'must-have' which will be used in the selection process.
Attachment:


Techn_fd0985d5-bc89-4e45-bfce-8e23131ed46a.pdf

| | |
| --- | --- |
| Already a member of our Talent Pool? Login here to Apply | Join our Talent Pool + submit your application |