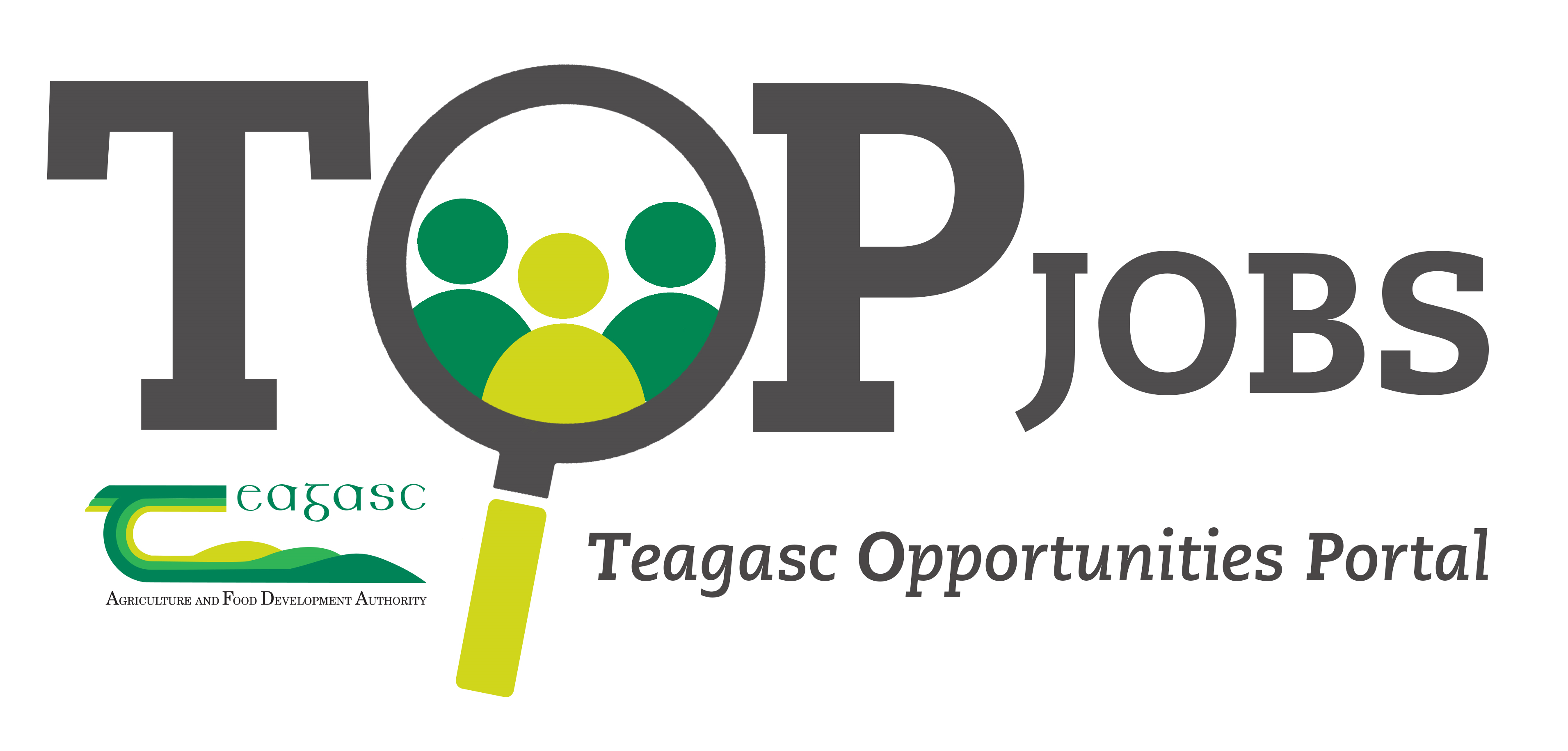 Technician - APC Project
Food Research Centre, Teagasc, Moorepark, Fermoy, Co Cork, P61 C996

Salary: Technician Grade 1 with a Salary Scale of €30,327 to €40,627
Technician
Temporary Full Time

Closing Date: 29/01/2021

Closing Time: 12:00
Job Summary
Duration:
Temporary Externally Funded Non Grant-in-Aid contract post, the indicative duration of which is 6 months, subject to contract. A panel may be formed from which future similar vacancies may be filled; such a panel will remain active for a maximum period of 12 months.
Teagasc is now seeking to recruit a highly motivated, ambitious scientist with experience in cell culture and microbiology to an industry-funded project. The successful candidate will be part of a vibrant multi-disciplinary team to assess the health benefits to the gut, of various food ingredients and products. Gut health biomarkers will include gut immune modulation and satiety hormone production using commercially available immortalized cell lines. The successful candidate will also examine various ingredients for the presence of carbohydrate active enzymes. The successful candidate will be a creative, independent thinker with willingness to learn and acquire new skills.
Job Objectives
Prepare various food ingredients and products for the detection of carbohydrate active enzymes.

Treat cell lines with gastrointestinal digested foods.

Perform a range of bioassays including satiety and cytokine ELISA.

Produce data of excellent scientific quality in terms of precision, accuracy and verifiability.

Interpret research findings and critically analyze and evaluate one's findings and those of others.

Write clearly and concisely producing well-structured and comprehensive reports.

Apply effective project management through the setting of research goals, intermediate milestones and prioritization of activities.

Assist Teagasc in meeting the commitments of the Quality Customer Service charter and action plan.

Actively participate in the annual business planning and Performance Management Development System (PMDS) processes.

Fully co-operate with the provisions made for ensuring the health, safety and welfare of themselves, fellow staff and non-Teagasc staff and co-operate with management in enabling Teagasc to comply with legal obligations. This includes full compliance with the responsibilities outlined in the Safety Statement.

Any other duties as may be assigned from time to time.
* This job specification is intended as a guide to the general range of duties and is intended to be neither definitive nor restrictive. It will be reviewed from time to time with the post holder.
Skills Required
Essential

Desirable

Qualifications

Candidates must have a Level 6 qualification in food science or a related discipline.

A Level 7 qualification in a food related discipline or biochemistry.

Skills

Excellent laboratory skills, organization skills, report writing and data analysis.

Cell culture experience

Microbiology

Ability to communicate effectively.

Use of ELISAs

Experience in performing biochemical assays

Knowledge

Knowledge of Tissue culture and biochemical analysis

Satiety signaling

Cytokine quantification.

Behavioural Competencies

Ability to work as part of a team, including consulting, collaborating and building relationships with key stakeholders.

Strives for high quality of work and demonstrates commitment to the programme.

Ability to communicate effectively to enable knowledge and technology transfer.

Eligibility

This is an open public competition. Should a current serving Teagasc staff member be successful in their application through open public competition for this post, their current contract of employment with Teagasc will come to an end on taking up this post.
Note: The 'essential' qualifications, knowledge, skills and behavioural competencies outlined above are 'must-have' which will be used in the selection process.
---
Attachment:


Techn_fd0985d5-bc89-4e45-bfce-8e23131ed46a.pdf

| | |
| --- | --- |
| Already a member of our Talent Pool? Login here to Apply | Join our Talent Pool + submit your application |