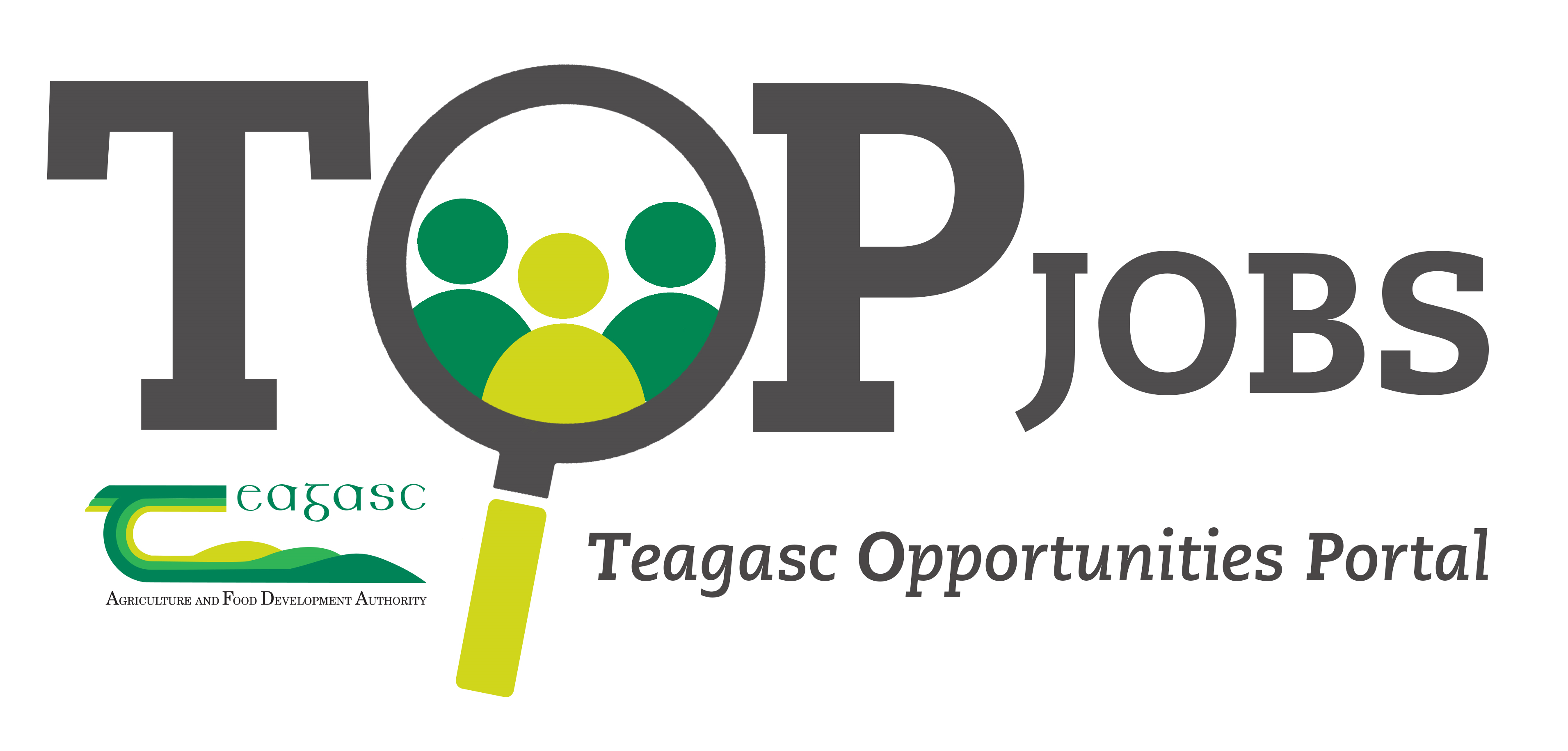 Post Doctoral Research Fellow Level 1 (PD1) - Pasture Remote Sensing
Animal and Grassland Research and Innovation Centre, Teagasc, Moorepark, Fermoy, Co Cork, P61 C997

Salary: Post Doc (Level 1) with a Salary Scale of €37,028 to €41,025
Research
Post Doc Full Time

Closing Date: 12/04/2021

Closing Time: 12:00
Job Summary
Duration:
Temporary Externally Funded Non Grant-in-Aid contract post, the indicative duration of which is 36 months, subject to contract. A panel may be formed from which future similar vacancies may be filled; such a panel will remain active for a maximum period of 12 months.
The Teagasc post-doctoral programme provides training and development opportunities for early career scientists that enhances their experience of learning and equips them with the necessary skills for the next stage of their chosen career in research.
Basic Function
To develop approaches for remote sensing of agricultural grassland using technologies such as optical and microwave satellite data, drone imaging and terrestrial photography and assist in the evaluation of these technologies in modelling grazed grassland using machine learning methods (such as ANN and SVM). Parameters such as herbage mass, sward composition, pasture quality and pasture density are of particular interest. The successful candidate will be involved in experimental design, and will undertake associated field measurements to develop ground truth data, satellite image processing and data handling, and collating and analysing the data. They will work in collaboration with a number of Teagasc colleagues and partners in the VistaMilk project, including the machine learning teams at DCU and UCD to develop and validate the prediction equations. They will also work with the PastureBase Ireland Team to examine to potential for data captured through image analyses to feed directly into PastureBase Ireland.
Background of role
This position is funded through the VistaMilk SFI research centre. VistaMilk SFI research centre is a unique collaboration between Agri-Food and ICT research institutes and leading Irish/multinational food and ICT companies. The centre is hosted by Teagasc, the national agency with responsibility for agriculture and food research, in partnership with the Tyndall National Institute, Ireland's national microelectronics institute, the Telecommunications Software & Systems Group (TSSG) at Waterford Institute of Technology, the Insight Centre for Data Analytics (at UCD, NUIG, DCU) and the Irish Cattle Breeding Federation (ICBF). The overarching objective of the VistaMilk Centre is to generate and deploy innovative basic and applied science and technologies to better understand and monitor the complex interactions across a highly inter-dependent food-production chain. The objective will be achieved by exploring three inter-dependent thematic areas (Pasture, Cow and Food) bringing together expertise in the biological sciences, sensor-systems, communications and networking, data analytics, and food processing.

The position will be based at Teagasc, Animal and Grassland Research and Innovation centre, Moorepark, Fermoy, Co. Cork. Teagasc Moorepark is Ireland's leading dairy research institute with national responsibility for all aspects of dairy production research which include grassland and grazing management, dairy cow breeding and reproduction, dairy cow health and welfare, milk composition and dairy cow nutrition, milking technology and milk production systems plus economic analysis. The research programme is conducted by over 30 scientific and technical professionals, supported by administrative and operative staff. Moorepark operates a total of 7 individual dairy research farms totalling 500 hectares and over 1,000 dairy cows. Facilitates include modern individual cow feed and metabolism units, laboratories, computer facilities and milking research laboratories.
This is a research focused training role, the primary purpose of which is to provide early career scientists with the opportunity to develop their research skills and competencies.
The PD Fellow will, while working in conjunction with senior research staff, gain insight and experience into a variety of areas including the processes of project and budgetary management, publishing in peer-reviewed academic journals, writing grant applications, and attracting external funding; the development of active collaboration with relevant national and international research communities; the development of communication and presentation skills, leadership and management skills, and overall career development.
Modules will be conducted under the supervision and direction of the Project Leader or other designated manager in conjunction with the Head of Department.

Job Objectives
Duties & Responsibilities:
Identify appropriate remote sensing technologies for use in grassland

Design field experiments and ground truth data collection

Capture images using cameras including phone camera and multispectral cameras either hand held or deployed through other means, e.g. drone

Undertake appropriate field measurements to develop a database of ground truth data to accompany the images

Collate the necessary satellite or radar images and associated field data

Assist in the development of machine learning models with machine learning teams in VistaMilk to estimate range of sward bio-physical parameters form the suit of imagery and ground truth

Deliver an appropriate remote sensing technology that can be integrated into PastureBase Ireland
Additional Duties & Responsibilities:
To interpret research findings and prepare scientific and popular press publications.

To disseminate research findings to a variety of audiences as appropriate.

To assist Teagasc in meeting the commitments of the Quality Customer Service Charter and Action Plan.

To comply with all relevant Teagasc policies and procedures.

Fully co-operate with the provisions made for ensuring the health, safety and welfare of themselves, fellow staff and non-Teagasc staff and co-operate with management in enabling Teagasc to comply with legal obligations. This includes full compliance with the responsibilities outlined in the Safety Statement.

To actively participate in the Teagasc Post Doctoral Fellowship programme and review processes, and to undertake all Post Doctoral fellowship training and associated duties as agreed in the Training & Development Plan.

To take up additional duties as they may arise and be assigned by management.
Skills Required
Essential
PhD in grassland and/or remote sensing

Relevant research experience not to exceed 3 years' post-PhD

Demonstrated research and technical expertise in grassland management and herbage measurements and data analyses

Evidence of research activity (publications, conference presentations, awards) and future scholarly output (working papers, research proposals etc)

Excellent project management, analytical, report writing and data analysis skills

An ability to collaborate with team members and PhD students to help build research knowledge and skill and to guide professional development

Excellent communication skills (oral, written, presentation) with an ability to enable effective knowledge and technology transfer

Ability to generate new ideas, unique concepts, models and solutions
Desirable
Experiencein image analyses

Experience in setting own research agenda

Evidence of teamwork and collaboration with relevant partners
Attachment:


PD1_I_c3859693-c9b1-4a00-8af0-1a8f0c220e93.pdf

| | |
| --- | --- |
| Already a member of our Talent Pool? Login here to Apply | Join our Talent Pool + submit your application |