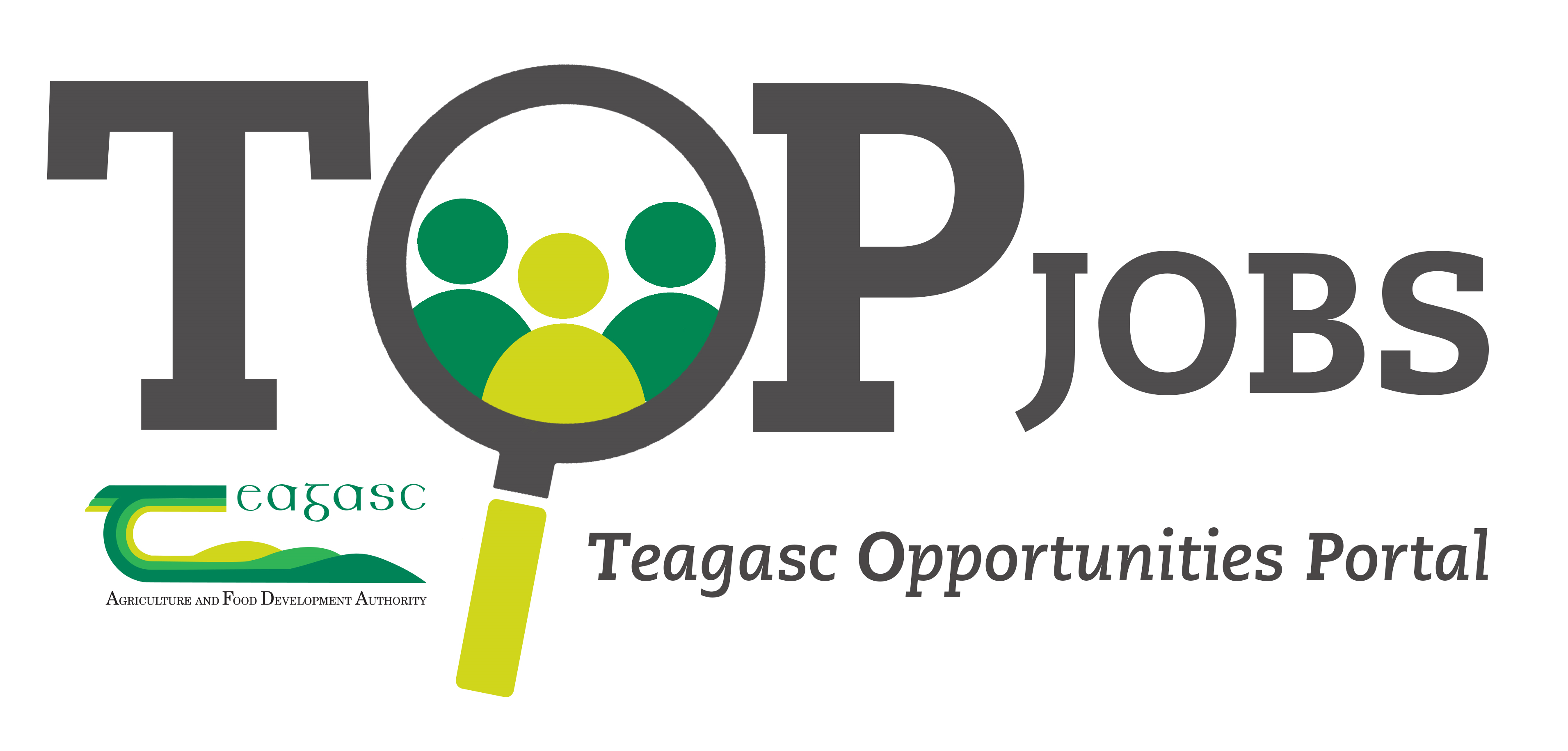 Soil Carbon and Greenhouse Gas Research Technician (Temporary)
Crops, Environment and Land Use Research Centre, Teagasc, Johnstown Castle, Co Wexford, Y35 Y521

Salary: Technician Grade 1 with a Salary Scale of €30,327 to €40,627
Technician
Funded Full Time

Closing Date: 14/05/2021

Closing Time: 12:00
Job Summary
Duration:
Temporary Externally Funded Non Grant-in-Aid contract post, the indicative duration of which is 36 months, subject to contract. A panel may be formed from which future similar vacancies may be filled; such a panel will remain active for a maximum period of 12 months.
Basic Function
This competition seeks to recruit three technicians focused on measuring ecosystem CO2 fluxes using eddy covariance and/or chamber techniques as well as measuring changes in soil organic carbon (SOC). The successful candidates will join a well-resourced team of permanent and contract staff carrying out climate change research. They will provide technical support to help improve our understanding of the effect of soil type and land-use management practice on soil carbon pools and carbon sequestration. These roles will play a pivotal role in the SignPost farms programme and Thematic Programme 1 of the VistaMilk SFI Research Centre led by Teagasc Moorepark. These positions will be based in Teagasc Environment, Soils and Land-use Department in Johnstown Castle, Wexford. VistaMilk represents a unique collaboration between Agri-Food and ICT research institutes and leading Irish/multinational food and ICT companies. The Centre is hosted by Teagasc, the national agency with responsibility for agriculture and food research, in partnership with the Tyndall National Institute, Ireland's national microelectronics institute, the Telecommunications Software & Systems Group (TSSG) at Waterford Institute of Technology and the Insight Centre for Data Analytics (at UCD, NUIG, DCU). VistaMilk is funded by Science Foundation Ireland (SFI), the Department of Agriculture Food and the Marine (DAFM) and the European Regional Development Fund (ERDF). Teagasc - Johnstown Castle is Ireland's leading research institute on soils and environment related research, and conducts both fundamental and applied research on a wide range of subjects, e.g. soil quality, nutrient efficiency, water quality, gaseous emissions, agro-ecology, and land use.
Background
Changes in agricultural practices associated with the reform of the Common Agricultural Policy, World Trade Organisation negotiations, Kyoto and Gothenburg protocols have highlighted the importance of reducing agricultural greenhouse gas emissions. Indeed, the national Climate Action Plan has set a 51% reduction target for national greenhouse gas (GHG) emissions. The Teagasc Marginal Abatement Cost Curve (MACC) highlighted the key role in both enhancing carbon sequestration in agricultural soils as well as reducing CO2 emissions from organic soils
Job Objectives
To sample and process soil samples for carbon sequestration quantification.

To set up and establish eddy covariance instrumentation at various sites around Ireland.

Perform maintenance, calibration and automation of field gas monitoring equipment and related IT issues.

Establish and manage databases and perform statistical analysis of data generated in the project.

Undertake quality control of laboratory analyses and ensure good data management.

Contribute to the management of samples, equipment and consumables.

To carry out electronic data entry of research samples for example using the Teagasc LIMS system and recording of results.

To contribute to the teamwork and team-spirit in the agri-environmental research department at Johnstown Castle, and to foster and add to further collaboration and integration.

To assist Teagasc in meeting the commitments of the Quality Customer Service Charter and Action Plan.

To actively participate in the annual business planning and Performance Management Development System (PMDS) processes.

Carry out such other duties as may be assigned from time to time.
* This job specification is intended as a guide to the general range of duties and is intended to be neither definitive nor restrictive. It will be reviewed from time to time with the post-holder.
Skills Required
Essential

Desirable

Qualifications

Candidates must have a QQI Level 6 in chemistry, agricultural science, soil science, environmental science or a related discipline.

Postgraduate training and experience in the quantification of greenhouse gas emissions and soil carbon quantification.

Skills

Data handling and computer skills.

Good field and laboratory skills.

Familiarity with Microsoft office products.

Greenhouse gas measurement protocols and soil carbon analysis.

Use of infra-red gas analysers, gas chromatography and eddy covariance equipment

Analysis of caarbon and nutrients in plant, soil and water.

Experimental design.

Database use and management.

Statistical analysis.

Knowledge

Understanding of Irish agricultural systems.

Understanding of agri-environmental issues.

Grass and crop agronomy.

Familiarity with field and lab methods for investigating greenhouse gas emissions and soil carbon sequestration.

Soil biogeochemistry.

Laboratory and field quality assurance & quality control.

Behavioural Competencies

Ability to work as part of a team, including consulting, collaborating and building relationships with key partners.

Self-disciplined organised and methodical.

Ability to problem solve and a high level of attention to detail.

Positive approach to new challenges and dissemination of new tasks.

Flexible with an ability to adapt to changing requirements/priorities.

Strives for high quality of work and demonstrates commitment to the programme.

Other

Candidates must satisfy and continue to satisfy during employment with Teagasc, legal requirements to drive unaccompanied on Irish public roads.
Attachment:


Techn_fd0985d5-bc89-4e45-bfce-8e23131ed46a.pdf

| | |
| --- | --- |
| Already Registered? Login Here | Join Our Talent Pool & Submit |