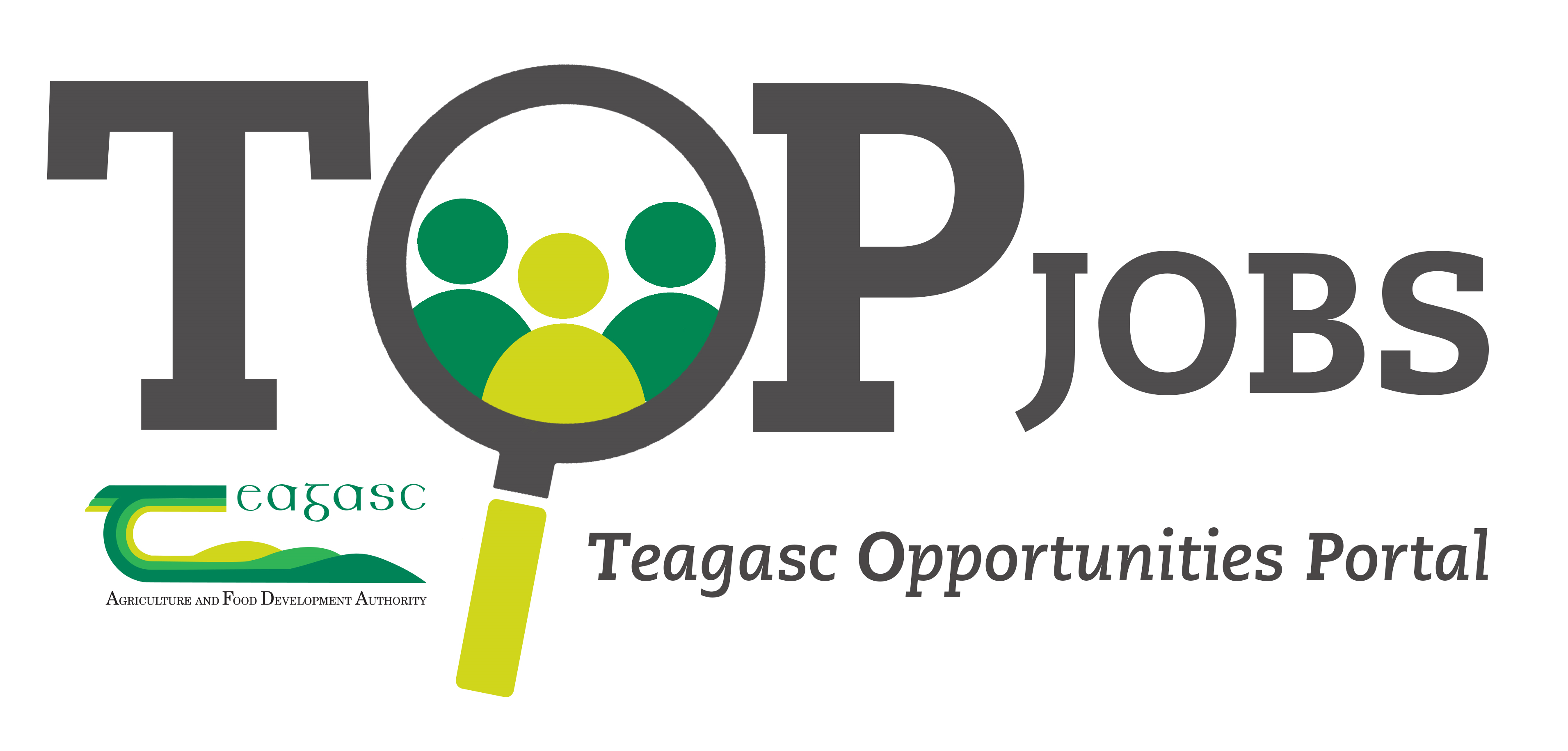 Milk Analysis Technician x 4 (Temporary)
Food Research Centre, Teagasc, Moorepark, Fermoy, Co Cork, P61 C996

Salary: Technician Grade 1 with a Salary Scale of €30,327 to €40,627
Technician
Funded Full Time

Closing Date: 30/06/2021

Closing Time: 12:00
Job Summary
Duration:
Temporary Externally Funded Non Grant-in-Aid contract post, the indicative duration of which is 18 months, subject to contract. A panel may be formed from which future similar vacancies may be filled; such a panel will remain active for a maximum period of 12 months.
Basic Function
The appointees will work as part of an analytical team located at the Teagasc Food Research Centre, Moorepark, Fermoy, Co. Cork. They will be required to undertake an in-depth and broad ranging analytical programme primarily focused on the chemical and physicochemical characterization of seasonally changing milk samples and occasionally of dairy product samples. All samples will be generated through the activities of the Dairy Processing Technology Centre. The appointees will also be required to maintain a high level of customer service and to be responsible for managing and ordering consumables required by the laboratories. Further duties will include upkeep of the associated analytical equipment, ensuring that the analytical methodologies are undertaken in accordance with laboratory Standard Operating Procedures and ensuring compliance with all health and safety regulations.
Background
The Teagasc Food Research Centre, Moorepark is internationally renowned for its research programme including that focused on dairy-based products and ingredients (milk, cheese, infant formula, etc.) and works closely with industry and academic partners. Due to its key role as a collaborating partner in the Dairy Processing Technology Centre it is necessary to appoint a team of dedicated technicians with expertise in laboratory based analytical methodologies, sample handling and data analysis to meet the demands of this new programme focused on characterisation of seasonally induced changes to milk and dairy products. The successful candidates will manage sample input, testing and reporting in addition to actively supervising placement students who may train within the associated laboratories.
The Dairy Processing Technology Centre is an industry–academic collaborative research centre with a research agenda driven by the long-term growth opportunities for the dairy sector. As a centre of excellence for dairy processing research and innovation, DPTC provides an innovation ecosystem supporting the dairy industry in the production of high value, quality dairy products efficiently and cost-effectively within a framework of sustainability laid down by environmental targets such as the EU 2030 Climate and Energy Policy Framework, the UN Sustainability Goals and the Green New Deal.
Current activities of DPTC Programme (2020-2025) can be referred to as 'Total Process Chain Approach to Excellence in Dairy Processing' and will consist of two interconnected, competency based 'Research Focus Areas': RFA 1 "Milk Composition Driven Adaptive Processing" and RFA 2 Sustainable Milk Processing. The "Milk Composition Driven Adaptive processing research area" will be focused on establishing an in-depth and comprehensive understanding of the seasonal variation of milk composition and its effect on its processability and functionality
Job Objectives
Undertake broad ranging analytical techniques on samples received from external companies and where relevant on samples generated internally

Ensure upkeep and maintenance of analytical methodologies.

Register samples upon reception into the laboratory.

Perform required tests in an accurate manner.

Comply with all standard operating procedures.

Coordinate and perform a variety of independent and team activities involved in the collection, analysis, documentation and some interpretation of information/results.

Compile data, prepare test reports and communicate with other staff functions

Ensure relevant laboratory records are updated.

Participate in proficiency tests.

Contribute to laboratory compliance with ISO17025, while recognising opportunities for continual improvement within the quality management system.

Maintain inventory of the chemical store.

Health & Safety Co-ordinator duties or such other Health & Safety duties as may be assigned from time to time.

To assist Teagasc in meeting the commitments of the Quality Customer Service charter and Action Plan.

To actively participate in the annual business planning and Performance Management Development System (PMDS) processes.

Fully co-operate with the provisions made for ensuring the health, safety and welfare of themselves, fellow staff and non-Teagasc staff and co-operate with management in enabling Teagasc to comply with legal obligations. This includes full compliance with the responsibilities outlined in the Safety Statement.

Any other duties as may be assigned from time to time
Skills Required
Essential

Desirable

Qualifications

Candidates must have a Level 6 Specific qualification in Science or a related discipline.

A Level 7 qualification in Food Science, Agri- Food Science, Food Science and Technology, Biochemistry, etc. would be a distinct advantage

Skills

People and resource management skills.

Data handling and computer skills.

Excellent practical chemistry laboratory skills.

Excellent organizational skills.

Data handling and computer skills.

Excellent time management skills with the ability to work to tight deadlines in an efficient manner.

Ability to problem solve.

Good flexibility with a willingness to adapt to new methods/techniques.

People and resource management skills.

Excellent customer service skills.

Experience in working with Dairy products

Experience in working within a dairy analytical laboratory

Knowledge

Knowledge of analytical science with an understanding of dairy science and technology.

Knowledge of working with dairy products.

Knowledge of wet chemistry techniques

Knowledge of good laboratory practices.

Knowledge of Health and Safety requirements of working in a laboratory

An understanding of dairy food manufacture and the interpretation of analytical information.

A knowledge of chromatography techniques

Behavioural Competencies

Ability to work as part of a team, including consulting, collaborating and building relationships with key partners.

Has the ability to problem solve and demonstrates a high level of attention to detail.

Demonstrates positive approach to new challenges and dissemination of new tasks.

Self-disciplined, organised and methodical with strong attention to detail.

Ability to problem solve and adopt a positive approach to new challenges and dissemination of new tasks.

Good operational decision making capacity.

A systematic, considered approach to planning and monitoring.

Ability to set clear standards and comply with best practice procedures.

A quality customer service approach to work.

Flexible with an ability to adapt to changing requirements/priorities.

A proactive, solutions-focused approach to work.

A commitment to on-going personal and professional development.

Eligibility

This is an open public competition. Should a current serving Teagasc staff member be successful in their application through open public competition for this post, their current contract of employment with Teagasc will come to an end on taking up this post.
Attachment:


Techn_fd0985d5-bc89-4e45-bfce-8e23131ed46a.pdf

| | |
| --- | --- |
| Already Registered? Log in here | Join our Talent Pool + submit your application |