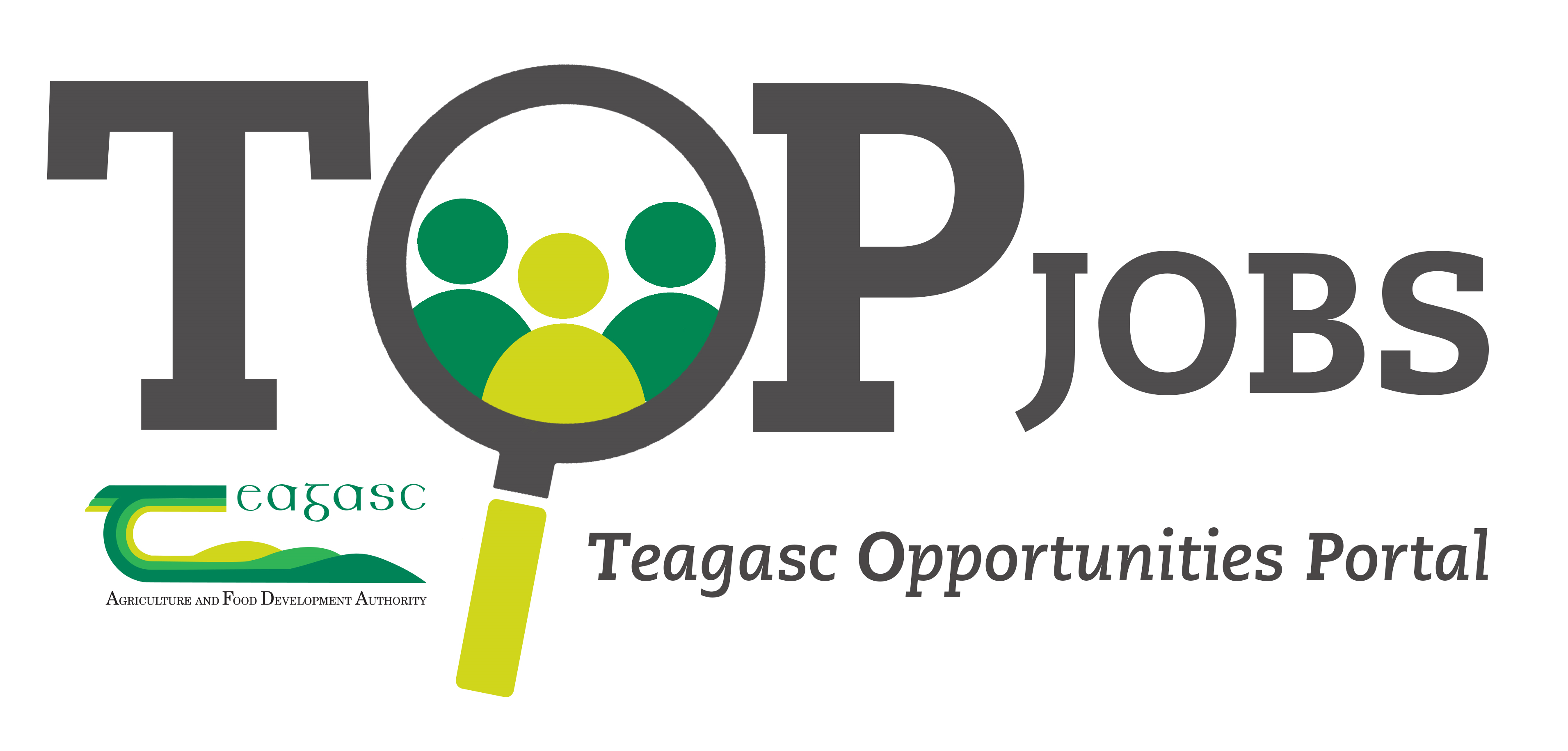 Post Doctoral Research Fellow Level 1 (PD1) - Potato Genetics
Crops, Environment and Land Use Research Centre, Teagasc, Oak Park, Carlow, R93 XE12

Salary: Post Doc (Level 1) with a Salary Scale of €37,528 to €41,525
Research
Funded Full Time

Closing Date: 08/12/2021

Closing Time: 12:00
Job Summary
Duration:
Temporary Externally Funded Non Grant-in-Aid contract post, the indicative duration of which is 29 months, subject to contract. A panel may be formed from which future similar vacancies may be filled; such a panel will remain active for a maximum period of 12 months.
Basic Function
The PD Fellow will be responsible for the development and application of genotyping tools on a foundation breeding population, and subsequent bioinformatics and statistical genomic analyses. Specifically, the PD Fellow will perform whole genome shotgun sequencing on parental genotypes, utilise standard bioinformatics tool identify polymorphisms for the design of a targeted genotyping-by sequencing platform (using an approach such as DArtTag or a similar platform). They will deploy the platform on the breeding population and carry out subsequent bioinformatics and statistical analyses related to marker assisted and genomic selection (MAS and GS). They will also work in the framework of the Teagasc/IPM Potato Group breeding programme to integrate the CRRISP project with the routine MAS pipeline in that programme. Whilst the task is based primarily at Oak Park Crops Research Centre in Carlow (Ireland), the PD Fellow will travel to Kenya to support the development of the breeding population and phenotyping resources, and to transfer the use of genomics technology to partners in KALRO. The successful candidate must be willing to spend periods of between four and six weeks per annum in Kenya (subject to the appropriate travel advisories and restrictions in place at the time).
This is a research focused training role, the primary purpose of which is to provide early career scientists with the opportunity to develop their research skills and competencies. The Teagasc post-doctoral programme provides training and development opportunities for early career scientists that enhances their experience of learning and equips them with the necessary skills for the next stage of their chosen career in research.
The PD Fellow will, while working in conjunction with senior research staff, gain insight and experience into a variety of areas including the processes of project and budgetary management, publishing in peer-reviewed academic journals, writing grant applications, and attracting external funding; the development of active collaboration with relevant national and international research communities; the development of communication and presentation skills, leadership and management skills, and overall career development.
Modules will be conducted under the supervision and direction of the (Project Leader) or other designated manager in conjunction with the Head of Department.
Background
CRRISP (Climate Resilient and Responsible Innovations in Potato) is an international project funded under the FOSC ERANET programme, with Teagasc funding originating from the Department of Agriculture Food and the Marine (DAFM). With partners and collaborators in Ireland, Germany, the Netherlands, Kenya, South Africa and Peru, CRRISP seeks to understand of the effect climate change will have on potato value chains and to develop mitigation steps from the perspectives of breeding, agronomy and socioeconomic adaptations (https://www.foscera.net/en/foscera/projects/crrisp.htm )
This post will contribute to the breeding aspect of the project, which is a collaboration between Teagasc, the Kenyan Agriculture and Livestock Research Organisation (KALRO) and the International Potato Centre (CIP). The breeding component of the project will develop a foundation breeding population in Kenya by crossing European varieties with favourable processing characteristics and disease resistance, with locally adapted lines suitable for sub-Saharan African (SSH) production systems, with the goal of producing germplasm for the future development of high value, sustainable potato varieties for the SSH environment.
Job Objectives
Duties & Responsibilities specific to this project:
Managing the collection and collation of leaf material from project partners

High throughput DNA extraction, generation of next generation sequencing libraries, and management of the sequencing of these libraries by external providers.

Bioinformatics analysis and subsequent statistical analyses of NGS, genotyping and phenotyping data in a linux-based HPC environment

Development and validation of genotyping by sequencing assays, and subsequent use in genetic analyses including GS, MAS and GWAS

Development and validation of KASP markers for the diagnostic detection of disease resistance genes and other loci in a commercial potato breeding programme

Spending periods at KALRO in Kenya to assist in phenotyping and to transfer genotyping technology to the partner organisation

Additional Duties & Responsibilities:
To interpret research findings and prepare scientific and popular press publications.

To disseminate research findings to a variety of audiences as appropriate.

To assist Teagasc in meeting the commitments of the Quality Customer Service Charter and Action Plan.

To comply with all relevant Teagasc policies and procedures.

Fully co-operate with the provisions made for ensuring the health, safety and welfare of themselves, fellow staff and non-Teagasc staff and co-operate with management in enabling Teagasc to comply with legal obligations. This includes full compliance with the responsibilities outlined in the Safety Statement.

To actively participate in the Teagasc Post Doctoral Fellowship programme and review processes, and to undertake all Post Doctoral fellowship training and associated duties as agreed in the Training & Development Plan.

To take up additional duties as they may arise and be assigned by management.
Skills Required
This section outlines the qualifications, skills, knowledge and/or experience that the successful candidate would be required to demonstrate for successful discharge of the responsibilities of the post. Applications will be assessed on how well candidates satisfy these criteria.
Essential
PhD in plant biology, genetics, molecular biology or a related discipline

Relevant research experience not to exceed 3 years' post-PhD

Demonstrated strong molecular biology/genetics laboratory skills, as evidenced by extensive use in a research setting

Demonstrated advanced skills in experimental design and statistical analysis using high-end statistical packages

Demonstrated experience of data analysis and visualization

Experience of working with plants in an experimental setting

Evidence of research activity (publications, conference presentations, awards) and future scholarly output (working papers, research proposals etc)

Excellent project management, analytical, report writing and data analysis skills

An ability to collaborate with team members and PhD students to help build research knowledge and skill and to guide professional development

Excellent communication skills (oral, written, presentation) with an ability to enable effective knowledge and technology transfer

Ability to generate new ideas, unique concepts, models and solutions
Desirable
Familiarity with the R statistical analysis environment, and experience of operating in experience in a linux-based HPC environment

Familiarity with genetic marker analysis on one or more platforms

Experience in next-generation sequencing (NGS) data analysis in a linux-based HPC environment

Familiarity with statistical genetics applications such as QTL analysis, GWAS and GS
Experience in setting own research agenda

Evidence of teamwork and collaboration with relevant partners
| | |
| --- | --- |
| Already Registered? Log in here | Join our Talent Pool + submit your application |