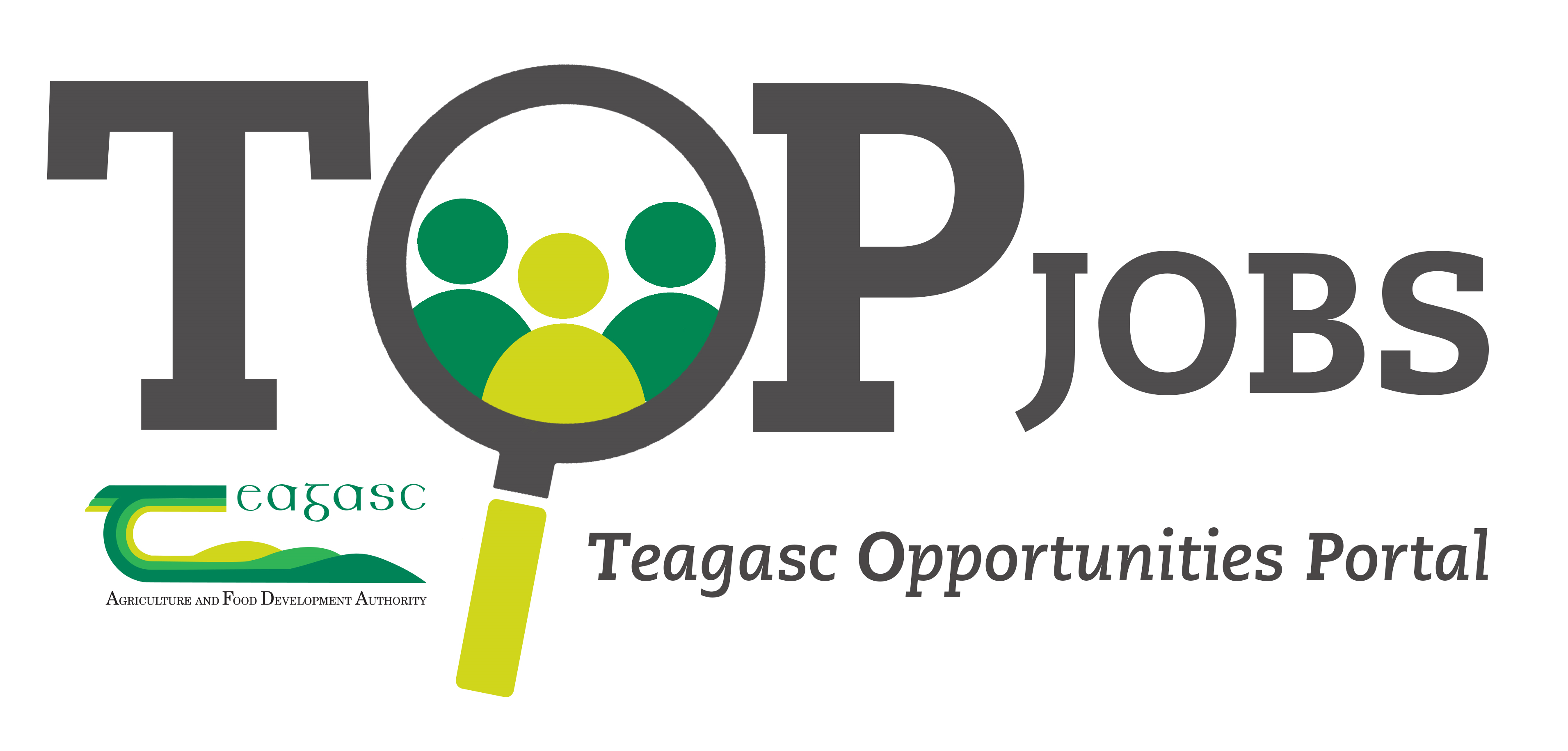 Post Doctoral Research Fellow Level 1 (PD1) -LAB-MACC (Temporary)
Crops, Environment and Land Use Research Centre, Teagasc, Johnstown Castle, Co Wexford, Y35 Y521

Salary: Post Doc (Level 1) with a Salary Scale of €37,528 to €41,525
Research
Funded Full Time

Closing Date: 10/01/2022

Closing Time: 12:00
Job Summary
Duration:
Temporary Externally Funded Non Grant-in-Aid contract post, the indicative duration of which is 35.5 months, subject to contract. A panel may be formed from which future similar vacancies may be filled; such a panel will remain active for a maximum period of 12 months.
The Teagasc post-doctoral programme provides training and development opportunities for early career scientists that enhances their experience of learning and equips them with the necessary skills for the next stage of their chosen career in research.
Basic Function
The position involves the monitoring of greenhouse gas and ammonia emissions from a range of experimental treatments to identify new mitigation measures. The Postdoc will assist in co-ordinating tasks involving the characterization of gaseous emissions from Irish soils and the impact of management on these emissions as well as contributing to experimental design.
The successful candidate will organise the daily operations of the project work at Johnstown Castle, and will assist the project co-ordinator and PI in collating reports and arranging project meetings. They will take the lead in data analysis and in writing progress reports, presentations and publication of scientific/technical papers
Background
LABMACC is a newly DAFM-funded project, starting in December 2021 and co-ordinated by Teagasc. The Climate Action Plan 2021 has set ambitious targets to reduce national emissions by 51% and agricultural emissions by 22-30%. Currently agriculture accounts for over 34% of national greenhouse gas emissions and thus there is a need to a) dramatically reduce emissions and b) enhance carbon sinks associated with agriculture. Methane and nitrous oxide account for approx. 2/3 and 1/3 of national agricultural emissions, respectively. In addition, there are also substantial carbon sinks in Ireland that can be used to offset greenhouse gas emissions. Ammonia is an air pollutant impacting natural habitats, animal and human health and leads to indirect greenhouse gas emissions. Ireland has been breaching its ammonia emission reduction targets since 2016. Nearly 99% of ammonia comes from agriculture and the expanding sector is facing pressure to reduce emissions.
The position will be based in Teagasc Environment, Soils and Land-use Department in Johnstown Castle, Wexford. Teagasc - Johnstown Castle is Ireland's leading research institute on soils and environment related research, and conducts both fundamental and applied research on a wide range of subjects, e.g. soil quality, nutrient efficiency, water quality, gaseous emissions, agro-ecology, and land use. Johnstown Castle has many different laboratory, greenhouse and field facilities to support research as well as 190 hectares of farmland
This is a research focused training role, the primary purpose of which is to provide early career scientists with the opportunity to develop their research skills and competencies.
The PD Fellow will, while working in conjunction with senior research staff, gain insight and experience into a variety of areas including the processes of project and budgetary management, publishing in peer-reviewed academic journals, writing grant applications, and attracting external funding; the development of active collaboration with relevant national and international research communities; the development of communication and presentation skills, leadership and management skills, and overall career development.
The Teagasc post-doctoral programme provides training and development opportunities for early career scientists that enhances their experience of learning and equips them with the necessary skills for the next stage of their chosen career in research.
Modules will be conducted under the supervision and direction of the Project Leader or other designated manager in conjunction with the Head of Department.
Job Objectives
Duties & Responsibilities specific to this project:
Conduct experiments quantifying greenhouse gas and ammonia emissions from soils associated with fertiliser, manure, digest and liming practices.

Operate and maintain gaseous emissions monitoring equipment in good condition and co-ordinate relevant laboratory analysis/experiments

Assist in coordination of the research team.

Produce reports and peer-reviewed papers.
Additional Duties & Responsibilities:
To interpret research findings and prepare scientific and popular press publications.

To disseminate research findings to a variety of audiences as appropriate.

To assist Teagasc in meeting the commitments of the Quality Customer Service Charter and action plan.

To comply with all relevant Teagasc policies and procedures.

Fully co-operate with the provisions made for ensuring the health, safety and welfare of themselves, fellow staff and non-Teagasc staff and co-operate with management in enabling Teagasc to comply with legal obligations. This includes full compliance with the responsibilities outlined in the Safety Statement.

To actively participate in the Teagasc Post Doctoral Fellowship programme and review processes, and to undertake all Post Doctoral fellowship training and associated duties as agreed in the Training & Development Plan.

To take up additional duties as they may arise and be assigned by management.
* This job specification is intended as a guide to the general range of duties and is intended to be neither definitive nor restrictive. Duties and responsibilities will be reviewed with the post-holder from time to time
Skills Required
Essential
PhD in agriculture, environmental science, physics, atmospheric science or another appropriate science-related discipline.

Relevant research experience not to exceed 3 years' post-PhD.

Demonstrated research and technical expertise in measuring and monitoring agricultural gaseous emissions, particularly nitrous oxide, ammonia and carbon dioxide.

Evidence of research activity (publications, conference presentations, awards) and future scholarly output (working papers, research proposals etc).

Excellent project management, analytical, report writing and data analysis skills.

An ability to collaborate with team members and PhD students to help build research knowledge and skill and to guide professional development.

Excellent communication skills (oral, written, presentation) with an ability to enable effective knowledge and technology transfer.

Ability to generate new ideas, unique concepts, models and solutions.

Full driving license.
Desirable
Experience in operating automated field equipment (i.e. photoacoustic gas analyser, dynamic chambers, open path spectroscopy for gaseous measurements).

Understanding of carbon and nitrogen cycling in temperate grassland soils.

Experience in stable isotope (13C, 15N) tracing.

Experience in setting own research agenda.

Evidence of teamwork and collaboration with relevant partners.
Note: The 'essential' qualifications, knowledge, skills and behavioural competencies outlined above are 'must-have' which will be used in the selection process.
| | |
| --- | --- |
| Already Registered? Log in here | Join our Talent Pool + submit your application |