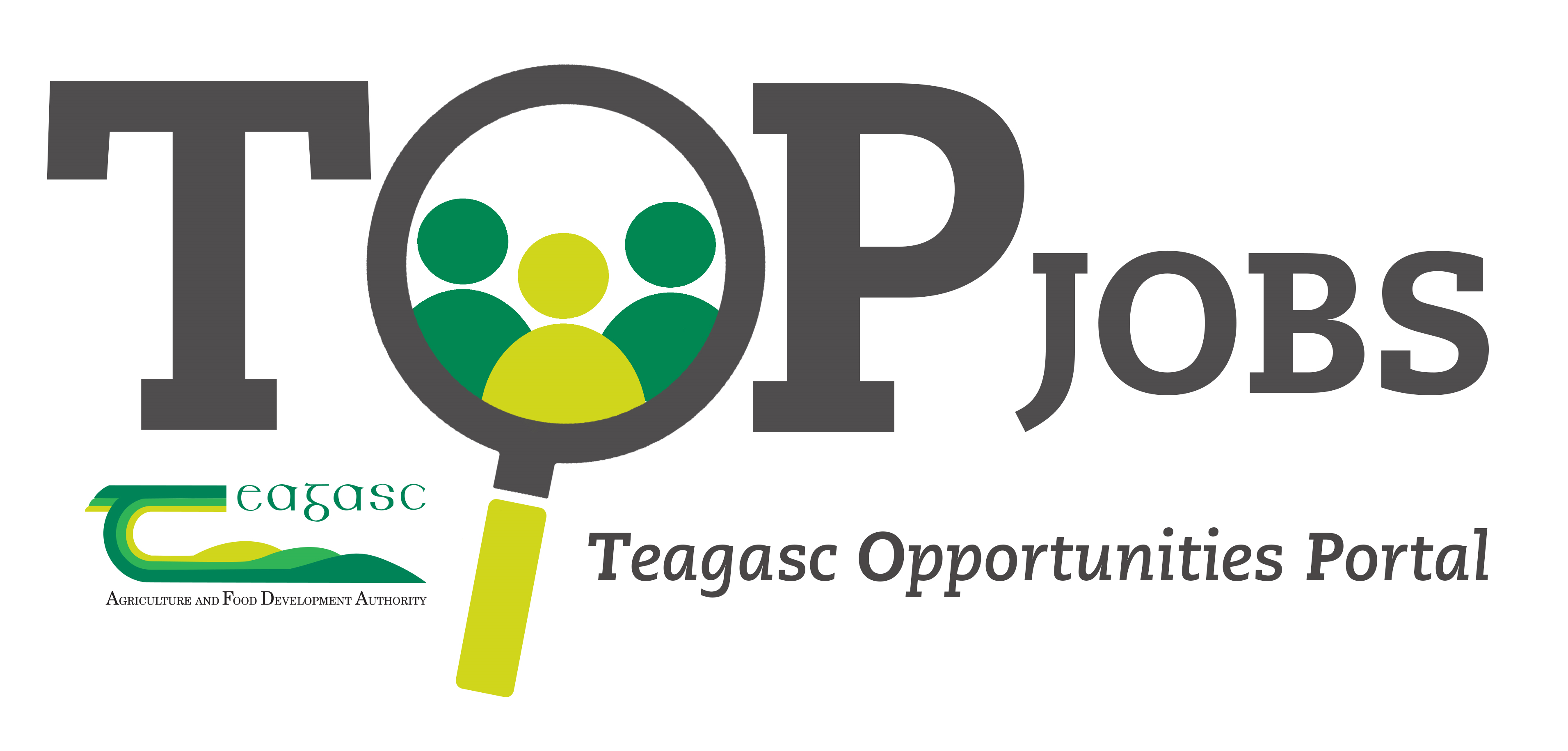 Technician Grade 1 - LAB-MACC (Temporary)
Crops, Environment and Land Use Research Centre, Teagasc, Johnstown Castle, Co Wexford, Y35 Y521

Salary: Technician Grade 1 with a Salary Scale of €30,827 to €41,127
Technician
Funded Full Time

Closing Date: 10/01/2022

Closing Time: 12:00
Job Summary
Duration:
Temporary Externally Funded Non Grant-in-Aid contract post, the indicative duration of which is 30 months, subject to contract. A panel may be formed from which future similar vacancies may be filled; such a panel will remain active for a maximum period of 12 months.
Basic Function
The position involves monitoring gaseous emissions from soils under a range of experimental conditions. Emissions will be measured under a range of experiments being carried out to quantify new mitigation measures to reduce emissions from agricultural sources. The position will involve maintenance of field instrumentation and data logging/IT issues associated with automated and manual field instrumentation for trace gas analyses. It will also involve manual sampling of soil, gas and biomass from various experimental sites.
Background
Teagasc is one of the key actors in facilitating the realisation of the 'vision for growth for the Irish agricultural sector' as set out in Food Wise 2030 and supporting sustainability is now at the core of its research, advisory and education activities. The Environment Soils and Land-Use Department focuses on providing solutions for farmers and policy makers both in terms of economic and environmentally sustainable farming. Within the department there is a small, highly motivated, multidisciplinary team of researchers focusing on soil science, nutrient management, water quality, gaseous emissions and agro-ecology.
The expansion of the agricultural sector in Ireland to meet the growing demand for agricultural produce must be carried out in a sustainable manner. The Climate Action Plan 2021 has set ambitious targets to reduce national emissions by 51% and agricultural emissions by 22-30%. Currently agriculture accounts for over 34% of national greenhouse gas emissions and thus there is a need to a) dramatically reduce emissions and b) enhance carbon sinks associated with agriculture. Methane and nitrous oxide account for approx. 2/3 and 1/3 of national agricultural emissions, respectively. In addition, there are also substantial carbon sinks in Ireland that can be used to offset greenhouse gas emissions
Therefore we are seeking to recruit a highly qualified and enthusiastic contract technician to join the existing greenhouse gas research team. The ideal candidate should have experience in quantifying carbon and nitrogen emissions from soil and biochemical cycling in soil. He/she should have experience with the quantification and mitigation of nitrogen and carbon emissions from agriculture and soil and familiarity with temperate grassland agricultural systems.
Studies will be principally located at Teagasc, Johnstown Castle, Wexford
Job Objectives
Assist research team in the quantification of greenhouse and ammonia emissions measurement using both manual and automated systems.

Perform maintenance, calibration and automation of field gas monitoring equipment and related IT issues.

Assist with associated fieldwork measurements in project experiments.

Analyse and process project gas/soil/plant samples.

Establish and manage database and perform statistical analysis of data generated in the project.

Undertake quality control of laboratory analyses and ensure good data management.

Perform electronic data entry of research samples for example using the Teagasc LIMS system and record of results.

Contribute to the teamwork and team-spirit in the agri-environmental research department at Johnstown Castle and foster and add to further collaboration and integration.

Perform Health & Safety Coordinator Duties or such other Health & Safety Duties as may be assigned from time to time.

Assist Teagasc in meeting the commitments of the Quality Customer Service charter and action plan.

Actively participate in the annual business planning and Performance Management Development System (PMDS) processes.

Fully co-operate with the provisions made for ensuring the health, safety and welfare of themselves, fellow staff and non-Teagasc staff and co-operate with management in enabling Teagasc to comply with legal obligations. This includes full compliance with the responsibilities outlined in the Safety Statement.

Any other duties as may be assigned from time to time.

* This job specification is intended as a guide to the general range of duties and is intended to be neither definitive nor restrictive. It will be reviewed from time to time with the post holder.
Skills Required
Essential

Desirable

Qualifications

Candidates must have a Level 6 qualification in soil science, agricultural science, environmental science or other relevant science degree or a related discipline.

A Level 7 qualification in statistics, physics or environmental science would be a distinct advantage.

Postgraduate training and experience in the quantification of greenhouse gas emissions.

Skills

ICT skills, laboratory organization, teamwork and planning.

Good technical/field skills.

People and resource management skills.

Data handling and computer skills.

Knowledge of soil science, physics or other relevant science degree.

Knowledge of field equipment – maintenance, calibration.

Use of LIMS.

Knowledge

Familiarity with analytical techniques.

Laboratory and field quality assurance & quality control.

Monitoring of gaseous emissions.

Understanding of Irish agricultural systems.

Behavioural Competencies

Ability to work as part of a team, including consulting, collaborating and building relationships with key partners.

Has the ability to problem solve and demonstrates a high level of attention to detail.

Demonstrates positive approach to new challenges and dissemination of new tasks.

Strives for high quality of work and demonstrates commitment.

Other

Candidates must satisfy and continue to satisfy during employment with Teagasc, legal requirements to drive unaccompanied on Irish public roads.

Eligibility

This is an open public competition. Should a current serving Teagasc staff member be successful in their application through open public competition for this post, their current contract of employment with Teagasc will come to an end on taking up this post.
Note: The 'essential' qualifications, knowledge, skills and behavioural competencies outlined above are 'must-have' which will be used in the selection process.
---
Attachment:


Techn_fd0985d5-bc89-4e45-bfce-8e23131ed46a.pdf

| | |
| --- | --- |
| Already Registered? Log in here | Join our Careers Portal + submit your application |