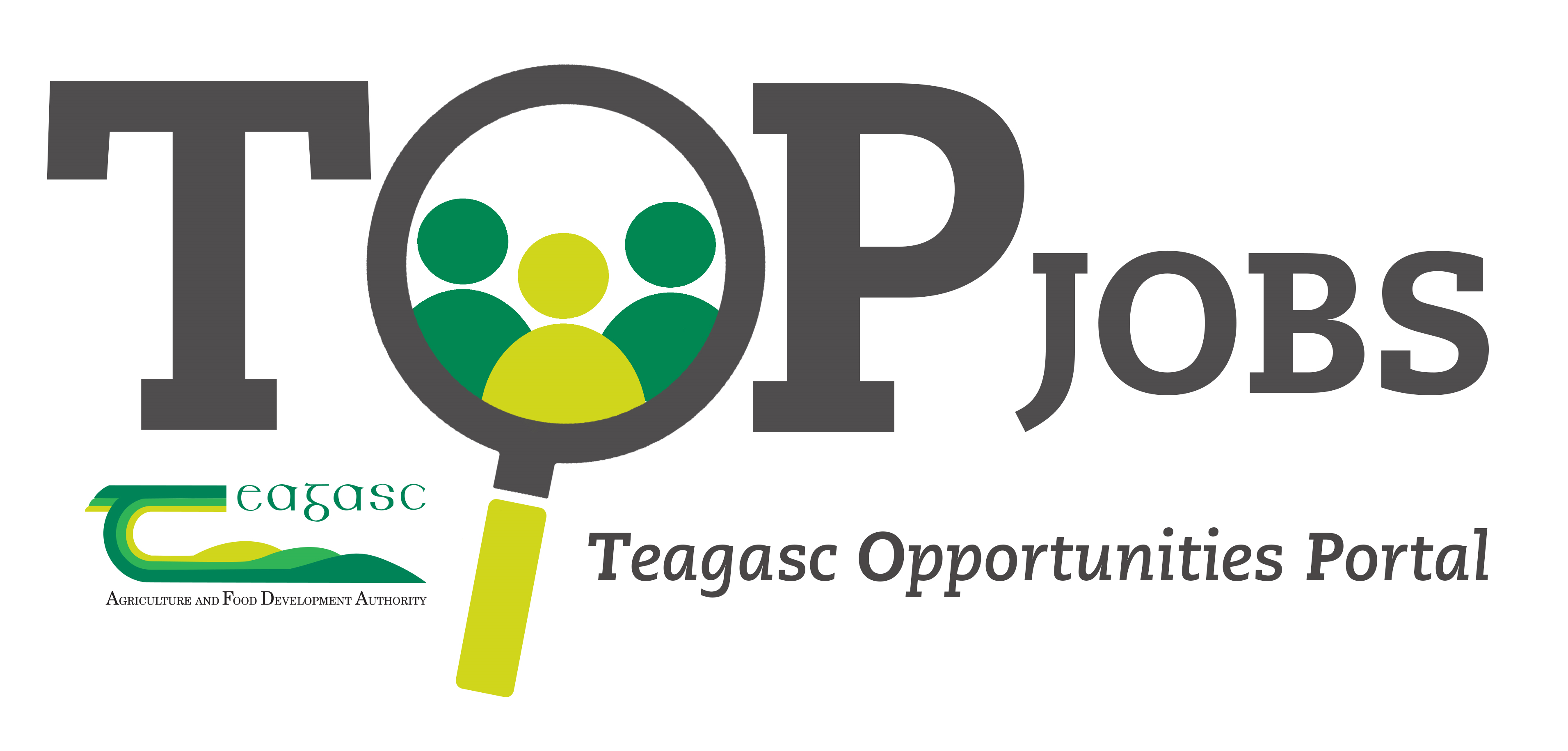 Technologist - Green Sheep Project (Temporary)
Animal and Grassland Research and Innovation Centre, Teagasc, Athenry, Co Galway, H65 R718

Salary: Technologist Grade 1 with a Salary Scale of €35,150 to €68,114
Technologist
Funded Full Time

Closing Date: 17/01/2022

Closing Time: 12:00
Job Summary
Duration:
Temporary Externally Funded Non Grant-in-Aid contract post, the indicative duration of which is 42 months, subject to contract. A panel may be formed from which future similar vacancies may be filled; such a panel will remain active for a maximum period of 12 months.
Basic Function
The appointee will have a key role in developing, implementing and managing the LIFE Green Sheep project with particular emphasis on:
Development of a common European framework on GHG emission and environmental sustainability in sheep production

Development of a national action plan for sheep production to reduce GHG emissions and improve overall sustainability

Monitoring and co-ordaining with Demonstration and Innovative farms to improve farm level sustainability

Quantifying the effect of technologies that can mitigate GHG emissions on sheep farms

Analysis of the socio-economic impacts of the project

Communicating the findings of the project to farmers and sheep sector stakeholders
Background
The EU is only 85% self-sufficient in sheep meat and is the second largest sheep meat importer worldwide. Sheep production is mainly based on lowland pasture and hills, which sequester and store carbon. The livestock sector is a significant contributor to GHG emissions (methane, nitrous oxide, carbon dioxide) as well as ammonia. Globally small ruminants account for 56% of the domestic ruminant population and 7.4% of global GHG emissions. The overall objective of the Green Sheep project is to reduce sheep carbon footprint by 12% whilst ensuring the technical, economic, environmental and social sustainability of sheep enterprises, thus improving interaction between climate change and livestock production. The project also aims to evaluate innovative practices that can mitigate GHG emissions and encourage peer-to-peer communication and learning among sheep farmers and stakeholders generally. Finally, the project will develop and assess methodologies that have the potential to reduce GHG emissions and the environmental foot print of sheep meat production.
Teagasc, the Agriculture and Food Development Authority, is the leading research, advisory and education organization in Ireland, focused on the needs of the agriculture and food industry, with both an applied and basic research programme. The Animal & Grassland Research and Innovation in Teagasc, located at Athenry, Co Galway has extensive facilities for field and animal research.
Teagasc is seeking a Technologist to work as part of a multi-disciplinary team within Teagasc's Animal & Grassland Research and Innovation Programme (AGRIP) and Rural Economy and Development Programme (REDP), in collaboration with research-orientated organizations in four other European countries that are involved in the LIFE Green Sheep project.
Job Objectives
To implement and manage the agreed LIFE Green Sheep Programme.

Liaise closely with the Teagasc Research and Knowledge Transfer Specialists/Advisors and the Better Farm and Signpost programmes staff to ensure effective dissemination of findings from the LIFE Green Sheep programme to farmers, advisors and stakeholders.

Develop the Teagasc NFS data collections requirements to produce relevant data for the Teagasc LCA Sheep model to generate estimates of the carbon footprint of Irish sheep production.

Work collaboratively with Teagasc colleagues on the use of the Teagasc Sheep LCA model to deliver Sheep Green project outputs.

Collect, collate and analyze data and prepare reports and other communication materials as required.

Communicate effectively with other LIFE Green Sheep project members and stakeholders through different media.

Regularly update social media platforms.

Be proficient in the use of IT software and regularly add updates to the project's website.

Evaluate current systems/tools for assessing carbon footprint of sheep production systems.

Actively participate in the annual business planning and Performance Management Development System (PMDS) processes.

Assist Teagasc in meeting the commitments of the Quality Customer Service charter and action plan.

Fully co-operate with the provisions made for ensuring the health, safety and welfare of themselves, fellow staff and non-Teagasc staff and co-operate with management in enabling Teagasc to comply with legal obligations. This includes full compliance with the responsibilities outlined in the Safety Statement.

To take up additional duties as may arise or as assigned by management.
* This job specification is intended as a guide to the general range of duties and is intended to be neither definitive nor restrictive. Job descriptions will be issued with offers of appointment.
Skills Required
Essential

Desirable

Qualifications

Level 8 degree in a relevant discipline. (Agricultural Science, Agri -Business, or Environmental Science)

Post-graduate qualification in a relevant area and/or research experience area

Post-graduate qualification in ICT or agri-environment

Skills

Project co-ordination and management.

Computer skills.

Good interpersonal, communication and dissemination skills. Including Verbal presentation/communication, technical writing, Social media

Meeting and communications event organizational skills.

Efficient time management.

Proficient speaking and writing skills in the English language.

Statistical analysis and data collection & interpretation skills.

Survey methodology, implementation and analytical skills.

Economic or socio economic modelling

Strong analytical and problem solving skills

Knowledge

Knowledge of Irish sheep production and management systems.
Knowledge of Irish agriculture and the Irish sheep industry in particular.

Knowledge of the environmental issues relating to Irish Agriculture

Understanding of knowledge transfer processes.

Knowledge of animal experimentation and/or economic modelling.

Knowledge of genetics, grassland management, nutrition and animal health – key drivers of lamb output.

Good understanding of gaseous emissions from agricultural production processes.

Behavioural Competencies

Ability to work as part of a team, including consulting, collaborating and building relationships with key stakeholders.

Strong work ethic.

Strives for high quality of work and demonstrates commitment to the programme.

Ability to communicate effectively to enable knowledge and technology transfer.

Flexible approach to work with an ability to prioritise tasks effectively.

A results-driven individual with a strong focus on goal setting, performance delivery and accountability.

Ability to work independently, and meet self-imposed milestones and deliverables.

A proactive, solutions-focused approach to work with an ability to adapt to changing requirements and shifting work priorities.

Ability to set clear standards and have a quality customer service focus.

Other

Candidates must satisfy and continue to satisfy during employment with Teagasc, legal requirements to drive unaccompanied on Irish public roads

Eligibility

This is an open public competition. Should a current serving Teagasc staff member be successful in their application through open public competition for this post, their current contract of employment with Teagasc will come to an end on taking up this post.
Note: The 'essential' qualifications, knowledge, skills and behavioural competencies outlined above are 'must-have' which will be used in the selection process.
Attachment:


Techn_a99d4620-c64e-4a2f-b698-f5e4cd633563.pdf

| | |
| --- | --- |
| Already Registered? Log in here | Join our Talent Pool + submit your application |