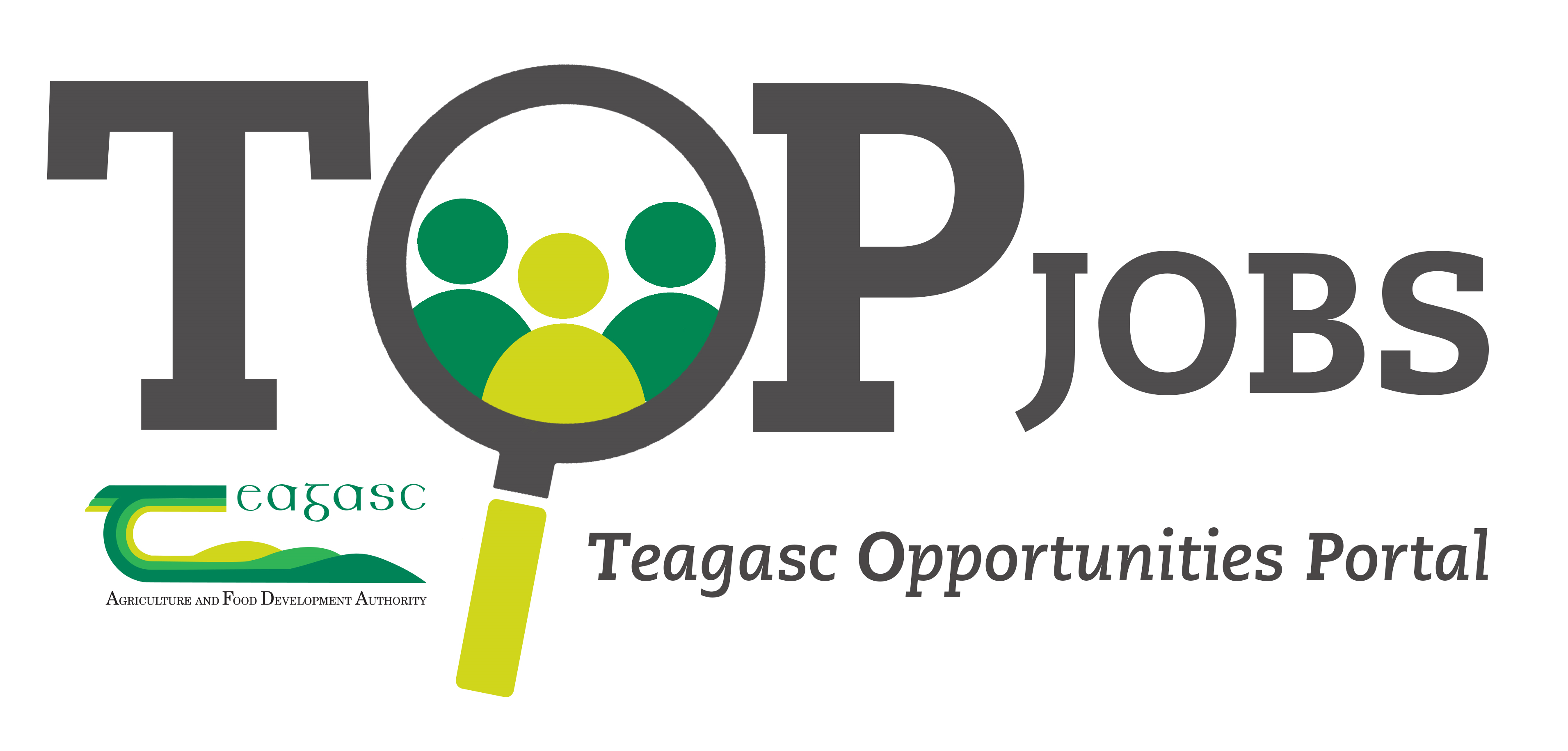 Sustainability and Nutrient Researcher
Crops, Environment and Land Use Research Centre, Teagasc, Johnstown Castle, Co Wexford, Y35 Y521

Salary: Research Officer with a Salary Scale of €35,502 to €68,796
Research
Funded Full Time

Closing Date: 15/03/2022

Closing Time: 12:00
Job Summary
Duration:
Temporary Externally Funded Non Grant-in-Aid contract post, the indicative duration of which is 18 months, subject to contract. A panel may be formed from which future similar vacancies may be filled; such a panel will remain active for a maximum period of 12 months.
Basic Function:
The position will entail taking a lead role in running the Irish demonstration sites and communicating the findings to farmers through demonstration events. The Research Officer will compile reports of the project demo network activity and a report on transferability of technologies across Europe. They will take a lead on coordinating, and contribute to the project work packages in which Teagasc is involved. This will entail working with the partners across Europe along with research on the topic of C, N and P loop closure in Ireland.
Background:
The position entails working on an EU H2020 research and extension project, titled Nutri2Cycle https://www.nutri2cycle.eu/ - Transition towards a more carbon and nutrient efficient agriculture in Europe. The project has brought together 19 partner institutes/ organizations across Europe to work towards development of C, N and P loop closure technologies, techniques and practices. Teagasc leads the demonstration network coordination and reporting along with technology transferability assessment.
Job Objectives
Communicating effectively with the project partners to capture demo activities to stakeholders and compile reports for the EU Commission who are funding this work.

Contribute to developing C, N and P loop closure opportunities in temperate agricultural systems while demonstrating them to farmers and engaging with farmers and other interested stakeholders.

Play a lead role in the coordination of the demonstration and/or validation of optimization technologies and tools.

Contribute to the white book on practices and technologies to improve farm sustainability.

Assess transferability and potential for uptake of practices and technologies developed across the project to other countries and systems, and to write this report.

To assist Teagasc in meeting the commitments of the Quality Customer Service Charter and Action Plan.

To actively participate in the annual business planning and Performance Management Development System (PMDS) processes.

To fully co-operate with the provisions made for ensuring the health, safety and welfare of oneself, fellow staff and non-Teagasc staff and co-operate with management in enabling Teagasc to comply with legal obligations, including full compliance with the responsibilities outlined in the Safety Statement.

To carry out other duties as may be assigned from time to time.
* This Job Specification is intended as a guide to the general range of duties and responsibilities and is intended to be neither definitive nor restrictive. It will be reviewed from time to time with the post-holder.
Skills Required
Essential

Desirable

Qualifications

Candidates must have an honours Level 8 degree in Agricultural, Environmental, Plant Science, Soil Science or a related discipline.

A postgraduate degree and/or research experience relating to agricultural extension/ knowledge transfer and/or C, N, and/or P cycling would be a distinct advantage

A PhD degree in a relevant discipline.

Skills

Excellent verbal and written communications skills with an ability to communicate effectively through the English language.

Ability to write reports.

Skilled in knowledge transfer to farmers.

Understanding of Irish Agriculture systems.

Familiarity with running field experiments.

Excellent organization skills and report writing skills.

Ability to engage with an build rapport with project partners, farmers and advisors.

Skilled in communications.

Aptitude for multidisciplinary approaches.

Knowledge

Knowledge transfer and demo approaches.

Irish and European Agricultural systems.

Nutrient cycling particularly C, N, P.

Behavioural Competencies

Ability to work as part of a team, including consulting, collaborating and building relationships with key stakeholders.

Strives for high quality of work and demonstrates commitment to the programme.

Ability to communicate effectively to enable knowledge and technology transfer.

Ability to work independently and meet self-imposed milestones.

Ability and willingness to travel within Europe for project meeting and demo work package coordination.

Strives for high quality of work and demonstrates commitment to the programme.

Ability to communicate effectively to enable knowledge and technology transfer.

Eligibility

This is an open public competition. Should a current serving Teagasc staff member be successful in their application through open public competition for this post, their current contract of employment with Teagasc will come to an end on taking up this post.
Note: The 'essential' qualifications, knowledge, skills and behavioural competencies outlined above are 'must-have' which will be used in the selection process.
Attachment:


Resea_9da85855-c65f-49b9-8094-e6e25ad87c37.pdf

| | |
| --- | --- |
| Already Registered? Log in here | Join our Talent Pool + submit your application |