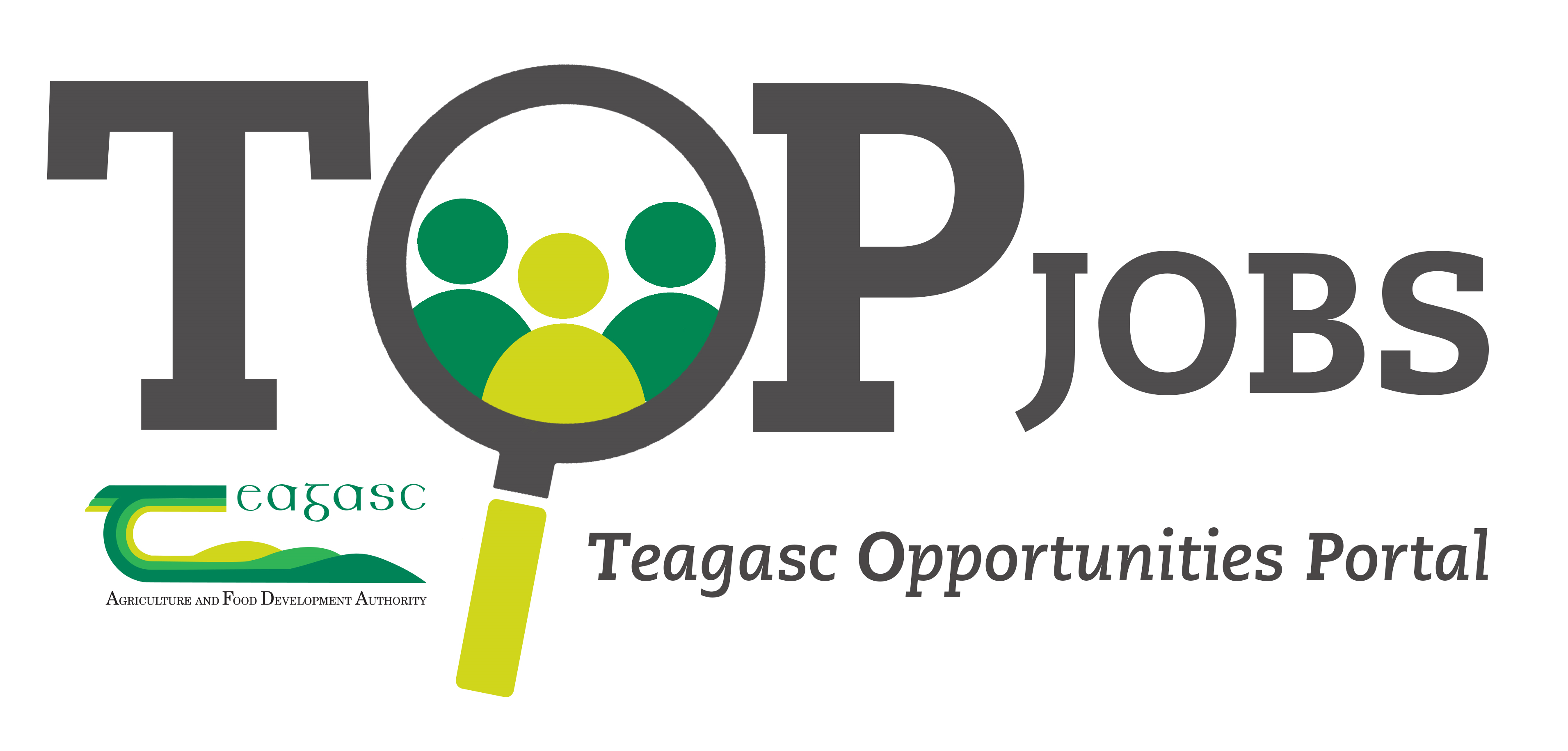 Post Doctoral Researcher in Plant Biology
Crops, Environment and Land Use Research Centre, Teagasc, Oak Park, Carlow, R93 XE12

Salary: Post Doc (Level 1) with a Salary Scale of €37,903 to €41,940
Research
Funded Full Time

Closing Date: 14/04/2022

Closing Time: 12:00
Job Summary
Duration:
Temporary Externally Funded Non Grant-in-Aid contract post, the indicative duration of which is 22 months, subject to contract. A panel may be formed from which future similar vacancies may be filled; such a panel will remain active for a maximum period of 12 months.
Basic Function
Teagasc is seeking to recruit a Post-doctoral Fellow with a proven track record in plant physiology and plant molecular biology to conduct growth chamber based plant physiological experiments with an oat germplasm panel, to conduct molecular DNA marker and gene expression work and analyse the outcomes of the experiments. The successful candidate is expected to integrate in teams of researchers in Ireland, UK and East Africa.
This is a collaborative project with ILRI in Ethiopia/Kenia and the Earlham Institute in the UK. In parallel field phenotyping work will be ongoing in East Africa.
Background
Food insecurity is a growing problem in Africa due to high population growth, climate change and environmental degradation. Oat (Avena sativa L.) is a dual-purpose crop (grain and forage) grown in temperate and cooler seasons of tropical regions and contains proteins and oils of high quality, minerals and vitamins and can play a key role in reducing malnutrition challenges in the region, particularly among women and children. Also, it can contribute towards improving livestock productivity (nutritional efficiency) in the region due to improved forages. The goal of this project is to improve the understanding of the mechanisms of winter tolerance (cold, waterlogging, photoperiod, moisture stress, etc.) and the genes behind, by an explicit use of cutting-edge technologies. An additional expected outcome is to improve the adaptation of oats to abiotic stress, and to identify locally adapted highly productive oats lines with high yield in local conditions. The distribution of such plant material in the high-altitude areas of Eastern Africa will improve food security for the poor and malnourished people. In this project, 150 oats genotypes originated from Eastern Africa will be phenotyped and genotyped to identify winter tolerant, high-quality lines and to identify potentially useful genes in the germplasm. In addition gene expression profiles of cold tolerant versus cold susceptible germplasm will be generated.
This is a research focused training role, the primary purpose of which is to provide early career scientists with the opportunity to develop their research skills and competencies.
The PD Fellow will, while working in conjunction with senior research staff, gain insight and experience into a variety of areas including the processes of project and budgetary management, publishing in peer-reviewed academic journals, writing grant applications, and attracting external funding; the development of active collaboration with relevant national and international research communities; the development of communication and presentation skills, leadership and management skills, and overall career development.
Modules will be conducted under the supervision and direction of the (Project Leader) or other designated manager in conjunction with the Head of Department.
Job Objectives
Duties & Responsibilities specific to this project:
To conduct controlled growth cabinet trials at various stages of growth to investigate the impact of cold temperatures on a wide germplasm collection and phenotype the germplasm collection

To assess the gene expression profiles of select cold tolerant and non-cold tolerant lines and evaluate the findings

To genotype the germplasm collection with molecluar DNA marker techniques

To conduct genome wide association analysis with the genotypic and phenotypic data from the germplasm collection

to engage with the parallel sister project in East Africa and help from time to time with seeding and harvesting and phenotyping of field experiments.

Additional Duties & Responsibilities:
To interpret research findings and prepare scientific and popular press publications.

To disseminate research findings to a variety of audiences as appropriate.

To assist Teagasc in meeting the commitments of the Quality Customer Service Charter and Action Plan.

To comply with all relevant Teagasc policies and procedures.

Fully co-operate with the provisions made for ensuring the health, safety and welfare of themselves, fellow staff and non-Teagasc staff and co-operate with management in enabling Teagasc to comply with legal obligations. This includes full compliance with the responsibilities outlined in the Safety Statement.

To actively participate in the Teagasc Post Doctoral Fellowship programme and review processes, and to undertake all Post Doctoral fellowship training and associated duties as agreed in the Training & Development Plan.

To take up additional duties as they may arise and be assigned by management.

Willingness to travel to East Africa and contribute to field work and outreach in East Africa.
Skills Required
This section outlines the qualifications, skills, knowledge and/or experience that the successful candidate would be required to demonstrate for successful discharge of the responsibilities of the post. Applications will be assessed on how well candidates satisfy these criteria.
Essential
PhD in plant biology, plant science, agriculture or other related subject area

Relevant research experience not to exceed 3 years' post-PhD

Demonstrated research and technical expertise in plant molecuar biology, plant physiology and bioinformatics

Evidence of research activity (publications, conference presentations, awards) and future scholarly output (working papers, research proposals etc)

Excellent project management, analytical, report writing and data analysis skills

An ability to collaborate with team members and PhD students in Ireland and East Africa to help build research knowledge and skill and to guide professional development

Excellent communication skills (oral, written, presentation) with an ability to enable effective knowledge and technology transfer
Desirable
Experience in analysis of genome wide association and gene expression data

Experience in the measuremetn of plant physiological parameters

Evidence of teamwork and collaboration with partners
Attachment:


PD1_I_8a5a3cec-b2d2-43d0-bf54-a27585104b80.pdf

| | |
| --- | --- |
| Already Registered? Log in here | Join our Careers Portal + submit your application |