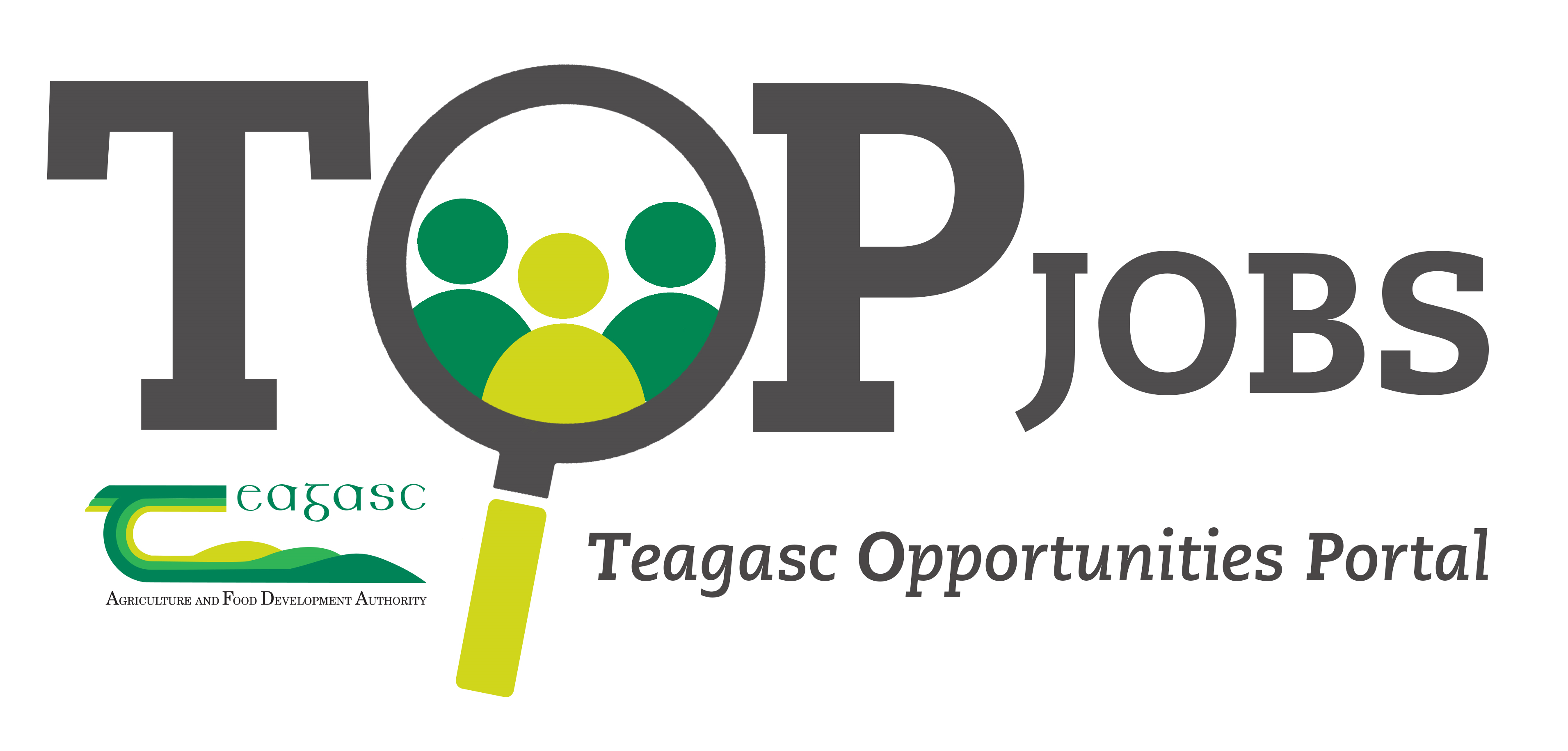 Veterinary Herd Health Scientist (Permanent)
Animal and Grassland Research and Innovation Centre, Teagasc, Grange, Dunsany, Co Meath, C15 PW93

Salary: Research Officer with a Salary Scale of €35,502 to €68,796
Research
Permanent Full Time

Closing Date: 22/07/2022

Closing Time: 12:00
Job Summary
Duration:
Permanent. A panel may be formed from which similar vacancies across the three locations of the Animal Bioscience Dept may be filled (Athenry, Grange, Moorepark). Such a panel will remain active for a period of 12 months.
Basic Function:
Poor animal health gives rise to economic losses for the farmer, the processor and the country. The principal of 'prevention is better than cure' promotes animal health as a driver of optimized production, improved margins and the production of high quality food. Furthermore, healthy animals results in reduced requirement for antibiotics which is a major strategy in reducing the development of antimicrobial resistance. Teagasc are seeking to appoint a highly qualified, enthusiastic and dynamic researcher to develop and lead a research programme in animal health. This will be a key appointment for Teagasc with national significance in developing our agri-food industry over the coming years.
The Animal & Grassland Research and Innovation Centre in Teagasc have extensive facilities for field and animal research. Additionally, it also incorporates the Teagasc Animal Bioscience facility at Grange which includes molecular biology laboratories, and laboratories for DNA/RNA preparation and immunology. The research programme is conducted by over 80 scientific and technical professionals supported by an administrative and farm operative staff.
This position, based at Teagasc Grange, will be a key appointment for Teagasc with national significance in developing superior animal health to enhance the profitability and sustainability of individual livestock farms; the profitability of the food processing industry and the quality image and competitiveness of Irish livestock and food in the marketplace. The appointee's research will focus mainly on beef cattle, but there may be opportunities to be involved in research that also involves other ruminants. This programme will build on strong collaborative links with AHI, UCD, DAFM, ICBF and other relevant institutions internationally.
Job Objectives
To develop, lead and implement an integrated animal herd health programme on non-regulated diseases of beef cattle with particular emphasis on:
Reducing anthelmintic and antibiotic use.

Improving calf health.

Role of biosecurity, vaccination and diagnostics.

Development of on-farm herd health protocols.

Develop and implement a research programme in herd health.

Design and manage experiments and perform statistical analysis of experimental data.

Manage staff and resources assigned to the research programme.

Identify opportunities for cutting-edge research to address key knowledge gaps.

Lead successful submissions for external funding, that is consistent with the Teagasc research programme, with the objective of developing critical mass in the area by building and supervising a dynamic team of post-doctoral researchers(s) and post-graduate student(s).

Develop and maintain active collaboration with the relevant national and international research communities.

Work closely with Teagasc Knowledge Transfer Specialists/Advisors to ensure effective dissemination of research findings to advisers and stakeholders.

Supervise, in conjunction with University partners, postgraduate students to Masters and PhD level.

Interpret and publish research results in the scientific and popular press, at conferences (nationally and internationally) and to stakeholders

Fully co-operate with the provisions made for ensuring the health, safety and welfare of themselves, fellow staff and non-Teagasc staff and co-operate with management in enabling Teagasc to comply with legal obligations. This includes full compliance with the responsibilities outlined in the Safety Statement.

Contribute to the teamwork and team-spirit in the Animal & Bioscience Research Department, and foster and add to further collaboration and integration.

Assist Teagasc in meeting the commitments of the Quality Customer Service charter and action plan.

Actively participate in the annual business planning and Performance Management Development System (PMDS) processes.

Carry out such other duties as may be assigned by the Head of Department, Head of Programme or Director of Research from time to time.
* This job specification is intended as a guide to the general range of duties and is intended to be neither definitive nor restrictive. It will be reviewed from time to time with the post holder.
Skills Required
Essential

Desirable

Qualifications

QQI honours level 8 degree in veterinary science/animal science or other related discipline.

PhD in a relevant discipline.

Note: While a PhD is an essential requirement for this post, equivalent research experience may be deemed acceptable solely at the discretion of the Director of Teagasc.

Post-graduate experience in herd health research.

Skills

Research skills: data management, analysis and experimentation.

Writing skills: scientific (peer-reviewed journals) and technical.

Excellent laboratory skills, organisation skills.

Research skills: advanced laboratory skills such as molecular and immunology techniques.

Writing skills: popular.

Proven record of scientific communications.

Aptitude for multidisciplinary approaches.

Knowledge

Non-relegated infectious diseases in Irish livestock.

Knowledge of integrated herd health management programmes.

Behavioural Competencies

Ability to work as part of a team, including consulting, collaborating and building relationships with key stakeholders.

Strives for high quality of work and demonstrates commitment to the programme.

Ability to communicate effectively to enable knowledge and technology transfer.

Ability to work independently and meet self-imposed milestones and deliverables.

Ability to build and sustain positive working relationships.

Flexible with an ability to adapt to changing priorities.

Other

Candidates must satisfy and continue to satisfy during employment with Teagasc, legal requirements to drive unaccompanied on Irish public roads.
Note: The 'essential' qualifications, knowledge, skills and behavioural competencies outlined above are 'must-have' which will be used in the selection process.
| | |
| --- | --- |
| Already Registered? Log in here | Join our Careers Portal + submit your application |