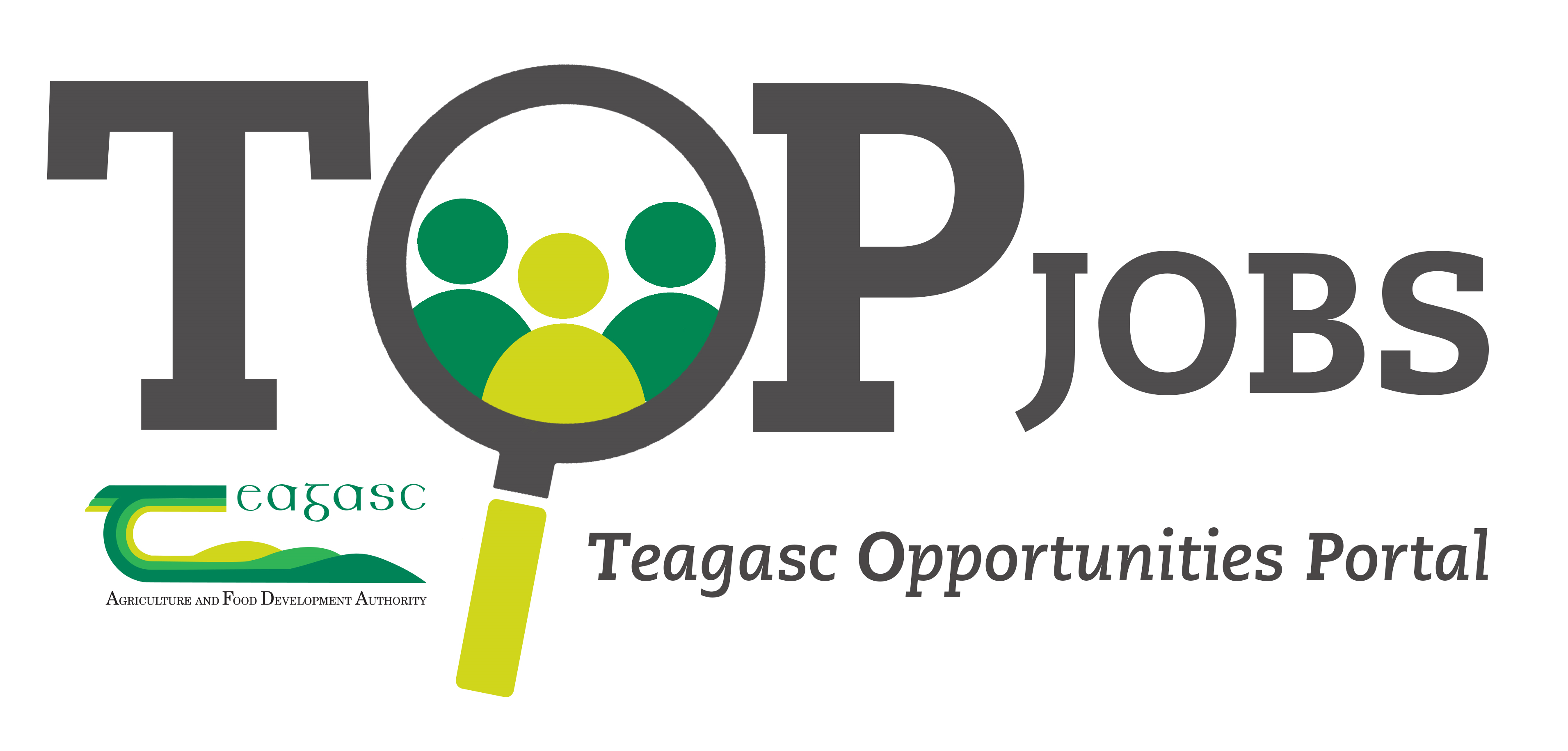 Integrated Weed Management Scientist (Permanent)
Teagasc, Crops, Environmental and Land Use Centre, Oak Park, Carlow.

Salary: Research Officer with a Salary Scale of €35,502 to €68,796
Research
Permanent Full Time

Closing Date: 05/08/2022

Closing Time: 12:00
Job Summary
Duration:
Permanent . A panel may be formed from which future similar vacancies may be filled; such a panel will remain active for a maximum period of 12 months.
Basic Function
The successful candidate will develop and deliver a programme of research focussed on addressing all aspects of weed control in crop and grassland production systems under Irish climatic conditions. The challenge is significant as reliance on simplistic, herbicide-only approaches is not an option for future systems. In response, the successful candidate will be empowered to establish an innovative research strategy, acquiring physical and human resources through internal/external funding to deliver 'through-to-practise' solutions that reduce herbicide reliance and slow the pace of resistance evolution. In support of their career development they will be fully supported to develop a national and international network of collaborators through high impact publications and active participation at international conferences,that relates to both conventional and organic production systems.
To develop, lead and implement an integrated weed management programme with particular emphasis on:
Designing systems that promote carbon efficiency while mitigating grass and broad-leaf weed types.

Expanding knowledge of the population dynamics of prominent weeds in conventional/organic systems.

Delivering management strategies to reduce herbicide reliance and slow the pace of resistance evolution in persistent weeds.
Background
The Irish agriculture and land-use sector faces significant challenges to reduce greenhouse gas emissions by 25% by 2030 and reach climate neutrality by 2050 as set out in the 2021 Climate Action Plan. In response to this Teagasc has developed a new Climate Action Strategy. This new post will be central to supporting Teagasc in the delivery of this strategy.
The tillage sector in Ireland utilises approximately 300,000ha to produce a range of arable crops and underpins the agri-industry through the provision of energy and protein feedstuffs, and raw material for drink and food products. The aim of the Teagasc Crop Science work programme is to support profitable and sustainable crop production via a team of researchers, technicians and support staff.
A significant challenge to sustainable productivity is the proliferation of weeds in both arable and grassland cropping systems. While weed science has made a major contribution to increasing crop production over the decades, weed control practices solely reliant on herbicides are now failing due to resistance evolution. Therefore, investigating a broad range of cultural techniques has become a vital step to supporting sustainable weed management. Indeed, the development and validation of novel, integrated weed management strategies will be key to ensuring cropping regimes are aligned with Ireland's climate action goals.
Additionally there are strong policy drives at both European and national level to increase the amount of arable crop products produced organically. Weed control can present a significant challenge in organic systems where the use of herbicides is prohibited. The further development of non-chemical cultural methods of weed control will therefore be vital to support the development of organic crop production systems.
Job Objectives
Main Duties and Responsibilities
Develop integrated crop production systems that promote carbon efficiency through the provision of research-proven, weed management strategies for grass and broad-leaf weed types.

Complete research projects that investigate the population dynamics of the most prominent weed species, thereby informing management practises of grass and broad leaved weed types, suited to present and future cropping systems.

Ensure a comprehensive knowledge of weed population dynamics based on national surveys and supported through scientific literature and forging of collaborative research links with experts in integrated weed management and herbicide resistance evolution.

Develop and lead a research team which will include post-doc researchers, post graduate students, technical staff and linkages with other teams; by proposing and delivering new research that allows this team to evolve.

Leverage additional capacity by working collaboratively at national and international level with research teams with complementary skills; but also with extension and farmer/grower stakeholders to co-design and co-deliver integrated projects that ensure rapid technology adoption.

Exploit a comprehensive array of research approaches including grower surveys; short and long term field trials as well as the full suite of requisite glasshouse and laboratory-based assays to support knowledge generation.

Actively seek to secure external (public (e.g. SFI, EI, DAFM), non-exchequer (e.g. Horizon Europe) funding with the objective of creating a team of post-doctoral researchers and post-graduate students.

Deliver research outputs performing requisite statistical analysis of collated data, interpreting and publishing results in high-ranking international journals as well as technical and popular press.

Communicate (scientific/non-scientific manner) research findings at international conferences and industry stakeholder events.

Contribute to the efficient operation of the Crops, Environment and Land Use programme and Teagasc as required, including strategic planning exercises and all other organisational policies and procedures.

To liaise and build a strong dynamic relationship with Teagasc Knowledge Transfer Specialists/Advisors and key stakeholders in the agri-food industry to ensure effective dissemination of research findings to advisers and stakeholders.

Identify and take advantage of continuous learning opportunities as they arise through the Teagasc PMDS process.

To assist Teagasc in meeting the commitments of the Quality Customer Service Charter and Action Plan.

To actively participate in the annual business planning and Performance Management Development System (PMDS) processes.

To fully co-operate with the provisions made for ensuring the health, safety and welfare of oneself, fellow staff and non-Teagasc staff and co-operate with management in enabling Teagasc to comply with legal obligations, including full compliance with the responsibilities outlined in the Safety Statement.

To carry out other duties as may be assigned from time to time.
* This job specification is intended as a guide to the general range of duties and is intended to be neither definitive nor restrictive. It will be reviewed from time to time with the post holder.
Skills Required
Essential

Desirable

Qualifications

Candidates must have a QQI honours Level 8 degree in plant sciences, including agriculture and botany or a related discipline.

A PhD degree in a relevant discipline.

Note: While a PhD is an essential requirement for this post, equivalent research experience may be deemed acceptable solely at the discretion of the Director of Teagasc.

Post-doctoral experience in weed research would be a distinct advantage.

Skills

Ability to design and conduct field and glasshouse experiments.

Relevant statistical analysis techniques.

Excellent organizational skills to support report writing and data analysis.

Project planning and management.

Communicating with agronomists and farmers at a practical level.

Grant proposal experience.

Scientific writing.

Molecular diagnostic skills to analyze functional mechanisms supporting herbicide resistance/tolerance.

Knowledge

Knowledge of weed population dynamics

Principles of integrated management strategies to control weed populations in agricultural systems.

Crop production systems

Resistance mechanisms in grass weeds.

Of crop rotations and cultivations and their impact on weed populations

Behavioural Competencies

Motivated to build and empower a research team that will make a significant contribution to the future sustainability of Irish cropping systems.

Strives for high quality of work and demonstrates commitment to delivering research outputs in support of stakeholders.

Ability to work independently and meet self-imposed milestones and deliverables.

Ability to evaluate complex information and synthesize this into a comprehensible picture.

Ability to communicate effectively to enable knowledge/technology transfer of both scientific and non-scientific fora.

Eager to learn and apply new skill sets and techniques, in line with receiving appropriate professional development as required.

Ability to consult and collaborate to build relationships with peers/stakeholders.

Goal orientated with ability to problem solve and demonstrate a high level of attention to detail.

Flexible with an openness to change and an ability to adapt to altering requirements and priorities.

A proactive, solutions-focused approach to work.

Committed to ongoing personal and professional development.

Other

As this role will involve driving vehicles, candidates must have the capacity to achieve within one year of appointment a driving license and during employment with Teagasc, satisfy the legal requirements to drive a car unaccompanied on Irish public roads.
Note: The 'essential' qualifications, knowledge, skills and behavioural competencies outlined above are 'must-have' which will be used in the selection process.
---
Attachment:


Resea_dc9ee92a-85c9-4412-973c-a1f4f9cab56e.pdf

| | |
| --- | --- |
| Already Registered? Log in here | Join our Careers Portal + submit your application |