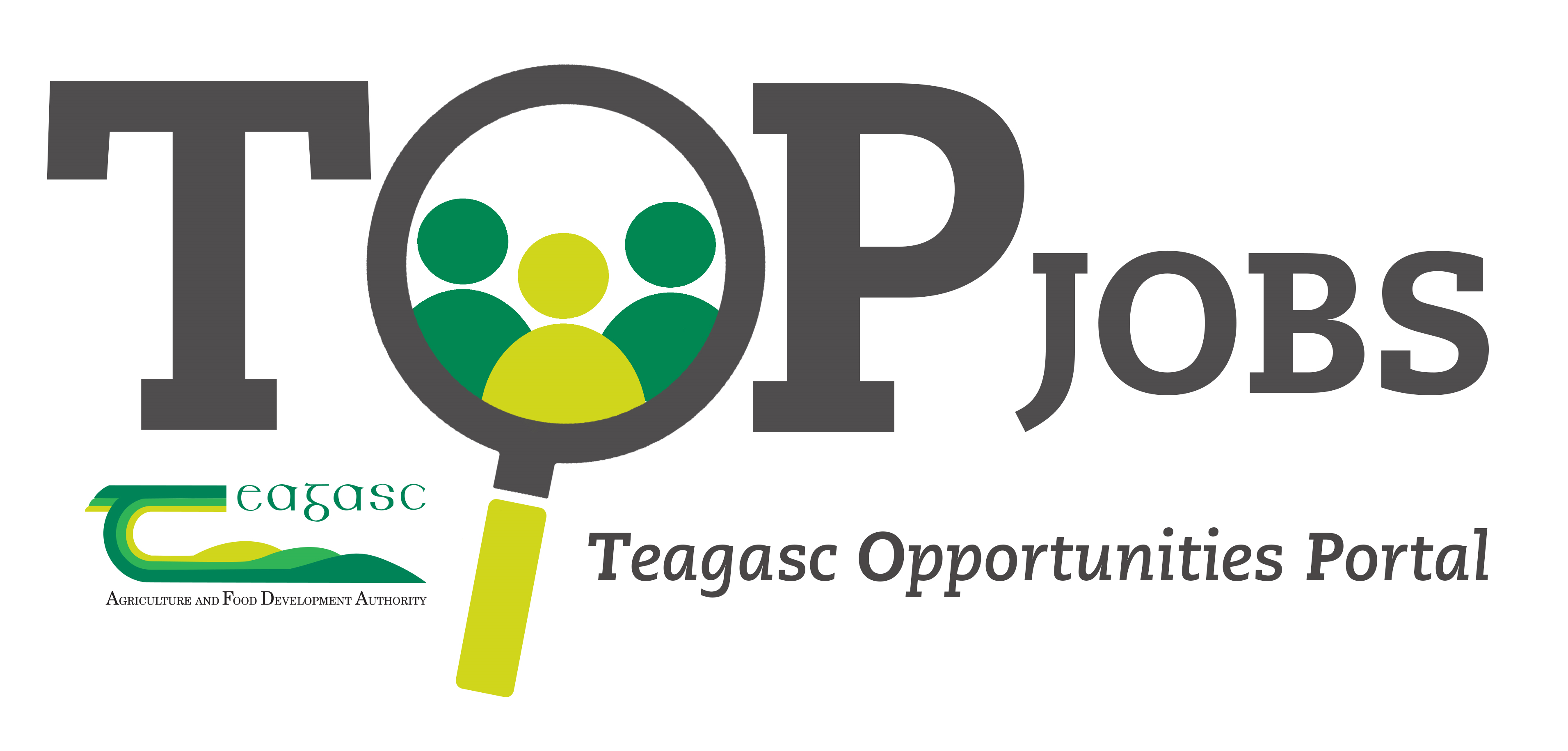 Agricultural Emissions Research Technologist (Permanent)
Animal and Grassland Research and Innovation Centre, Teagasc, Grange, Dunsany, Co Meath, C15 PW93

Salary: Technologist Grade 1 with a Salary Scale of €35,502 to €68,796
Technologist
Permanent Full Time

Closing Date: 22/08/2022

Closing Time: 12:00
Job Summary
Duration:
Permanent . A panel may be formed from which future similar vacancies may be filled; such a panel will remain active for a maximum period of 12 months.
Basic Function
Teagasc is seeking to appoint a highly motivated Research Technologist to support the research programme in agriculturally-derived biogenic methane production and enteric methane quantification and reduction. The appointee will implement the research program on grass based anaerobic digestion (AD) and enteric methane mitigation.
This will include:
Operating and managing the pilot based AD plant at Teagasc Grange.

Managing the logistics of feedstock provision and biomethane valorization of the Grange AD plant.

Implementing and managing AD experiments evaluating alternative feedstocks and management regimes with regard to effects on biomethane gas production and digestate characterization.

Supporting experiments in the rumen digestion simulation and enteric methane measurement laboratories at Teagasc Grange.

Supporting field and animal experiments assessing enteric methane emissions from grass-based beef cattle production systems.
Background to Teagasc Climate Action Strategy
The Irish agriculture and land-use sector faces significant challenges to reduce greenhouse gas emissions by 25% by 2030 and reach climate neutrality by 2050 as set out in the 2021 Climate Action Plan. In response to this Teagasc has developed a new Climate Action Strategy. This new post will be central to supporting Teagasc in the delivery of this strategy.
The work programme encompasses the study of anaerobic digestion (AD) for the production of biomethane gas as well as enteric methane emissions from cattle. The anaerobic digestion research programme seeks to develop key technologies to optimize the production of biomethane from agricultural feedstocks including conserved forage feeds and livestock slurry. A pilot scale biomethane plant is due to be commissioned at Teagasc Grange in 2022.
Additionally, Grange research campus, which is part of the Animal and Grassland Research and Innovation Programme, has fully equipped animal and laboratory-based research facilities which allow the direct measurement of methane emissions indoor and at pasture (GreenFeed technology) from cattle as well as the simulation of rumen digestion dynamics (RUSITEC and batch culture fermentation systems). The successful candidate will support the research programme in these key areas.
Teagasc has an international reputation for researching and developing grass-based systems of livestock production and the appointee to this post will work with a dynamic team of researchers, technologists, technicians, farm staff and specialists at Grange. Teagasc AD and ruminant methane emissions research activities cross a number of research programmes including Crops Environment and Land Use (CELUP) and Rural Economy and Development (RED).
Job Objectives
Support the AGRIC research programme on anaerobic digestion experimentation and studies into enteric methane emissions from beef cattle. The role includes management of the Teagasc Grange AD plant and the rumen digestion simulation laboratory.

Preparation of anaerobic digestion experiments and establishment of experimental treatments as outlined in experimental protocols.

Management and implementation of enteric methane research experiments.

Supervision of farm staff and postgraduate and undergraduate students.

Disseminate information generated from the AD and enteric methane programmes.

Hosting of visiting groups at Grange and in-service training of advisors.

Support the writing of scientific articles and research and grant proposals including contributions in relation to methodological aspects of proposed studies.

To keep abreast of new experimental procedures, methodologies and instrumentation in the relevant research areas.

Experimental data recording and database management, including the use of databases such as LIMS and Oracle.

Assist Teagasc in meeting the commitments of the Quality Customer Service Charter and Action Plan.

Actively participate in the annual business planning and Performance Management Development System (PMDS) processes.

Fully co-operate with the provisions made for ensuring the health, safety and welfare of oneself, fellow staff and non-Teagasc staff and co-operate with management in enabling Teagasc to comply with legal obligations, including full compliance with the responsibilities outlined in the Safety Statement.

To carry out other duties as may be assigned from time to time.
* This Job Specification is intended as a guide to the general range of duties and responsibilities and is intended to be neither definitive nor restrictive. It will be reviewed from time to time with the post-holder.
Skills Required
Essential

Desirable

Qualifications

Candidates must have a QQI Level 8 degree in agriculture, environmental science, engineering or a related discipline.

A postgraduate degree and/or relevant research experience would be a distinct advantage.

Skills

Excellent laboratory skills, organization skills, report writing and data analysis skills.

Communication and dissemination skills.

Animal handling and management skills.

People and resource management skills.

Data management and computer skills.

Operational skills for AD.

Operation of rumen digestion simulation equipment (i.e. RUSITEC and batch culture)

Proven record of scientific communication.

Aptitude for multidisciplinary approaches.

Knowledge

Knowledge of the key factors involved in the production of biogas from AD.

Operational knowledge of enteric methane measurement.

Laboratory analysis for feeds.

Behavioural Competencies

Ability to work as part of a team, including consulting, collaborating and building relationships with key stakeholders.

Self-motivated with an ability to generate new ideas, unique concepts, models and solutions.

Results driven, with an ability to prioritise tasks effectively.

Strong focus on goal setting, performance delivery and accountability.

Strives for high quality of work and demonstrates commitment to the programme.

Ability to communicate effectively to enable knowledge and technology transfer.

Flexible with an openness to change and an ability to adapt to changing priorities.

A proactive, solutions-focused approach to work.

A commitment to ongoing personal and professional development.

Other

As this role will involve driving vehicles, candidates must satisfy and continue to satisfy during employment with Teagasc, legal requirements to drive a car unaccompanied on Irish public roads.
Attachment:


Techn_a0d0005b-1738-4456-9a66-6aead4885c08.pdf

| | |
| --- | --- |
| Already Registered? Log in here | Join our Careers Portal + submit your application |