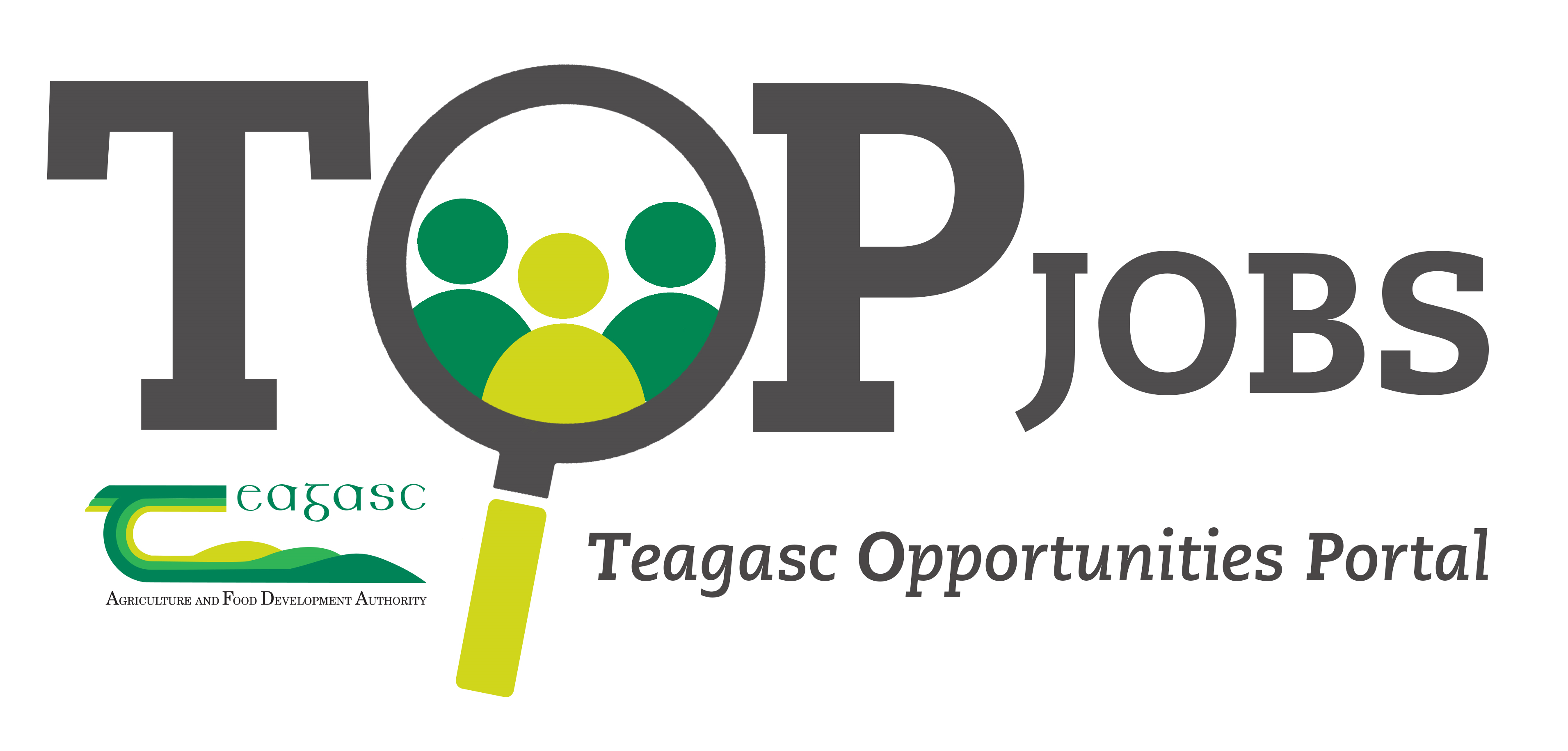 Nutrient Management from Dairy Farmyards Researcher
Animal and Grassland Research and Innovation Centre, Teagasc, Moorepark, Fermoy, Co Cork, P61 C997

Salary: Research Officer with a Salary Scale of €35,502 to €68,796
Research
Funded Full Time

Closing Date: 24/10/2022

Closing Time: 12:00
Job Summary
Duration:
Temporary Externally Funded Non Grant-in-Aid contract post, the indicative duration of which is 49 months, subject to contract. A panel may be formed from which future similar vacancies may be filled; such a panel will remain active for a maximum period of 12 months.
Basic Function:
To develop, lead and implement a research programme in the area of nutrient storage, water management and nutrient recycling and management in dairy farms with particular emphasis on:
Identifying risk factors for nutrient losses from dairy farmyards

Establishing best practice in the management, storage and use of manure produced on farm

Establishing best practice in the management, storage and use of soiled and clean water originating in dairy farmyards

Developing strategies related to reduction, recycling and treatment of soiled water.

Developing strategies for farmers to optimize nutrient recovery from manures produced on farms

Developing strategies to reduce nutrient loss risks associated with holding yards/roadways adjacent to farmyards

Developing mitigation options for loss pathways across the farm but in particular associated with point sources.
Background:
Teagasc-Moorepark is Ireland's leading dairy research institute with national responsibility for all aspects of dairy production research which include dairy cow breeding and reproduction, dairy cow health and welfare, milk composition and dairy cow nutrition, grassland and grazing management, milking technology and milk production systems plus economic analysis.
The research programme is conducted by over 40 scientific and technical professionals, supported by an administrative and operative staff. Moorepark operates a total of 7 individual dairy research farms totaling 600 hectares and over 1250 dairy cows. Facilities include modern individual cow feed and metabolism units, laboratories, computer facilities and milking research laboratories.
We are seeking to recruit a research officer to work as part of a multi-disciplinary team with responsibility for developing and implementing a research programme in nutrient storage, water management and nutrient recycling from dairy farmyards and associated areas.
Job Objectives
The development and implementation of a research programme in nutrient capture and storage, water management and nutrient recycling from dairy farmyards and associated areas in consultation with industry stakeholders.
Design, management and analysis of experiments on nutrient storage, water management and nutrient recycling from dairy farmyards and associated areas.

Management of staff and resources assigned to the programme.

To identify opportunities for cutting-edge research to address relevant knowledge gaps.

To attract external funding with the objective to create critical mass by building a dynamic team of post-doctoral researchers(s) and post-graduate student(s).

To develop and maintain active collaborative contacts with the relevant national and international research communities.

Publication and interpretation of research results.

To identify and develop future research opportunities as they may arise.

To contribute to the teamwork and team-spirit in the dairy research programme at Moorepark, and to foster and add to further collaboration and integration.

To assist Teagasc in meeting the commitments of the Quality Customer Service charter and action plan.

To actively participate in the annual business planning and Performance Management Development System (PMDS) processes.

To take up additional duties as they may arise and be assigned by management.
* This job specification is intended as a guide to the general range of duties and is intended to be neither definitive nor restrictive. It will be reviewed from time to time with the post holder.
Skills Required
Essential

Desirable

Qualifications

At the time of Applying Candidates must hold a Honours level 8 degree in Civil/Environmental Engineering, Environmental science, water resource management or other related disciplines.

Post-graduate experience in designing engineering based research questions.

Skills

Research skills: experimental design and data management, statistical analysis and experimentation.

Writing skills: scientific (peer-reviewed journals) and technical.

Excellent laboratory skills, organization skills, and data analysis.

Writing skills: popular press.

Proven record of scientific communications.

Aptitude for multidisciplinary approaches.

Knowledge

Nutrient storage, water management and nutrient recycling from dairy farmyards and associated areas.

Nutrient flows and loss pathways for nutrients from dairy farms.

Behavioural Competencies

Ambition, willingness to initiate new projects and research areas.

Excellent interpersonal skills, proficiency in communicating with wide range of stakeholders, i.e. farmers, national and international scientists, policy makers.

Ability to work independently, and meet self-imposed milestones and deliverables.

Ability to communicate effectively to enable knowledge and technology transfer.

Ability to work as part of a team, including consulting, collaborating and building relationships with key stakeholders.

Ability to contribute actively and positively to collaboration and integration within the research team.

Strives for high quality of work and demonstrates commitment to the programme.

Other

As this role will involved driving vehicles, candidates must satisfy and continue to satisfy during employment with Teagasc, legal requirements to drive a car unaccompanied on Irish public roads.

Eligibility

For operational reasons, current serving permanent staff members of Teagasc cannot normally be considered for funded contract posts advertised through open public competition.
Attachment:


Resea_252ec42d-89ef-4a9d-90ef-854a9f05b4c4.pdf

| | |
| --- | --- |
| Already Registered? Log in here | Join our Talent Pool + submit your application |