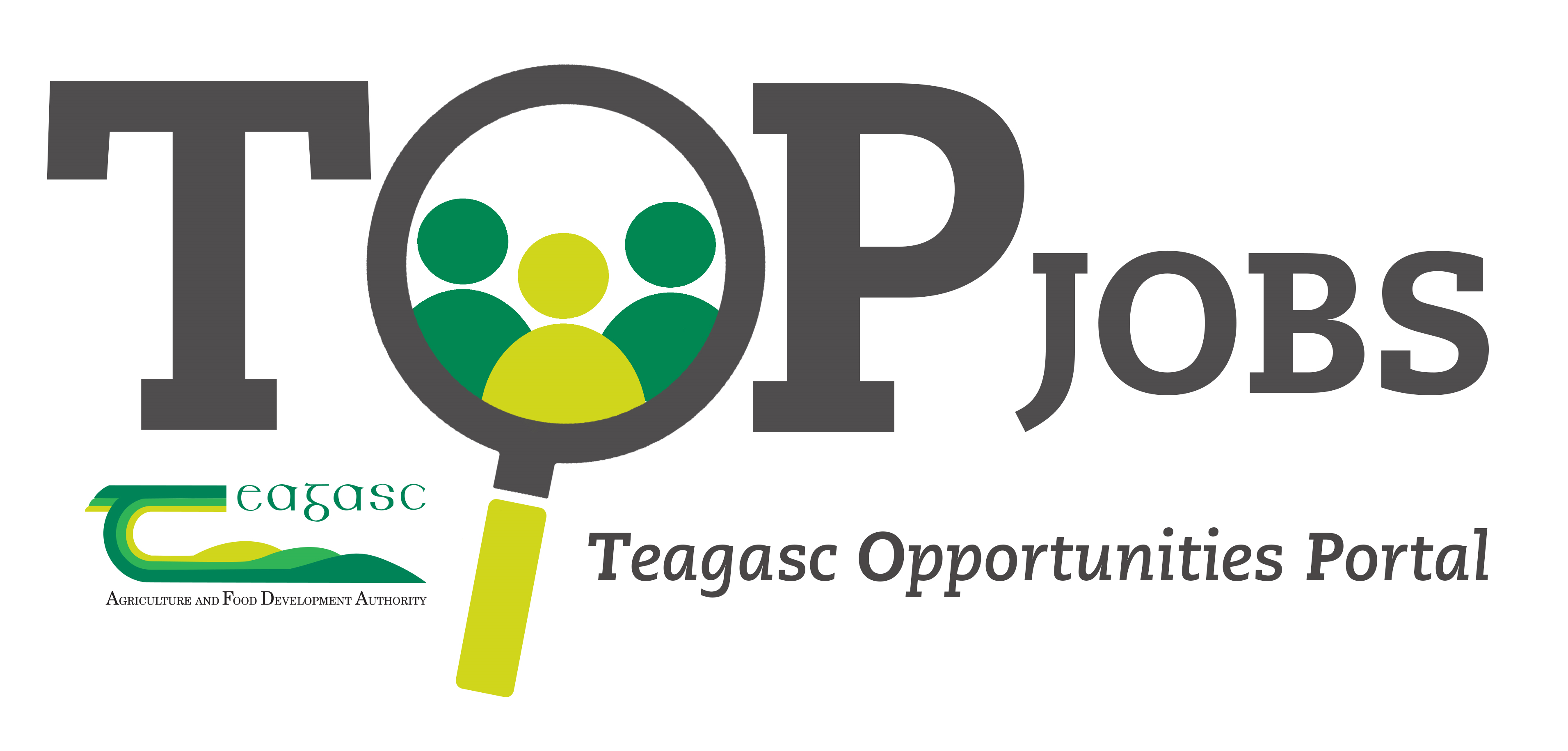 Animal Health and Welfare Researcher
Animal and Grassland Research and Innovation Centre, Teagasc, Moorepark, Fermoy, Co Cork, P61 C997

Salary: Research Officer with a Salary Scale of €37,067 to €71,568
Research
Funded Full Time

Closing Date: 28/11/2022

Closing Time: 09:00
Job Summary
Duration:
Temporary Externally Funded Non Grant-in-Aid contract post, the indicative duration of which is 20 months, subject to contract. A panel may be formed from which future similar vacancies may be filled; such a panel will remain active for a maximum period of 12 months.
Interviews:
Interviews will take place on Friday 9th of December 2022.
Basic Function
The successful candidate will work alongside the funded investigators (FIs) and task leaders on the project to investigate ways in which to improve animal health and welfare on Irish dairy farms. The main objective of the role will be to develop and implement an on-farm cow and calf welfare benchmarking tool. The successful candidate will liaise with industry partners, collate reports and arrange project meetings as well as investigating new measurement techniques which can be incorporated into the benchmarking tool to ensure it is easy to use, time efficient and reliable.
While development of the benchmarking tool is the main function of this role the successful candidate will also be expected to contribute to other sub-tasks within this project. They will also take the lead in data analysis and in writing progress reports, presentations and publication of scientific/technical papers.
Background
In 2015, the European milk quota systems which restricted production levels of European dairy farms for over 30 years was removed. As a result dairy farmers are increasing milk production levels by expanding their herds with the aim of enhancing the profitability of their system. Increasing herd size can also create welfare issues, for example, if a low stockperson-to-animal ratio is maintained this reduces time for individual care. In Ireland removal of the milk quota system also has resulted in substantial expansion among Irish dairy herds. This focus on herd expansion and achieving higher production levels could further increase animal welfare issues experienced within the dairy sector.
Simultaneous to developments in the dairy sector, there has been a considerable change in consumer attitudes towards animal production and animal welfare. This became apparent in a study which investigated attitudes of European citizens towards animal welfare (European Commission, 2016). Within this study it was identified that over 90 % of Europeans believe protecting animal welfare is important, 82 % believe welfare of farmed animals should be better protected than it is currently, and 64 % state that they would like more information about conditions under which farmed animals are treated in their respective countries. A particular point of interest from this study was that concerns for animal welfare were identified as being highest among Irish consumers. Combined, the increase in production at farm level and heighted concerns among consumers towards animal welfare has created a need for the development and application of mechanisms to assess and monitor animal welfare. Information gathered using such mechanisms could then be provided to consumers and all relevant stakeholders on developments surrounding farm animal welfare. Furthermore, it could be used as a tool to benchmark farmers against each other and also against pre-defined targets.
Job Objectives
Duties & Responsibilities specific to this project:
Review existing literature on dairy cow health and welfare

Develop a survey questionnaire which can be easily applied at farm level in a time efficient manner

Define appropriate targets (benchmarks) which will accurately reflect the status of cow and calf health and welfare on farms

Establish meaningful objective physical measurements which can be undertaken at farm level which will accurately reflect animal health and welfare on that specific farm

Develop a system to routinely collect and collate data from external sources which can feed into the assessment of farms

Define appropriate weighting systems which will allow farmers to be bench marked against targets and each other

Establish database where survey information can be easily entered, stored and reports generated

Continue to build on the assessment by adding more measures over time

Assist in coordination of the research team.

Produce reports and peer-reviewed papers.

To assist Teagasc in meeting the commitments of the Quality Customer Service Charter and action plan.

To comply with all relevant Teagasc policies and procedures.

Fully co-operate with the provisions made for ensuring the health, safety and welfare of themselves, fellow staff and non-Teagasc staff and co-operate with management in enabling Teagasc to comply with legal obligations. This includes full compliance with the responsibilities outlined in the Safety Statement.

To take up additional duties as they may arise and be assigned by management.
Skills Required
Essential

Desirable

Qualifications

Candidates must have a QQI honours Level 8 degree in Agricultural Science or a Science related discipline.

A postgraduate degree and/or research experience in Agricultural Science or a relevant science background would be a distinct advantage

Skills

Excellent laboratory skills, organization skills, report writing and data analysis

Proven record of scientific communications.

Aptitude for multidisciplinary approaches.

Knowledge

Demonstrated research and technical expertise working with dairy cows and calves

An ability to collaborate with team members and PhD students to help build research knowledge and skill and to guide professional development.

Knowledge of Irish agricultural systems, in particular calf rearing systems

Knowledge of cow welfare mesurments

Behavioural Competencies

Ability to work as part of a team, including consulting, collaborating and building relationships with key stakeholders.

Strives for high quality of work and demonstrates commitment to the programme.

Ability to communicate effectively to enable knowledge and technology transfer.

Other

As this role will involve driving vehicles, candidates must satisfy and continue to satisfy during employment with Teagasc, legal requirements to drive a manual car unaccompanied on Irish public roads.

Eligibility

This is an open public competition. Should a current serving Teagasc staff member be successful in their application through open public competition for this post, their current contract of employment with Teagasc will come to an end on taking up this post.
Attachment:


Resea_252ec42d-89ef-4a9d-90ef-854a9f05b4c4.pdf

| | |
| --- | --- |
| Already Registered? Log in here | Join our Talent Pool + submit your application |