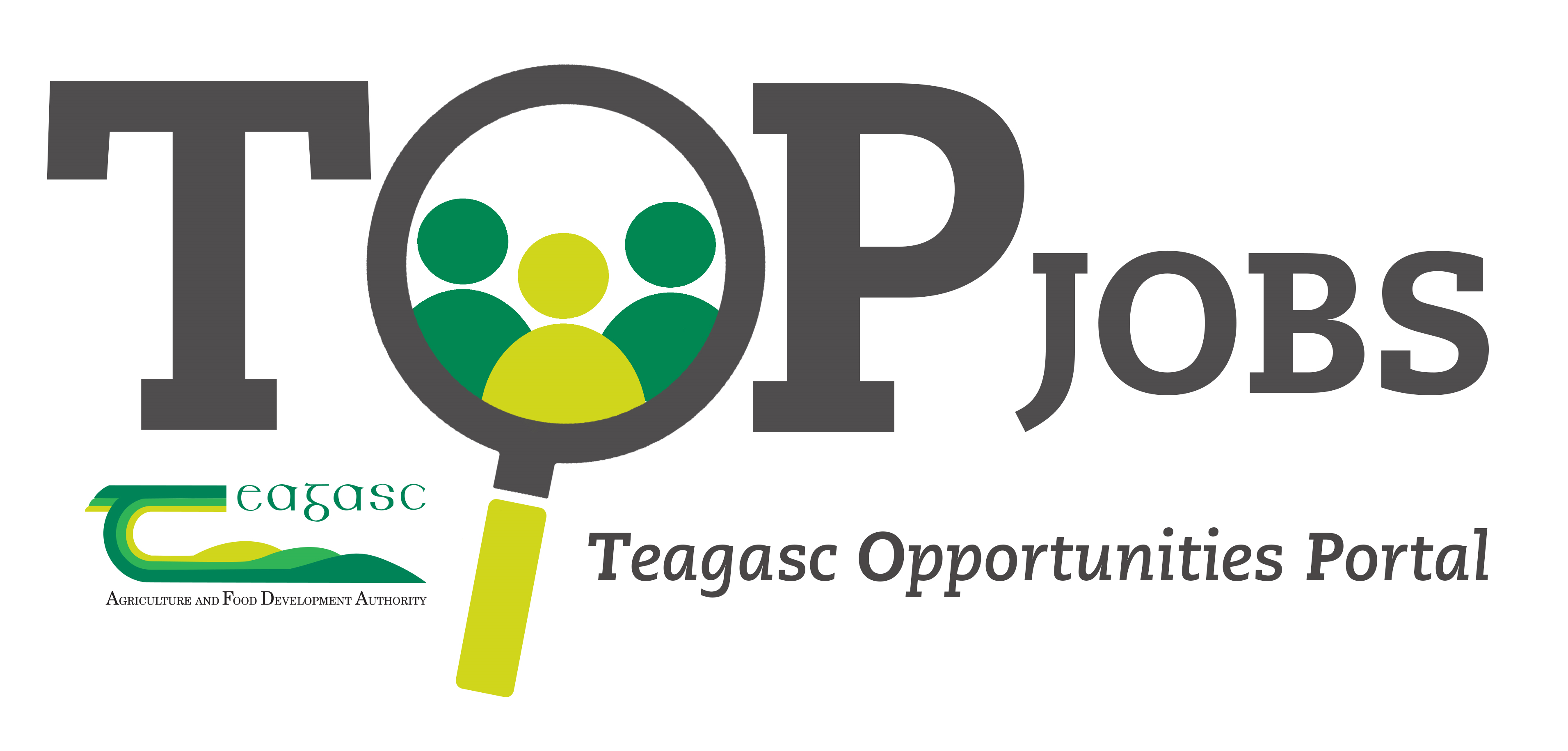 Modelling Soil Carbon Sequestration & Emissions Post Doctoral Fellow
Crops, Environment and Land Use Research Centre, Teagasc, Johnstown Castle, Co Wexford, Y35 Y521

Salary: Post Doc (Level 1) with a Salary Scale of €39,540 to €43,698
Research
Funded Full Time

Closing Date: 20/01/2023

Closing Time: 12:00
Job Summary
Duration:
Temporary Externally Funded Non Grant-in-Aid contract post, the indicative duration of which is 20 months, subject to contract. A panel may be formed from which future similar vacancies may be filled; such a panel will remain active for a maximum period of 12 months.
Basic Function
Changes in agricultural practices associated with the reform of the Common Agricultural Policy, World Trade Organisation negotiations, Kyoto and Gothenburg protocols have highlighted the importance of reducing agricultural greenhouse gas emissions. Indeed, the national Climate Action Plan has set a 51% reduction target for national greenhouse gas (GHG) emissions. The Teagasc Marginal Abatement Cost Curve (MACC) highlighted the key role in both enhancing carbon sequestration in agricultural soils as well as reducing CO2 emissions from organic soils.
Background to Position & Project
This competition seeks to recruit a postdoctoral researcher focused on modelling the impact of management on ecosystem carbon flows and changes in soil organic carbon (SOC). This position will join a well-resourced team of permanent and contract staff investigating the impact of management on C fluxes and have available a large range of datasets of SOC and CO2 fluxes for model constrain and validation. They will conduct model refinement, including the incorporation of new grass growth modelling into biogeochemical models which will improve our understanding of the impact of soil type and land-use management practice on carbon sequestration. This position will join the scientific group of Thematic Programme 1 of the VistaMilk SFI Research Centre led by Teagasc Moorepark and will be based at Johnstown Castle, Co. Wexford. VistaMilk represents a unique collaboration between Agri-Food and ICT research institutes and leading Irish/multinational food and ICT companies. The Centre is hosted by Teagasc, the national agency with responsibility for agriculture and food research, in partnership with the Tyndall National Institute, Ireland's national microelectronics institute, the Telecommunications Software & Systems Group (TSSG) at Waterford Institute of Technology and the Insight Centre for Data Analytics (at UCD, NUIG, DCU). VistaMilk is funded by Science Foundation Ireland (SFI), the Department of Agriculture Food and the Marine (DAFM) and the European Regional Development Fund (ERDF).
Background to Teagasc Post-Doctoral Programme
The Teagasc post-doctoral programme provides training and development opportunities for early career scientists that enhances their experience of learning and equips them with the necessary skills for the next stage of their chosen career in research.
This is a research focused training role, the primary purpose of which is to provide early career scientists with the opportunity to develop their research skills and competencies.
The PD Fellow will, while working in conjunction with senior research staff, gain insight and experience into a variety of areas including the processes of project and budgetary management, publishing in peer-reviewed academic journals, writing grant applications, and attracting external funding; the development of active collaboration with relevant national and international research communities; the development of communication and presentation skills, leadership and management skills, and overall career development.
Modules will be conducted under the supervision and direction of the Project Leader or other designated manager in conjunction with the Head of Department.
Job Objectives
Duties & Responsibilities specific to this project:
To model the impact of management on ecosystem carbon (and nitrogen) cycling using an ensemble of ecosystem and soil biogeochemical models (eg. DNDC, DAYCENT, RothC, ECOSSE).

To improve model architecture via linkage to grass growth models.

To publish findings in peer-reviewed publications.

To contribute to the teamwork and team-spirit in the agri-environmental research department at Johnstown Castle and the Animal and Grassland Research and Innovation Centre, Moorepark, and to foster and add to further collaboration and integration.

To actively participate in the annual business planning and Performance Management Development System (PMDS) processes.

Carry out such other duties as may be assigned from time to time.

Additional Duties & Responsibilities:
To interpret research findings and prepare scientific and popular press publications.

To disseminate research findings to a variety of audiences as appropriate.

To assist Teagasc in meeting the commitments of the Quality Customer Service Charter and Action Plan.

To comply with all relevant Teagasc policies and procedures.

Fully co-operate with the provisions made for ensuring the health, safety and welfare of themselves, fellow staff and non-Teagasc staff and co-operate with management in enabling Teagasc to comply with legal obligations. This includes full compliance with the responsibilities outlined in the Safety Statement.

To actively participate in the Teagasc Post Doctoral Fellowship programme and review processes, and to undertake all Post Doctoral fellowship training and associated duties as agreed in the Training & Development Plan.
* This job specification is intended as a guide to the general range of duties and is intended to be neither definitive nor restrictive. It will be reviewed from time to time with the post-holder.
Skills Required
Essential
PhD in physics, mathematics, soil science, agricutlural or environmental science or related discipline.

Relevant research experience not to exceed 3 years' post-PhD.

Demonstrated research and technical expertise in modelling environmental processes

Evidence of research activity (publications, conference presentations, awards) and future scholarly output (working papers, research proposals etc)

Excellent project management, analytical, report writing and data analysis skills.

Ability to synthesis knowledge through literature review.

An ability to collaborate with team members and PhD students to help build research knowledge and skill and to guide professional development.

Excellent communication skills (oral, written, presentation) with an ability to enable effective knowledge and technology transfer.

Ability to generate new ideas, unique concepts, models and solutions.

Ability to work independently if necessary, and meet self-imposed milestones and deliverables.

Ability to lead group discussions/workshops with a range of stakeholders including scientists, public servants, farmers and other stakeholders.

Willingness to collaborate positively within the programme team as well as with outside agencies.

Ability to align personal development objectives within the programme objectives.

Strives for high quality of work and demonstrates commitment to the programme.

Ability to communicate effectively to enable knowledge and technology transfer.
Desirable
Postgraduate degree in environmental science, soil science, environmental policy or environmental modelling.

Knowledge of livestock agricultural systems

Good knowledge of soil carbon and nitrogen cycling in agricultural systems

Working knowledge of programming languages (C++, Python, R).

Understanding of Irish agricultural systems.

Understanding of EU and national GHG policy

Understanding of knowledge transfer, communication and outreach strategies.
Note: Alternative location(s) may be considered solely at the discretion of Teagasc management.
Attachment:


PD1_I_471279b2-af31-44cb-80d7-699f35240e83.pdf

| | |
| --- | --- |
| Already Registered? Log in here | Join our Talent Pool + submit your application |