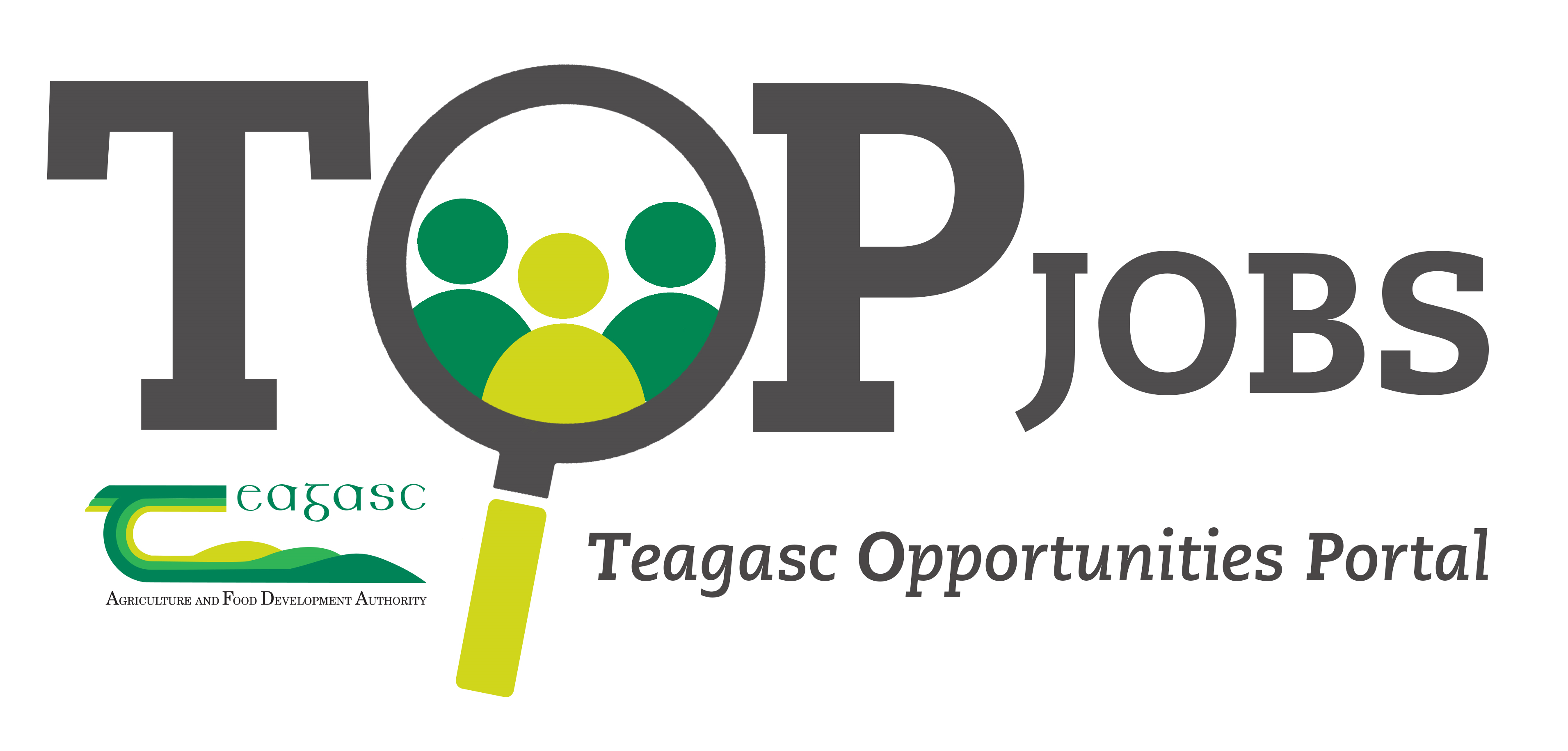 Research Officer - Soil and Plant Microbiome
Crops, Environment and Land Use Research Centre, Teagasc, Johnstown Castle, Co Wexford, Y35 Y521

Salary: Research Officer with a Salary Scale of €37,808 to €72,999
Research
Funded Full Time

Closing Date: 04/05/2023

Closing Time: 12:00
Job Summary
Duration:
Temporary externally funded non Grant-in-Aid contract post, the indicative duration of which is 43 months, subject to contract. A panel may be formed from which future similar vacancies may be filled; such a panel will remain active for a maximum period of 12 months.
Basic Function:
The successful applicant will carry out research that will increase our understanding of how crop genetics control root and rhizosphere microbial phenotypes, and how these interact with the environment to deliver an integrated crop resilience to climate stress. The impact of plant-soil interactions on the capacity of soil microbial communities to carry out important biogeochemical cycling functions, including carbon, nitrogen and phosphorus cycling, will be assessed on cereal, potato, and legume annual crops. This work will be carried out as part of the Roots2Res (Root phenotyping and genetic improvement for rotational crops resilient to environmental change) project, which is funded by the European Union Horizon 2021 Research & Innovation programme, and comprises a multidisciplinary team of plant physiologists, agronomists, geneticists, microbiologists, soil scientist, breeders, and modellers from twenty-two transdisciplinary project partners across thirteen countries. The aim of Root2Res, is to generate new tools to help understand the genetic control of root and rhizosphere functions associated with adaptation to climate change in rotational systems composed of annual crops and elucidate how these traits interact with the rhizosphere microbiome to deliver more sustainable crop cultivars.
Background:
The position will be primarily based in the Teagasc Environment, Soils and Land-use Department in Johnstown Castle, Wexford. Teagasc. Johnstown Castle is Ireland's leading research institute on soils and environment related research, and conducts both fundamental and applied research on a wide range of subjects, including soil health, soil-plant interactions, biodiversity, nutrient efficiency, water quality, gaseous emissions, agroecology, and land use. Johnstown Castle is well equipped with laboratory, greenhouse and field facilities to support a wide and innovative research programme, as well as 190 hectares of farmland. It has a wide-ranging and active programme on soil and plant microbiomes in agricultural systems.
Job Objectives
Assess the composition and functioning of microbial communities within root and rhizosphere of annual crops, in the context of plant and climatic factors.

Assess the impact of plant-soil interactions on the capacity of soil microbial communities to carry out important biogeochemical cycling functions, including carbon, nitrogen and phosphorus cycling.

Assist in the sampling and management of experimental trials to meet project objectives

Engage with partners from collaborating organisations, and coordinate sample transfer, to carry out soil microbial and soil function analyses and interpretation.

Contribute to the development, optimization, standardization and validation of techniques for soil microbiological analysis.

To interpret research findings and prepare scientific and popular press publications.

To disseminate research findings to a variety of audiences as appropriate.

To assist Teagasc in meeting the commitments of the Quality Customer Service Charter and Action Plan.

To actively participate in the annual business planning and Performance Management Development System (PMDS) processes.

Fully co-operate with the provisions made for ensuring the health, safety and welfare of themselves, fellow staff and non-Teagasc staff and co-operate with management in enabling Teagasc to comply with legal obligations. This includes full compliance with the responsibilities outlined in the Safety Statement.

Any other duties as may be assigned from time to time
* This job specification is intended as a guide to the general range of duties and is intended to be neither definitive nor restrictive. It will be reviewed from time to time with the post holder.
Skills Required
Essential

Desirable

Qualifications

Candidates must have an Honours Level 8 Degree in Soil microbiology or a related discipline.

PhD in Soil microbiology or a related discipline.

Skills

Excellent project management, analytical, report writing and data analysis skills.

Evidence of research activity (publications, conference presentations, awards) and future scholarly output (working papers, research proposals etc).

An ability to collaborate with team members and PhD students to help build research knowledge and skills, and to guide professional development.

Excellent communication skills (oral, written, presentation) with an ability to enable effective knowledge and technology transfer.

Expertise in qPCR techniques

Demonstrated research and technical expertise in microbiome analysis and bioinformatics.

Experience in microbial functional analysis associated with C, N and P cycling

Proven record of scientific communications.

Aptitude for multidisciplinary approaches.

Evidence of teamwork and collaboration with relevant partners.

Knowledge

Demonstrated research and technical expertise in soil/plant microbiology and/or soil functioning.

Experience in setting own research agenda.

Behavioural Competencies

Ability to work as part of a team, including consulting, collaborating and building relationships with key stakeholders.

Strives for high quality of work and demonstrates commitment to the programme.

Ability to communicate effectively to enable knowledge and technology transfer.

Ability to generate new ideas, unique concepts, models and solutions.

Other

A full driving licence is desirable

Eligibility

This is an open public competition. Should a current serving Teagasc staff member be successful in their application through open public competition for this post, their current contract of employment with Teagasc will come to an end on taking up this post.
Note: The 'essential' qualifications, knowledge, skills and behavioural competencies outlined above are 'must-have' which will be used in the selection process.
Attachment:


Resea_797eee09-ccdc-4749-93d4-ad66c4a21404.pdf

| | |
| --- | --- |
| Already Registered? Log in here | Join our Careers Portal + submit your application |