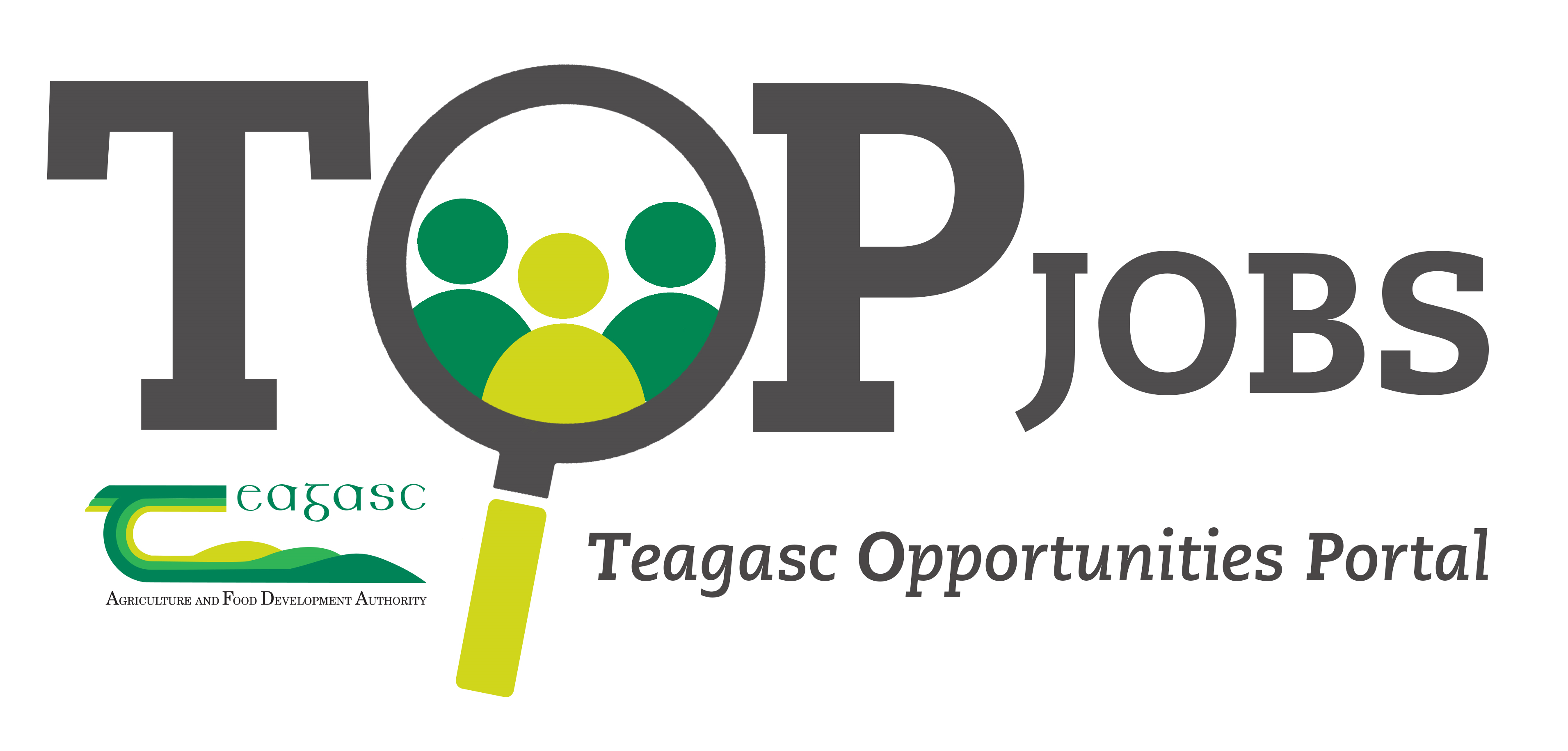 Post-Doctoral Fellow in Animal Science (Long Term Contract) (EU Project)
Animal and Grassland Research and Innovation Centre, Teagasc, Moorepark, Fermoy, Co Cork, P61 C997

Salary: Post Doc (Level 1) with a Salary Scale of €40,331 to €44,572
Research
Funded Full Time

Closing Date: 07/06/2023

Closing Time: 12:00
Job Summary
Duration:
Temporary Externally Funded Non Grant-in-Aid contract post, the indicative duration of which is 27 months, subject to contract. A panel may be formed from which future similar vacancies may be filled; such a panel will remain active for a maximum period of 12 months.
Basic Function:
The successful candidate will join an EU Funded (Horizon 2020) Project, named INTAQT, where Teagasc will act as the host organisation.
The successful candidate will be involved in:
Derivation of new phenotypes in cattle.

Development and implementation of national multi-breed genetic and genomic evaluations and breeding schemes for cattle.

Interacting with stakeholders on how best to adopt the developed technologies.

Dissemination of knowledge generated to the wider (inter)national scientific community and being part of a larger genetics and genomics animal science team at Moorepark.
Background of Project - INTAQT (EU Funded Project)
With the goal of linking sustainability and husbandry systems, INTAQT intends to reach the One Quality of animal products. This project has received funding from the European Union's Horizon 2020 Research & Innovation programme and Teagasc will act as the host organisation for this role.
Background to the Teagasc Post-Doctoral Programme
The Teagasc post-doctoral programme provides training and development opportunities for early career scientists that enhances their experience of learning and equips them with the necessary skills for the next stage of their chosen career in research.
This is a research focused training role, the primary purpose of which is to provide early career scientists with the opportunity to develop their research skills and competencies.
The PD Fellow will, while working in conjunction with senior research staff, gain insight and experience into a variety of areas including the processes of project and budgetary management, publishing in peer-reviewed academic journals, writing grant applications, and attracting external funding; the development of active collaboration with relevant national and international research communities; the development of communication and presentation skills, leadership and management skills, and overall career development.
Modules will be conducted under the supervision and direction of Dr. Donagh Berry or other designated manager in conjunction with the Head of Department.
Dr Berry is a Senior Principal Research Officer (Quantitative Geneticist) within Teagasc and has a repertoire of ongoing projects which he is a member of, more details of which can be found here.
Job Objectives
Duties & Responsibilities specific to this project:
Development of computer algorithms and pipelines for the successful national implementation of multi-breed genetic and genomic evaluations and associated breeding schemes which will include derivation of new and biologically pertinent phenotypes.

Development of statistical models for analysis.

Estimation of breeding values and validation.

Derivation of indexes for ranking of animal on expected future performance.

Derivation of weighting factors for traits within the national breeding objective.

Liaising with international collaborators on multi-breed genomic evaluation.
Additional Duties & Responsibilities:
To interpret research findings and prepare scientific and popular press publications.

To disseminate research findings to a variety of audiences as appropriate.

To assist Teagasc in meeting the commitments of the Quality Customer Service Charter and Action Plan.

To comply with all relevant Teagasc policies and procedures.

Fully co-operate with the provisions made for ensuring the health, safety and welfare of themselves, fellow staff and non-Teagasc staff and co-operate with management in enabling Teagasc to comply with legal obligations. This includes full compliance with the responsibilities outlined in the Safety Statement.

To actively participate in the Teagasc Post Doctoral Fellowship programme and review processes, and to undertake all Post Doctoral fellowship training and associated duties as agreed in the Training & Development Plan.

To take up additional duties as they may arise and be assigned by management.
Skills Required
Essential
PhD in Animal Science or related discipline.

Relevant research experience not to exceed 3 years' post-PhD.

Demonstrated research and technical expertise in animal genetics and genomics as well as computer programming.

Evidence of research activity (publications, conference presentations, awards) and future scholarly output (working papers, research proposals etc).

Excellent project management, analytical, report writing and data analysis skills.

An ability to collaborate with team members and PhD students to help build research knowledge and skill and to guide professional development.

Excellent communication skills (oral, written, presentation) with an ability to enable effective knowledge and technology transfer.

Ability to generate new ideas, unique concepts, models and solutions.
Desirable
PhD in Quantitative Genetics would be a distinct advantage.

Experience in statistical analyses.

Experience in setting own research agenda.

Evidence of teamwork and collaboration with relevant partners.
Note: Alternative location(s) may be considered solely at the discretion of Teagasc management.
Attachment:


PD1_I_e14b424a-f072-4bda-97b0-e08817fd7036.pdf

| | |
| --- | --- |
| Already Registered? Log in here | Join our Careers Portal + submit your application |