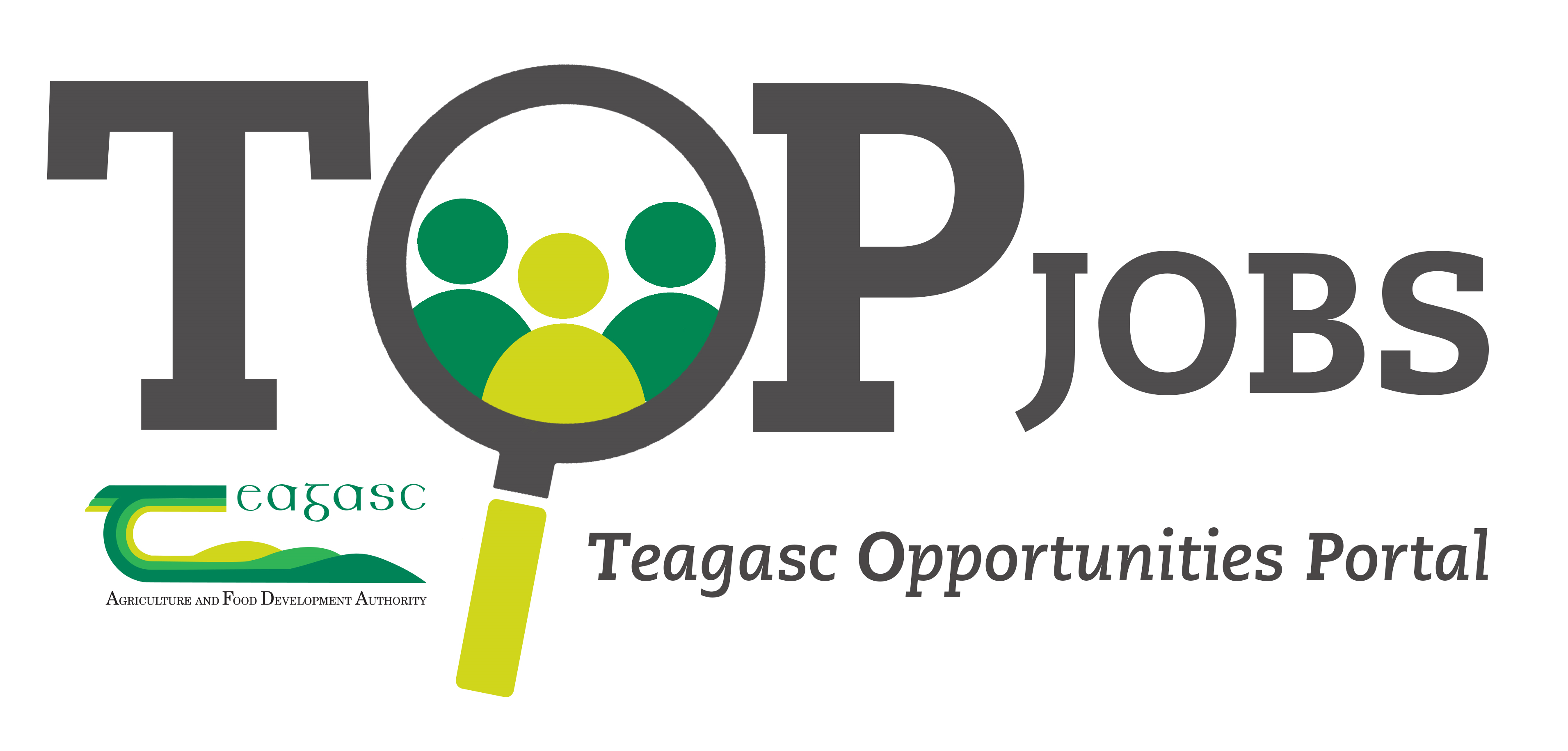 Environmental Researcher (Permanent)
Crops, Environment and Land Use Research Centre, Teagasc, Johnstown Castle, Co Wexford, Y35 Y521; other major research centre locations and a flexible at home working policy may be considered solely at the discretion of the reporting manager.

Salary: Research Officer with a Salary Scale of €38,558 to €74,094
Research
Permanent Full Time

Closing Date: 29/11/2023

Closing Time: 12:00
Job Summary
Duration:
Permanent . A panel may be formed from which future similar vacancies may be filled; such a panel will remain active for a maximum period of 12 months, with the option to extend for a further 12 months.
Basic Function:
This competition seeks to recruit a permanent research officer as a water quality modelling scientist. The successful candidate will develop, lead and implement water quality modelling research that combines agronomic production and measures to minimise its impact on water quality. The role includes modelling the impacts of Irish agricultural systems on water quality under different landscape conditions and research to understand and model the effect of mitigation measures and management practices on water quality in Ireland.
The successful candidate will join a high profile and well resourced research department with established teams of scientific staff working on cross-cutting themes in soil health, nutrient cycling, greenhouse gas emissions, farmland biodiversity and land use modelling and life cycle analysis. Research at Teagasc is supported by laboratory and field capabilities with access to long-term trial and national datasets. This position will be based at the National Agricultural Sustainability Research and Innovation Centre, Johnstown Castle, Wexford.
The successful candidate will also lead research that will influence national policies such as the Nitrates Action Plan as well as developing future farming practices to minimize the impact of agriculture on water quality. The successful appointee will be supported and empowered to establish an innovative research strategy, acquiring physical and human resources through internal/external funding to deliver 'through-to-practise' solutions that improve water quality. In line with their career development they will be fully supported to develop a national and international network of collaborators through high impact publications and active participation at international conferences
Background to the Role
Agriculture is a significant pressure on water quality in Ireland. The impact of nutrient and sediment loss from point and diffuse sources on farms can vary with landscape heterogeneity and scale. Teagasc is seeking to build research capabilities that can model agricultural impacts at multiple scales and evaluate the effectiveness of measures adminisitered at farm scale. Upscaling and downscaling of water quality measures for Irish agriculture will support and inform national and EU policy to improve water quality. This competition seeks to recruit a permanent Research Officer focused on modelling agricultural impacts across Irish agricultural landscapes and scales. The role will develop research to evaluate the impact of mitigation measures on trends in water quality at catchment, regional and national scale and strengthen collaboration with existing monitoring programmes such as the Agricultural Catchments Programme at Teagasc and EPA Catchments Unit.
Teagasc is expanding its Research and Knowledge Transfer (KT) programmes to rapidly advance the science and implementation of current and new measures to meet the biodiversity and climate challenges that farmers are facing. In addition to the new staff there is a large capital investment to establish the National Agricultural Sustainability Research and Innovation Centre (NASRIC). The new staff recruited will join the current research teams and to utilise the research infrastructures across the entire organisation.
Background to Teagasc
Teagasc, The Agriculture and Food Development Authority in Ireland, is the national body providing integrated research, advisory and training services to the agri-food sector. We are global leaders in developing innovative science based solutions for the agri-food sector and unique in holding research, advisory and education functions under one organisation. The Research Officer role at Teagasc offers independent scientists an opportunity to build capacity and create collaborations with national and international partners to translate science into practice.
The Irish agriculture and land-use sector faces significant challenges to reduce greenhouse gas emissions by 25% (agriculture) and 37-58% (Land-use) by 2030 and reach climate neutrality by 2050 as set out in the 2021 Climate Action Plan. In response to this Teagasc has developed a new Climate Action Strategy and has established a new Climate Centre to enhance and co-ordinate climate and biodiversity related research across the organisation. This post comes under the Teagasc Climate Centre and will be central to supporting Teagasc in the delivery of this strategy
Job Objectives
To lead research projects on modelling impacts of agriculture on water quality across multiple scales

Develop a modelling capacity to evaluate the effect of measures to improve water quality in collaboration with the Agricultural Catchments Programme and EPA Catchments Unit.

To upscale nutrient field to catchment scales to enable the upscaling and downscaling of mitigation targets and measures.

Produce high quality papers, relevant for farm practice and policy for publication in peer reviewed scientific journals using existing and newly generated data.

To establish strong collaborative links within Teagasc and national/international researchers.

Active pursuit of external funding opportunities to further resource the research program with the objective of developing critical mass in the area by building and supervising a dynamic team of post-doctoral researchers(s) and post-graduate student(s).

Work closely with Teagasc Knowledge Transfer Specialists/Advisors to ensure effective dissemination of research findings to advisers and stakeholders.

Supervise, in conjunction with University partners, postgraduate students to Masters and PhD level.

To assist Teagasc in meeting the commitments of the Quality Customer Service charter and Action Plan.

To actively participate in the annual business planning and Performance Management Development System (PMDS) processes.

To fully co-operate with the provisions made for ensuring the health, safety and welfare of oneself, fellow staff and non-Teagasc staff and co-operate with management in enabling Teagasc to comply with legal obligations. This includes full compliance with the responsibilities outlined in the Safety Statement.

Such other duties as may be assigned from time to time
* This job specification is intended as a guide to the general range of duties and is intended to be neither definitive nor restrictive. It will be reviewed from time to time with the post holder.
Skills Required
Essential

Desirable

Qualifications & Experience

Candidates must have an honours Level 8 degree in soil science, hydrology, mathematical modelling, agriculture, geography, geochemistry, environmental science or related discipline.

PhD in a relevant discipline

Note: While a PhD is an essential requirement for this post, equivalent research experience may be deemed acceptable solely at the discretion of the Director of Teagasc.

Experience in use and development of environmental models using agricultural data, soil data, water quality data, meteorological data, hydrological cycles

Spatial analysis skill and/or experience with GIS software

Skills

Modelling environmental data.

Working with environmental data at a range of scales, e.g. field, farm, catchment, regional, national scales.

Experience in statistical approaches for spatial data

Proven record of scientific communication.

Excellent organisational skills, report writing, data analysis and statistical analysis.

Excellent one-to-one and group communication skills (farmers, students, colleagues, stakeholders). Good team working skills.

Excellent ability to plan, organise, manage and schedule work effectively.

Good organisational skills, include people management.

Aptitude for multidisciplinary approaches.

Project management and experience of winning competitive research funding.

Record of successful research grant writing.

Knowledge

Interactions between agriculture and water quality at landscape and regional scale

Understanding of modelling approaches at landscape scale for water quality.

Hydrological processes controlling nutrient loss in agricultural landscapes.

Soil biogeochemistry and processes influencing nutrient and sediment losses to water.

Understanding of agricultural systems.

Understanding of point and non-point sources of nutrient loss from agriculture.

Familiarity with temperate grassland management and ruminant-dominated agricultural systems.

Behavioural Competencies

Willingness to work as part of an integrated advisory/research programme team

Ability to work independently if necessary, and meet self-imposed milestones and deliverables.

Willingness to collaborate positively within the programme team as well as with outside agencies.

Ability to contribute to group discussions/workshops with farmers and other stakeholders.

Strives for high quality of work and demonstrates commitment to the programme.

Flexible with an openness to change and an ability to adapt to changing priorities.

Ability to communicate effectively to enable knowledge and technology transfer.

A proactive, solutions-focused approach to work.

Commitment to ongoing personal and professional development, with an ability to align personal development objectives with programme activities

Commitment to teamwork and collaborating with colleagues as per our Teagasc Together ethos

Other

As this role involves driving vehicles, candidates must satisfy and continue to satisfy during employment with Teagasc, legal requirements to drive unaccompanied on Irish public roads.
Note: The 'essential' qualifications, knowledge, skills and behavioural competencies outlined above are 'must-have' which will be used in the selection process.
Attachment:


Resea_4c846d69-1bc3-4b77-ae81-b17f74f8cfed.pdf

| | |
| --- | --- |
| Already Registered? Log in here | Join our Careers Portal + submit your application |